Leadership
Complexity is Here and it's Time to Get on Board
Efficiency is the bugbear of modern organizations. Our culture—particularly our business culture is steeped in industrial-age metaphors of assembly lines, and economies of scale. We are continually looking for how to do things faster and cheaper, with the assumption that what follows is a better—read "more profitable"—organization. We work hard to simplify and hone our human systems to a machine-like efficiency, so we can be the envy of neighbors and the crusher of competition. In the industrial age the focus on eking every last bit of productivity from humans usually had a heartbreaking cost to the people doing the work—but was beneficial to the bottom line.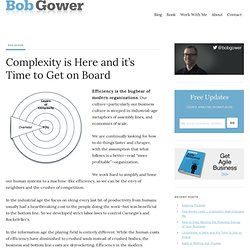 Words of Wisdom: 8 Famous Quotes to Help You Embrace Fear and Achieve Success
11 Simple Concepts to Become a Better Leader
Four Pillars Of Leadership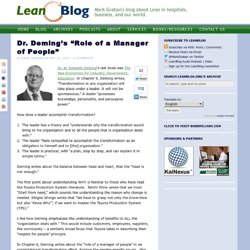 Dr. W. Edwards Deming 's last book was The New Economics for Industry, Government, Education . In Chapter 5, Deming writes, "Transformation in any organization will take place under a leader.
Dr. Deming's "Role of a Manager of People"
We often get asked, "How can I get stakeholders to attend my meetings?" or "How can I get stakeholders' buy-in on the project?" These are complex questions and the easy answer is that you can't. That's right, you can't.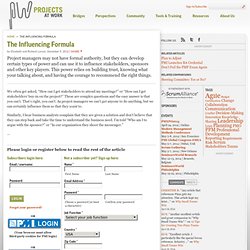 The Influencing Formula
If you want to be the best in your industry, you have to get rid of your outdated management style. shutterstock images 7,074 in Share
Leadership Practices to Stop Today
What Makes a 21st Century Leader?
The 11 Leadership Secrets You've Never Heard About
The Tightrope of Leadership As leaders and change-agents, we walk a daily tight-rope between how we "should" do things because that's how they've always been done … which may be contrary to what believe matters today and tomorrow. Leadership is no different.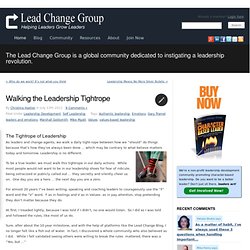 Walking the Leadership Tightrope
Seven credibility blind spots and how they can derail your image
Takeaway: Whether you're meeting one-on-one or presenting to a packed audience, your credibility is immediately being assessed.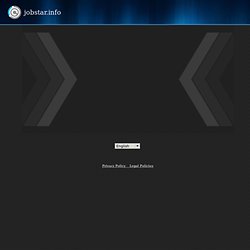 Okay, we know everyone adores you anyways, but even you Brad Pitts and Angelina Jolie's can't get everything you want on looks alone.
5 Subliminal Tricks That Make Employers Adore You | JOBSTAR.INFO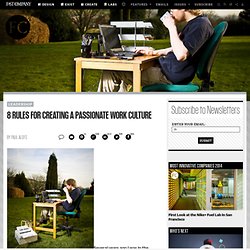 Several years ago I was in the Thomson Building in Toronto. I went down the hall to the small kitchen to get myself a cup of coffee. Ken Thomson was there, making himself some instant soup. At the time, he was the ninth-richest man in the world, worth approximately $19.6 billion. Enough, certainly, to afford a nice lunch. I looked at the soup he was stirring.
Six behaviors that could come back to bite you | Ward Wired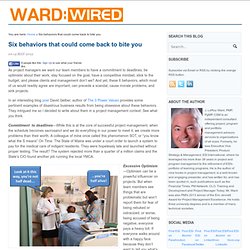 As project managers we want our team members to have a commitment to deadlines, be optimistic about their work, stay focused on the goal, have a competitive mindset, stick to the budget, and please clients and management don't we?
Changing Your Culture by Bringing Humanity to the Workplace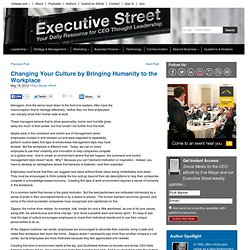 Managers, from the senior level down to the front line leaders, often have the misconception that to manage effectively, neither they nor their employees can actually show their human side at work.
Why Leadership Means Listening
Today's employees want to be asked for feedback and they want to be heard. Here are four tips to help you become a better listener Over the past several weeks, I interviewed a half-dozen well-known business leaders for a new book on communications.
Want to succeed in IT? Five tips from the top
Takeaway: How to reach the very top of the IT profession may remain a closed book to most technologists, but leading CIO Paul Coby has some simple advice on the best way to get there. Top CIO Paul Coby: Never put innovation before day-to-day operations. Photo: John Lewis
Your next project manager? Are you a bully? Do you bully your teammates, vendors and weaker stakeholders?
13 ways to tell if you're a "bully" project manager | Ward Wired
by Linda Hill & Kent Lineback | 12:22 PM April 3, 2012
Good Managers Lead Through a Team - Linda Hill & Kent Lineback
by Joshua Ehrlich | 10:17 AM September 14, 2011 Getting stuff done is overrated.
For Great Leadership, Clear Your Head - Joshua Ehrlich
The Persistence of Vision @ LeadershipNow
Six tactics of natural leaders
Please, Make a Decision
Leadership and Change Research
MileHiRadio