The possibility of World War 3
P.W. Singer: Military robots and the future of war
Army of the Future: Russian combat Robots
pilot-work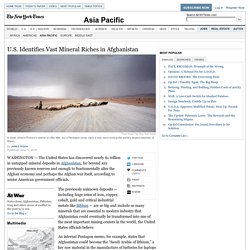 The previously unknown deposits — including huge veins of iron, copper, cobalt, gold and critical industrial metals like — are so big and include so many minerals that are essential to modern industry that Afghanistan could eventually be transformed into one of the most important mining centers in the world, the United States officials believe. An internal Pentagon memo, for example, states that Afghanistan could become the "Saudi Arabia of lithium," a key raw material in the manufacture of batteries for laptops and BlackBerrys. The vast scale of Afghanistan's mineral wealth was discovered by a small team of Pentagon officials and American geologists.
U.S. Identifies Vast Mineral Riches in Afghanistan
Mining in Afghanistan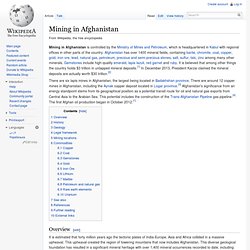 Mining in Afghanistan is controlled by the Ministry of Mines and Industry , which is headquartered in Kabul with regional offices in other parts of the country. Afghanistan has over 1400 mineral fields, containing barite , chromite , coal , copper , gold , iron ore , lead , natural gas , petroleum , precious and semiprecious stones , salt , sulfur , talc , zinc among many other minerals. Gemstones include high-quality emerald , lapis lazuli , red garnet and ruby . It is believed that among other things the country holds $3 trillion in untapped mineral deposits. [ 1 ] There are six lapis mines in Afghanistan, the largest being located in Badakhshan province . There are around 12 copper mines in Afghanistan, including the Aynak copper deposit located in Logar province . [ 2 ] Afghanistan's significance from an energy standpoint stems from its geographical position as a potential transit route for oil and natural gas exports from Central Asia to the Arabian Sea.
Afghanistan Opens Bids On Trillion Dollar Minerals