The possibility of World War 3
P.W. Singer: Military robots and the future of war. Army of the Future: Russian combat Robots. Pilot-work. U.S. Identifies Vast Mineral Riches in Afghanistan. Mining in Afghanistan. There are six lapis mines in Afghanistan, the largest being located in Badakhshan province.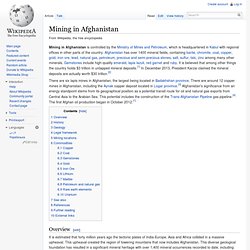 There are around 12 copper mines in Afghanistan, including the Aynak copper deposit located in Logar province.[3] Afghanistan's significance from an energy standpoint stems from its geographical position as a potential transit route for oil and natural gas exports from Central Asia to the Arabian Sea. This potential includes the construction of the Trans-Afghanistan Pipeline gas pipeline.[4] The first Afghan oil production began in October 2012.[1] Overview[edit] It is estimated that forty million years ago the tectonic plates of India-Europe, Asia and Africa collided in a massive upheaval. This upheaval created the region of towering mountains that now includes Afghanistan. Afghanistan Opens Bids On Trillion Dollar Minerals.
---