Patterns
Usabilidad jacob nielsen: Consejos prácticos para mejorar la experiencia de usuario de tu página web. The Case for HCI Design Patterns. A Pattern Language for Human-Computer Interface Design Jenifer TidwellComments and reviews requested; send to: jtidwell@alum.mit.edu Note: This page was last updated in 1999.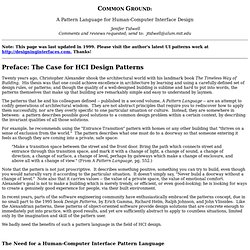 Please visit the author's latest UI patterns work at Thanks! Web Patterns: A UC Berkeley Resource for Building User Interfaces. Usability.gov. Usability. Usability is the ease of use and learnability of a human-made object.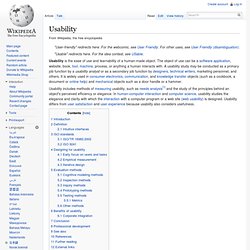 The object of use can be a software application, website, book, tool, machine, process, or anything a human interacts with. A usability study may be conducted as a primary job function by a usability analyst or as a secondary job function by designers, technical writers, marketing personnel, and others.
---