Design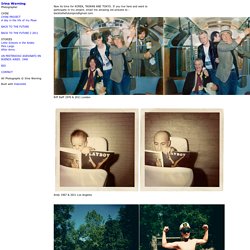 Now its time for KOREA, TAIWAN AND TOKYO. If you live here and want to participate in my project, email me amazing old pictures to : backtothefuturepics@gmail.com Riff Raff 1976 & 2011 London Andy 1967 & 2011 Los Angeles Johanes 1994 & 2011 Hamburg Maarje 1990 & 2011 Amsterdam
BACK TO THE FUTURE 2 (2011) : Irina Werning - Photographer
curiosity counts
We live in an exciting and interesting time — one when some of our most commonly accepted ideas, traditions and principals are being challenged. This past week featured a fascinating read in the Wall Street Journal asking "Are Playgrounds Too Safe?", making the case that " decades of dumbed-down playgrounds, fueled by fears of litigation, concerns about injury and worrywart helicopter parents, have led to cookie-cutter equipment that offers little thrill." The result being children less compelled to play outside, potentially stunting emotional and physical development and exacerbating a nationwide epidemic of childhood obesity. Recently Forbes featured an article smartly challenging things many of us grew up being taught and often adhere to still.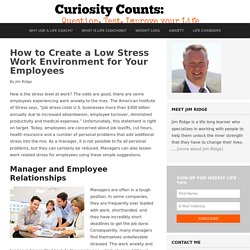 A Handbook For Flipping The Bird All Over The World | Co. Design
We New Yorkers are accustomed to risking life and limb to cross the street, but sometimes the offense of getting cut off by a wayward taxi is enough to turn even the most mild-mannered among us into bird-flipping maniacs. But given such a scenario, what would be the appropriate gestural response in, say, Paris, Beirut, or Mumbai? Let Rude Hand Gestures of the World, a new book by Romana Lefevre, be your guide for those situations when words fall short. Here, we present a sample from the book's 50 examples, ranging from ways to curse out a perfect stranger to expressing sexual interest.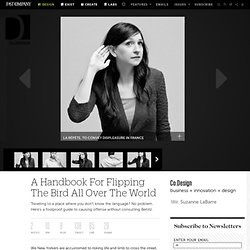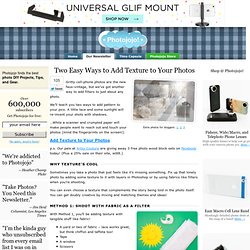 Gritty cell-phone photos are the new faux-vintage, but we've got another way to add filters to just about any photo. We'll teach you two ways to add pattern to your pics. A little lace and some sunlight will re-invent your shots with shadows. …While a scanner and crumpled paper will make people want to reach out and touch your photos (mind the fingerprints on the screen!). Add Texture to Your Photos p.s.
Two Easy Ways to Add Texture to Your Photos
by Maria Popova From the Periodic Table to Craigslist, or what the greatest graphic designer of all time has to do with Moby-Dick. After last week's look at the 11 best illustrated books for (eternal) kids of 2011, this year's best-of series continues with a look at the finest art, design, and creativity books of 2011 — tomes that capture your imagination and encapsulate the richest spectrum of what it means to be a thoughtful, eloquent visual creator. Marie Curie is one of the most extraordinary figures in the history of science. A pioneer in researching radioactivity, a field the very name for which she coined, she was not only the first woman to win a Nobel Prize but also the first person to win two Nobel Prizes, and in two different sciences at that, chemistry and physics. In Radioactive: Marie & Pierre Curie: A Tale of Love and Fallout, artist Lauren Redniss tells the story of Curie through the two invisible but immensely powerful forces that guided her life: Radioactivity and love.
The 11 Best Art and Design Books of 2011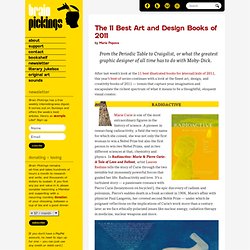 _lpz1vmwOQg1qzoqzpo1_500
by Maria Popova We're big fans of iconic designer Saul Bass. This triad of interviews, filmed shortly before Bass's death in 1996, offers a rare peek at the machinery of his creative genius as he shares priceless and often unexpected insight on the tradeoff between making money and doing quality work, his legacy, and the fundamental competency responsibilities of young designers. I don't give a damn if the client thinks it's worth anything, or whether it IS worth anything — it's worth it to me.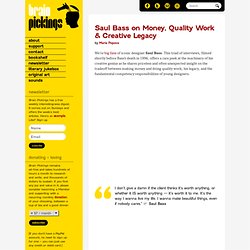 Saul Bass on Money, Quality Work & Creative Legacy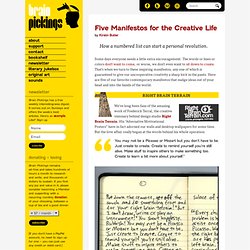 by Kirstin Butler How a numbered list can start a personal revolution. Some days everyone needs a little extra encouragement.
Five Manifestos for Modern Life
Blog
Procrastinadores del mundo, uníos… | From Mars