Production Tutorial
Welcome to Warbeats, home of the best free audio producer FL Studio / Fruity Loops Tutorials and FLStudio Project Remakes. We have a lot to offer you if your goal is to make beats using FL Studio but you can't afford to attend audio production schools. Some of the things you can expect to learn is how to make the FruityLoops XXL audio production software give you the sounds and techniques of a professional. Many of our audio producer tutorials will give you information that is NOT specific to FLStudio and the knowledge can be used in other audio production programs like Reason, Cubase, Sonar, Logic and Pro Tools. One of the reasons Warbeats is a premiere FLStudio Producer and audio production site is because our articles have many interviews with aspiring beat makers and audio production enthusiasts. We also have articles on many topics related to audio production and specifically making hip hop beats.
Music Videos - How To Information
HIPHOPMAKERS.COM |  Music Production Blog to Learn Everything Ab
DJ Premier explains how Guru and Big Shug designed the Gangstarr logo and how it's been used throughout all of their albums. Primo also talks about how Mass Appeal was created with the intention of being a radio hit. The undisputed king of finger drumming returns.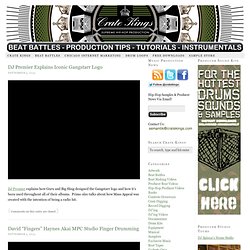 Hip Hop Producer DJ Equipment News, Beats, Samples, Drums
WhoSampled presents 'Samplethon': Calling all Producers & Beatmakers! On Saturday May 10th 2014 WhoSampled will host the first 'Samplethon' – the world's first ever Hackathon for music! We are looking for 20 talented producers to take part in this event. If you are a producer or beatmaker interested in battling it out at this unique event with an opportunity to win prizes and put your music in front of the world's largest community of sample based music fans, we want to hear from you!