Open Innovation
Home | Exnovate. Open Innovation. Open Innovation Innovation and entrepreneurship are at the heart of "creative destruction".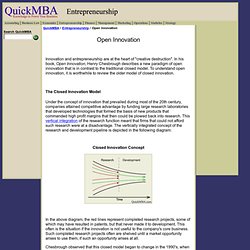 In his book, Open Innovation, Henry Chesbrough describes a new paradigm of open innovation that is in contrast to the traditional closed model. To understand open innovation, it is worthwhile to review the older model of closed innovation. Open Services Innovation. Section » Open Services Innovation Open Innovation: Key Competitive Factor for Banks The Crowdsourcing.org website reports that the potential that open innovation yields for banks has been captured in a new study released by GFT, a leading international IT solutions providers to the financial sector.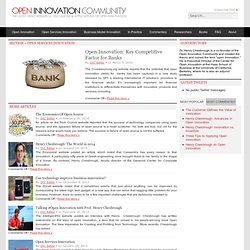 It's increasingly important for financial institutions to differentiate themselves with innovative products and services–including Comments Off • Read this story » Crowdsourcing and Crowdfunding - The Industry Website. Open Innovation Community. Program in Open Innovation (formerly Center for Open Innovation) Henry Chesbrough | Faculty Directory. Education BA, Economics, Yale University, Summa Cum LaudeMBA, Stanford University, with Highest HonorsPhD, Business Administration and Public Policy, Haas School of Business, UC Berkeley Positions Held At Haas since 20032005 - present, Adjunct Professor, Haas School of Business2003 - present, Executive Director, Center for Open Innovation, Haas School of Business1997 - 2003, Assistant Professor and Class of 1961 Fellow, Harvard Business School1983 - 1995, Vice President of Marketing and Business Development and other product marketing positions, Plus Development Corporation, an entrepreneurial subsidiary of Quantum Corporation.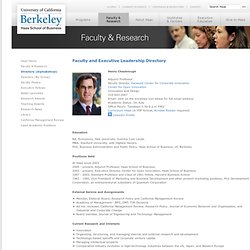 Eric Von Hippel's Homepage. Open Innovation Blog - Open Innovation Blog.
---