Open Innovation
Home | Exnovate
Open Innovation
Open Innovation Innovation and entrepreneurship are at the heart of "creative destruction". In his book, Open Innovation, Henry Chesbrough describes a new paradigm of open innovation that is in contrast to the traditional closed model. To understand open innovation, it is worthwhile to review the older model of closed innovation.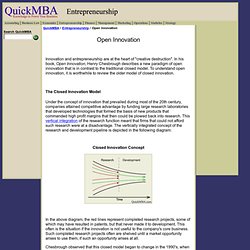 Section » Open Services Innovation Henry Chesbrough: The World in 2014 The Economist website posted an article which noted that Cassandra has every reason to fear innovation. A particularly nifty piece of Greek engineering once brought doom to her family in the shape of a horse. By contrast, Henry Chesbrough, faculty director of the Garwood Center for Corporate Innovation at Berkeley's Haas School of Business, embraces
Open Services Innovation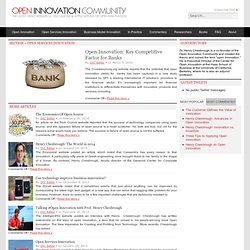 Sponsors Content Type Articles Blogs Questions Documents Videos Sites Editorials Latest EditorialTrendingMost Viewed Crowdfunding Wearables [Infographic] Crowdfunding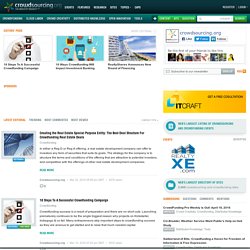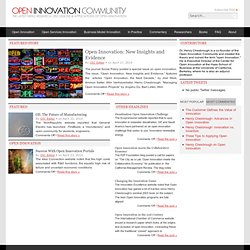 Openness for Innovation The Korea Joongang Daily website reported that Chris Anderson, the best-selling author of "The Long Tail" and "Free" visited Korea as CEO of American tech venture 3D Robotics Comments Off • Read this post » Open Innovation: Bringing Marketing to the People The 4hoteliers website published an article which noted that open innovation offers great opportunities for companies looking to streamline their product development and marketing because of its potential
(formerly Center for Open Innovation) Open Innovation: the use of purposive inflows and outflows of knowledge to accelerate innovation. With knowledge now widely distributed, companies cannot rely entirely on their own research, but should acquire inventions or intellectual property from other companies when it advances the business model. Read about Open Innovation Welcome and get involved! News: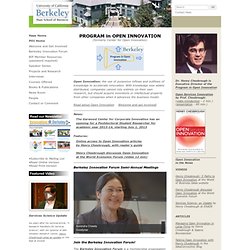 Henry Chesbrough | Faculty Directory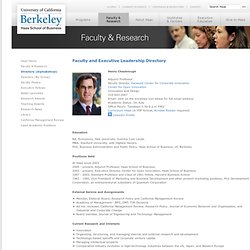 Education BA, Economics, Yale University, Summa Cum LaudeMBA, Stanford University, with Highest HonorsPhD, Business Administration and Public Policy, Haas School of Business, UC Berkeley Positions Held At Haas since 20032005 - present, Adjunct Professor, Haas School of Business2003 - present, Executive Director, Center for Open Innovation, Haas School of Business1997 - 2003, Assistant Professor and Class of 1961 Fellow, Harvard Business School1983 - 1995, Vice President of Marketing and Business Development and other product marketing positions, Plus Development Corporation, an entrepreneurial subsidiary of Quantum Corporation
Eric Von Hippel's Homepage
In the late 2000s researchers from all over the world published important research on various aspects of the open innovation concept. However, most of the work was of theoretical nature and the few available empirical papers were based on single-firm case studies. This was the reason why I focused on collecting a large-scale quantitative sample when I started my work with this dissertation in February 2008. During 2008 I began to narrow down my topic, define research questions and methodology.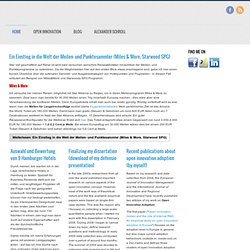 Open Innovation Blog - Open Innovation Blog