Energy solutions
Calico Energy Services > Home
EA Technology Group - Delivering Innovation in Power Engineering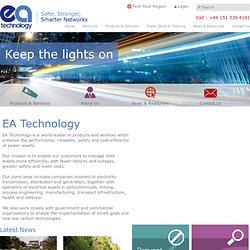 EA Technology is a world leader in products and services which enhance the performance, reliability, safety and cost-efficiency of power assets Our mission is to enable our customers to manage their assets more efficiently, with fewer failures and outages, greater safety and lower costs. Our client base includes companies involved in electricity transmission, distribution and generation, together with operators of electrical assets in petrochemicals, mining, process engineering, manufacturing, transport infrastructure, health and defence.
Energy Storage - Industry Links | Energy Storage Resources
Skip navigation Useful Links From national labs to state energy commissions, much good work is being done to further the science and wide-scale adoption of energy storage.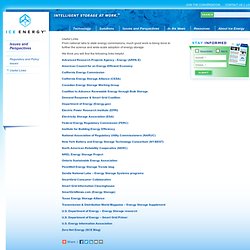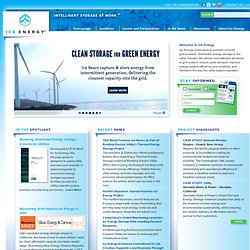 Ice Energy Home | Distributed Energy Storage
CASE STUDY: National Retailer Staples - Howell, New Jersey Staples, the world's largest retailer of office products, is committed to making its environmental footprint as small as possible. The Framingham, MA- based company's initiatives combine environmental stewardship and operational efficiency to produce a healthier planet as well as a healthier balance sheet Staples, the world's largest retailer of office products, is committed to making its environmental footprint as small as possible.
"Simergy has the potential to transform the building design process. This robust EnergyPlus graphical user interface will enable energy models to be developed in a fraction of the time and the integrated results analysis capabilities provide Quality Assurance review of the results for rapid troubleshooting. In addition, we feel Simergy will make energy modeling more cost-effective allowing every project the opportunity to inform design through performance-based decisions."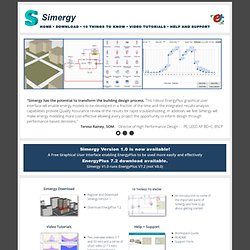 Simergy: Simergy Homepage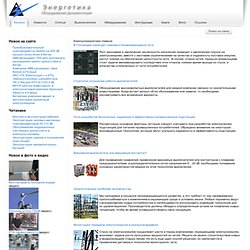 Электроэнергетика – основная отрасль экономики, которая обеспечивает потребителей энергией. Вся система электроэнергетики страны объединена в электроэнергетические системы, которые имеют единое и централизованное руководство, с использованием различных средств диспетчерского и технологического управления. Энергетический надзор в электроэнергетике, надзор за охраной труда, контроль в сфере энергосбережения осуществляются персоналом подразделений центральных органов исполнительной власти, на который возложенные обязанности в соответствии с законодательством. Внедрение информационных технологий в электроэнергетической отрасли, прежде всего, связано с автоматизацией процесса сбора, обработки и отображения информации.
Электрические сети, оборудование электроустановок.
Дорогие друзья! Рад приветствовать Вас на сайте ЗАО «ИНСТИТУТ ЭНЕРГЕТИЧЕСКИХ СИСТЕМ». Уже более 10 лет наша компания успешно работает в области разработки, модернизации и внедрении проектов в сфере энергетики. За эти годы ЗАО «ИЭС» приобрела богатый практический опыт в реализации крупных, высокоинновационных проектов.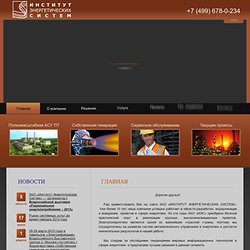 Институт Энергетических Систем
Energex Technologies
Home Page – Itron, Inc.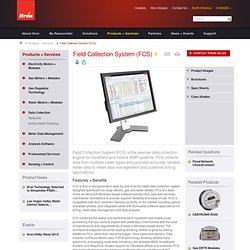 Field Collection System (FCS)
FCS is Itron's next generation walk-by and drive-by meter data collection system designed specifically for large electric, gas and water utilities. FCS is a state-of-the-art Microsoft Windows-based software solution that uses web services, client/server architecture to provide superior flexibility and ease-of-use. FCS is compatible with Itron collection devices currently on the market, including optical and water probes, and integrates easily with third-party software applications for billing, meter data management and data analysis. FCS combines the speed and performance in handheld and mobile route processing that you came to expect with yesterday's mainframes with the ease of maintenance and upgradeability of today's Windows-based world. The architecture supports horizontal scaling allowing utilities to grow by adding additional PCs, rather than requiring bigger, more expensive servers.
To date, Cyclone has over 1,000 hours of running and testing our engines, has achieved verified thermal efficiencies above 30%, and is very close to putting the first of these engine models into small-scale commercial production. From waste energy and solar thermal power generators to cars, trucks, trains and ships, we see a day when our planet will be powered in a sustainable manner by just One Engine – the Cyclone Engine.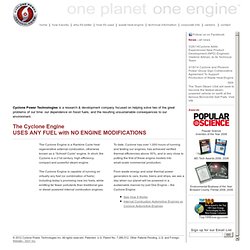 Cyclone Power Technologies - Cyclone Engine
Range SPYCE delivers both data for the last day as well as forecasts for the next 72 hours for any location in Europe up to 17.5° east and 56° north. Webservice for PV system registration The PV systems/sites that are to be monitored must be registered on the SPYCE server via a webservice which allows adding, reading, editing and deleting sites. For each site, the following parameters must be registered: Geographical coordinates of the site orientation of the inclined surface
SPYCE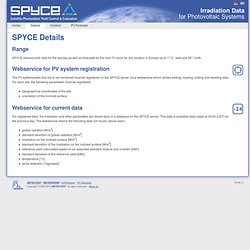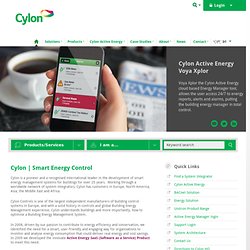 Cylon Energy is the North American division of Cylon, opened in 2012 to deliver building energy management solutions to a growing range of North American customers. In 2012, Cylon Energy Inc entered into an agreement to manage the Philips Teletrol's system integrator dealer business, offering an enhanced service to existing and new customers. The new partnership is part of Cylon's overall strategy to become a leading player in the North American market. Download the Cylon Energy Inc brochure. Cylon is a pioneer and a recognized international leader in the development of smart energy management systems for buildings for over 25 years. Working through a worldwide network of system integrators, Cylon has customers in Europe, North America, Asia, the Middle East and Africa.
Cylon - Smart energy Control
FACTS (Flexible Alternative Current Transmission Systems ) — гибкие системы передачи переменного тока как физическая основа умных сетей
Развитие электроэнергетических сетей неизбежно оборачивается двумя проблемами. Во-первых, получившаяся сложнозамкнутая и многоуровневая система не может функционировать без жестких механизмов управления (автоуправления). Во-вторых, дальнейшее развитие системы требует вовлечения новых земель, что в условиях введения частной собственности на землю, оказывается весьма дорогим удовольствием. В сложившихся условиях весьма многообещающе выглядит идеология интеллектуальных сетей (Smart Grid), которая позволяет обеспечить управляемость и повысить передающую способность сетей. Ряд специалистов уже высказались в том ключе, что повышение интеллектуальности (управляемости) сетей является малобюджетной альтернативой строительства новых Л.Э.П..
Energy Sector
Civil Engineering & Construction
About Us EST Group was established in Year 2004 with her headquarters based in Singapore. With a well established network access to many parts of the world, EST Group currently has Ten (10) members within the Asia Pacific under her umbrella, namely, Singapore, Malaysia, Thailand, Philippines, Indonesia, Vietnam, Taiwan, China, Hong Kong and India. EST Group was established with the goal in mind to unite all associate companies together through creating an alliance; to provide "True Value" to each customer by way of better product quality, pricing and network as well as services support.
EST-Group
May I warmly invite you to learn more about our company and its products. Our energy for your success: To ensure the continuing success of our customers in the future, HOPPECKE has specialised in the development of new technology and services for the storage of energy. Today we are the largest manufacturer of industrial batteries, systems and chargers in European ownership. Since 1927 we have been developing and producing energy storage systems to German Quality Standard with the claim of standard quality worldwide. To date, many of our developments have led the way in the market for industrial batteries. Our comprehensive range of storage batteries is complemented by the very latest charging methods and monitoring units to form complete systems.
HOPPECKE Batterien
BAE Batterien GmbH is a medium-sized privately owned company with a long tradition of manufacturing lead-acid batteries. We produce our high quality batteries in Berlin since 1899. Our products are made according to the highest (environmental) standards. We are DIN-certificated viz. DIN EN ISO 9001 and 14001. BAE is worldwide active and our core business is in the production and sales of stationary batteries for the use in back-up power solutions for Utilities, Telecommunication as well as UPS for industrial applications.
BAE Batterien GmbH - Berlin - Home
1000 Вольт - Информационный энергетический портал
Добро пожаловать в наш внутренний портал
ziehl.de
Трансформаторы, SF6 оборудование, Изоляторы, Реле и датчики - "НТТ-ЭЛЕКТРО" Инжиниринговая компания" | ntt-trafo.ru
ТЭК. Стратегии развития
Rusenergetics.ru | энергетический интернет-портал
Тригенерация, когенерация и мини-ТЭЦ для малой энергетики на портале Тригенерация.ру
Шинопровод | Сайт о замечательных системах Шинопровода. Теория и Практика.
Шинопроводы высшего качества
О компании | АБС ВНИИР
ТехноСервис-Электро
Передвижные электротехнические кабельные лаборатории, испытательное высоковольтное оборудование | ООО Альянс - С
Методические указания по определению места повреждения силовых кабелей напряжением до 10 кВ | ООО Альянс - С
О компании Димрус
на главную | PSI Energy
Introduction – Finance basics - Green Technology World
Laboratório de Eficiência Energética em Edificações | Laboratório de Eficiência Energética em Edificações
Publishing- B2B Print and Online Magazine, Events and Jobs
Dynamic Maps, GIS Data, and Analysis Tools Home Page
Data Search
Main Page - Bembook
Typical meteorological year
A Modified Method to Generate Typical Meteorological Years from the Long-Term Weather Database
Division of Building Science and Technology - City University of Hong Kong
te Change
onebuilding.org - discussions to improve building performance
AEC - Architectural Energy Corporation | AEC Home
Home
Why Tesla's Model X could make the electric SUV a mainstream hit
Mini Electric Car: Simple, Elegant and Innovative
Mini Electric Car: Bluecar and Mia Electric
lifornia Energy Commission Home Page
SEFI: UNEP Sustainable Energy Finance Initiative
Сайт компании ООО Экопромострой