HTML 5
Photobooth.js | Wolfram Hempel
I've been experimenting a lot with HTML 5 webcam support lately.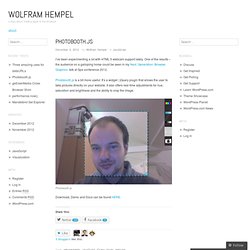 Many of the new APIs provided to us by browser vendors are more targeted toward the mobile user than the desktop user. One of those simple APIs the Vibration API.
Vibration API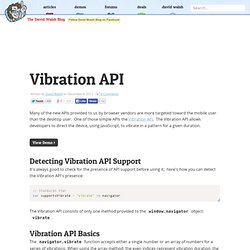 L'API de notification d'HTML 5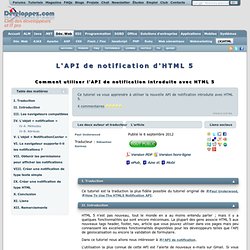 HTML 5 n'est pas nouveau, tout le monde en a au moins entendu parler ; mais il y a quelques fonctionnalités qui sont encore méconnues. La plupart des gens associe HTML 5 aux nouveaux tags header, footer, nav, article que vous pouvez utiliser dans vos pages mais peu connaissent les excellentes fonctionnalités disponibles pour les développeurs telles que l'API de géolocalisation ou encore la validation de formulaire. Dans ce tutoriel nous allons nous intéresser à l'API de notification.
Update: These context menus display even when JavaScript is disabled; so best practice will be to create these menu structures via JavaScript.
HTML5 Context Menus
HTML 5: Amazon.fr: Rodolphe Rimelé
Offline manifest & Localstorage
Geolocalisation, boussole
HTML5 elements in Internet Explorer without Javascript