Alcohol!!!
The United States of GOOD Beer (Raw Image)
Top 10 Rated Drinks on Whats That Drink? Free Mixed Drink Recipes! Most Popular Cocktails, Shots and Non-Alcoholic Drinks
Have fun with The Webtender's collection of drinking games, but be extremely careful if you play any these games, especially the ones with high buzz factors.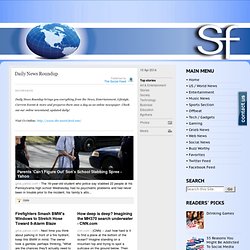 Drinking Games | The Social Feed - StumbleUpon
10 Jello Shots Worth the Hangover | Yummly - StumbleUpon
Skittles Vodka Tutorial : Mix That Drink - StumbleUpon
Infusing vodka with Skittles is a very popular trend right now. There are a couple of different ways to do it. My way involves separating all the Skittles into their separate flavors and making five different bottles of Skittles vodka. For this project, you'll need: One 1.75 liter bottle of vodka (I used Stoli – you don't need the most expensive vodka, but do avoid the cheap ones)Five 8.5 ounce flasks or bottles (buy them from Amazon – here's another that looks like a retro milk jug. For a Halloween party, serve these neon-colored concoctions in test tube shooter glasses.)One 1 pound bag of SkittlesFive empty plastic water bottlesA funnelBowls for separating the Skittles into flavorsA measuring cup (not pictured)Coffee filters or paper towels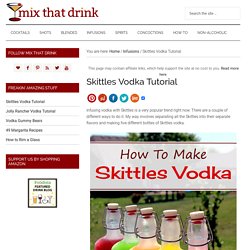 Jolly Rancher Vodka Tutorial : Mix That Drink - StumbleUpon