Alcohol!!!
The United States of GOOD Beer. Top 10 Rated Drinks on Whats That Drink? Free Mixed Drink Recipes! Most Popular Cocktails, Shots and Non-Alcoholic Drinks. Drinking Games | The Social Feed - StumbleUpon. Have fun with The Webtender's collection of drinking games, but be extremely careful if you play any these games, especially the ones with high buzz factors.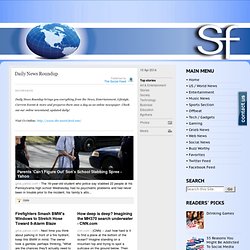 The collection was created as an aid to responsible adults who know their limits (and not to cross them) when it comes to drinking, and not to promote this kind of drinking behavior. You should of course be of legal drinking age if you want to play these games with beer or drinks, but anyone can play these games with non-alcoholic beverages as well. To view an entire collection of Drinking Games and more visit The Webtender: And remember, always drink responsibly! For more awesome games visit The Webtender:
10 Jello Shots Worth the Hangover | Yummly - StumbleUpon. Skittles Vodka Tutorial : Mix That Drink - StumbleUpon. Jolly Rancher Vodka Tutorial : Mix That Drink - StumbleUpon.
---