Tutorials
Build an MVC Framework in PHP From Scratch: Lesson 1
About Vikram Vaswani Vikram Vaswani is the founder and CEO of "Melonfire":http://www.melonfire.com/, a consultancy specializing in open-source tools and technologies. He is a passionate proponent of the open-source movement and frequently contributes articles and tutorials on open-source technologies, including Perl, Python, PHP, MySQL, and Linux, to the community at large. He is the author of four books on PHP and MySQL, including "MySQL: The Complete Reference":http://www.mysql-tcr.com/, "How to Do Everything with PHP and MySQL":http://www.everythingphpmysql.com/ and "PHP Programming Solutions":http://www.php-programming-solutions.com/. Vikram has more than eight years of experience working with PHP and MySQL as an application developer.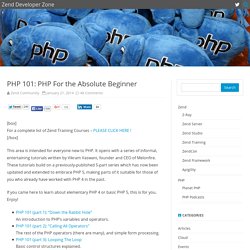 for Web Authors and Webmasters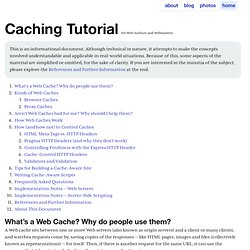 Im ersten Teil der Reihe "Webseiten beschleunigen" hatte ich beschrieben, wie man mit Hilfe von OptiPNG die Dateigröße von Grafiken verkleinern und damit die Ladezeit verkürzen kann. Im zweiten Teil widme ich mich nun einem etwas komplexeren Thema, nämlich der Verwendung von Expires-Header . Leverage browser caching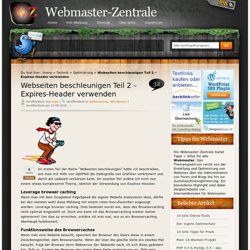 Expires-Header richtig konfigurieren » Webmaster-Zentrale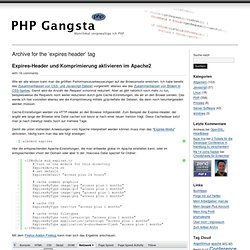 Expires Header | PHP Gangsta - Der PHP Blog mit Praxisbezug
Wie wir alle wissen kann man die größten Performanceverbesserungen auf der Browserseite erreichen. Ich habe bereits das Zusammenfassen von CSS- und Javascript-Dateien vorgestellt, ebenso wie das Zusammenfassen von Bildern in CSS-Sprites . Damit wird die Anzahl der Request schonmal reduziert.
Eine kleine MySQL-Referenz (PHP-Tutorial)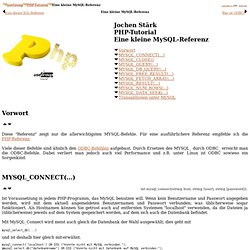 Vorwort Diese "Referenz" zeigt nur die allerwichtigsten MYSQL-Befehle. Für eine ausführlichere Referenz empfehle ich die PHP-Referenz .
How to develop a Web Application in 5 easy steps – A guide for web developers and businesses
Prism - Get Started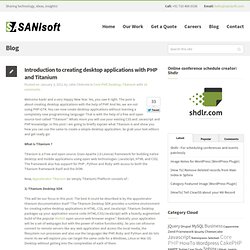 desktop applications with PHP and Titanium at SANIsoft – PHP for E Biz
Welcome back!
PHP + JSON + Titanium = FileBrowser : AppDev Blog
PHP-Gtk
Creating Your Own CMS Part 1 - Secure Login
Have you ever built a site to realize it is a pain to manage?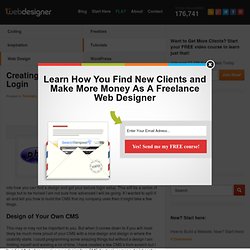 [Fortgeschrittene] Einführung in PHP-Templatesysteme mit der Engine SMARTY
As I alluded to on Twitter , Eclipse is a horrific scattered mess of projects masquerading as an IDE. I only hear wonderful things about it, mostly from ColdFusion developers, but god help the person that assumes it will be a quick and easy installation. First you need to choose the package you want.
Using Eclipse for Web Development | corey gilmore's blog