Photos
Magnum Photos. Magnum Photos is a photographic cooperative of great diversity and distinction owned by its photographer members.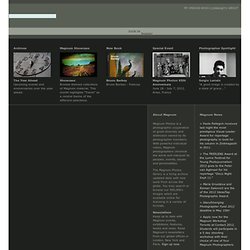 With powerful individual vision, Magnum photographers chronicle the world and interpret its peoples, events, issues and personalities. The Magnum Photos library is a living archive updated daily with new work from across the globe. You may search or browse our 500,000+ images which are available online for licensing in a variety of formats. Home - Cindy Sherman - Photographer, Model, Director, Actor, Avant-Garde Images, Doll Parts and Prosthetics, Movies.
Hedrich Blessing Photographers, Architectural Photography, Residential Photography, Interiors Photography, Hospitality Photography, Chicago Architectural Photographer, Residential Photographer, Interiors Photographer, Hospitality Photographer. Welcome to Flickr - Photo Sharing.
---