Others
Vanilla Latte Cookies. November 3, 2011 | Print | E-mail | Filed under 12weeksofchristmascookies, cookie Now that Halloween is over (and we're halfway through the 12 Weeks of Christmas Cookies!)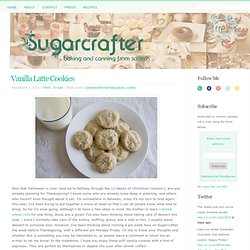 , are you already planning for Thanksgiving? I know some who are already knee-deep in planning, and others who haven't even thought about it yet. I'm somewhere in between; since it's my turn to host again this year, I've been trying to put together a menu at least so that I can let people know what else to bring. So far it's slow-going, although I do have a few ideas in mind. 50 Cookie Exchange Recipes. I don't know if you saw all the yummy cookies last week on my blog for my Cookie Exchange Week, but we had some DELICIOUS recipes shared by some of you favorite bloggers.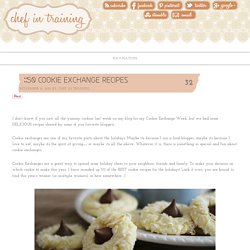 Cookie exchanges are one of my favorite parts about the holidays. Maybe its because I am a food blogger, maybe its because I love to eat, maybe its the spirit of giving… or maybe its all the above. Whatever it is, there is something so special and fun about cookie exchanges. Cookie Exchanges are a great way to spread some holiday cheer to your neighbors, friends and family. To make your decision on which cookie to make this year, I have rounded up 50 of the BEST cookie recipes for the holidays! Lion cookies in Cookies, biscuits and shortbreads recipes.
Susan is an undergrad student of Biology and is behind of the wonderful blog of Diamonds for Dessert, a collection of amazing recipes, full of energy, originality and freshness.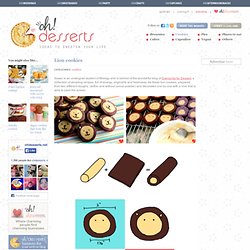 As these lion cookies, prepared from two different doughs (within and without cocoa powder) and decorated one by one with a love that is able to pass the screen. To follow the complete instructions with al the photos of the process, click here! Tradewind Tiaras: How to Make Sugar Cookies That Look Like Ice Cream. Crispy Oatmeal Cookies « Cookies. Oatmeal cookies, they are loved by everyone!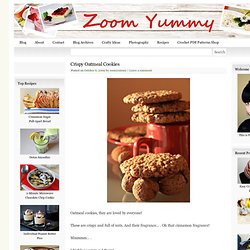 These are crispy and full of nuts. And their fragrance… . Oh that cinnamon fragrance! Mmmmm… . I highly recommend them! DIY Pinata Cookies. Edible Christmas Gift Recipes and Shopping Guide Christmas at Epicurious. Cheddar Cheese Shortbread and Biscuits Set yourself apart from the cookie-givers this Christmas with a gift of savory Scottish Sharp-Cheddar Shortbread.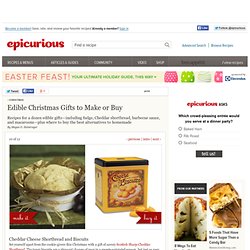 The tangy biscuits are a pleasant change of pace in a sweets-saturated season, but just as easy to make as traditional shortbread. Cookie Recipes. Cool Whip Cookies Recipe. Buttercream Sugar Cookies. Tea-Time Cookies Recipe Video by llam89. Serving size Calories 967 Calories from Fat 457 % Daily Value* Total Fat 52 g79.9% Saturated Fat 31.7 g158.6%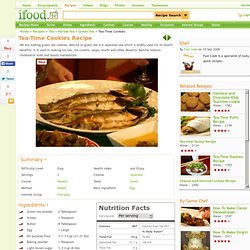 Spiral Slice-and-Bake Cookies. I've never really been a fan of Valentine's Day.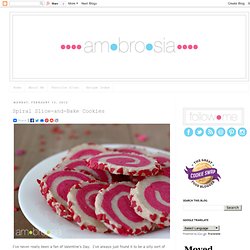 I've always just found it to be a silly sort of holiday with no real meaning behind it. I guess it's the whole, overly-commercialized aspect of the holiday that bothers me. It just seems to be a holiday created specifically for chocolate and greeting card companies to put production in overdrive for several weeks after the Christmas holidays...at least until Easter rolls around anyway. It's not that I'm a single, bitter human being who feels that whole "forever alone" thing and sees Valentine's Day as a day that is instead a "Singles Awareness Day. " I am none of the above, but regardless...I have always viewed Valentine's Day as a day that should be treated just like any other. Colorful Spiral Cookies. Just try to be in a bad mood around one of these.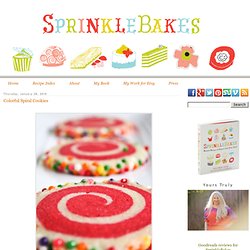 Impossible! I was naturally drawn to these because of the bright, eye-catching swirl, not to mention the jumbo sprinkles-encrusted edges! Cinnamon Roll Cookies. Forget the weights get your bicep curl on in this hand to mouth cookie lift.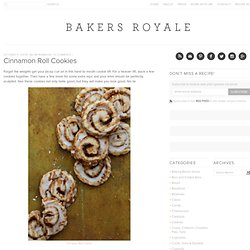 For a heavier lift, stack a few cookies together. Then have a few more for some extra reps and your arms should be perfectly sculpted. See these cookies not only taste good, but they will make you look good. No lie. Make Your Own Girl Scout Cookies. Make Your Own Girl Scout Cookies, Sans The Artificial Ingredients Whether you want to avoid some of the highly-processed ingredients (like trans fats and palm oil) or you just can't wait for the annual cookie sale, we've got some simple ways to make healthier versions of these classic treats.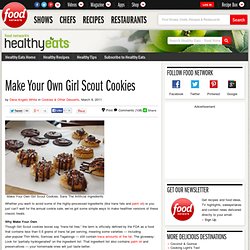 Why Make Your Own Though Girl Scout cookies boxes say "trans-fat free," the term is officially defined by the FDA as a food that contains less than 0.5 grams of trans fat per serving, meaning some varieties — including uber-popular Thin Mints, Samoas and Tagalongs — still contain trace amounts of the fat. The giveaway: Look for "partially-hydrogenated" on the ingredient list. Chewiest Sugar Cookies recipe from food52. Author Notes: My 8 year old daughter Maddie and I love to make cookies together. We always sample the dough as we go, adding a little more sugar or vanilla (or something else), if needed.
Because if the dough doesn't taste good, the cookies certainly won't. Fluffernutter Cookies, 3 Ingredients! Phew, what a whirlwind this week has been! I need one of these cookies while I unpack! More about my trip later, we've got to talk cookies! Seriously, wait until you try this recipe. 25 Days of Christmas Cookies Christmas at Epicurious.
---