THC
Population: Seven billion, but how many more?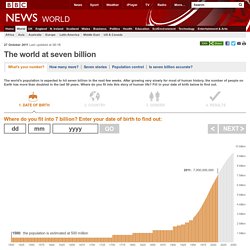 Sources: All population data are based on estimates by the UN Population Division and all calculations provided by the UN Population Fund . The remaining data are from other sections of the UN, the Global Footprint Network and the International Telecommunications Union . Want to find out more?
1319119568557
DIGITAL MASTERPLAN on Vimeo
Bjarke Ingels Group
BIG and Berlin-based artist group realities:united envision the city of Copenhagen by 2016 in a new animation which shows a completed Amager Bakke waste-to-energy plant, consolidating Denmark as a world leader in waste-to-energy conversion, allowing Copenhageners to ski near downtown Copenhagen while blowing giant smoke rings for each quarter ton C02 the facility produces to serve as a gentle reminder of the impact of consumption - turning the smokestack traditionally the symbol of the industrial era into a symbol for the future. The industrial design collaboration KiBiSi, featuring Bjarke Ingels, Jens-Martin Skibsted and Lars Lars launched their new ceiling and wall fixture Silverback for Louis Poulsen Lighting at the annual Light+Building fair in Frankfurt. Click on the image to see the promotional video.