//INSPI GRAPHISM
DES SIGNES – Muchir et Desclouds - Studio de graphisme à Paris – AFFICHES. Dans la presse "Nuit blanche, Paris", Mairie de Paris, 2012.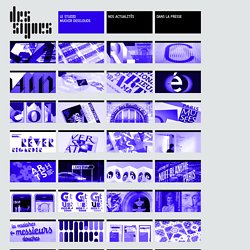 "RDV aux jardins", Ministère de la culture et de la communication, 2013. "Cibles", Musée de la chasse et de la nature, 2013. "L'autre regard", Château de Saint Germain-en-Laye, 2013. « Profession Archéologue », Inrap/Unesco. 2011. Nebojsa Cvetkovic. Shiro to Kuro | Design made black and white. Superscript² / design graphique + multimédia + typographie. Fondé à Lyon en 2006 par Pierre Delmas Bouly et Patrick Lallemand, Superscript² est un studio de création graphique investissant différents supports d'expression du design graphique tel que l'édition (livre "objet", monographie, catalogue, magazine, affiche, etc.), la typographie ou les médias numériques (site web, installations numériques, etc.).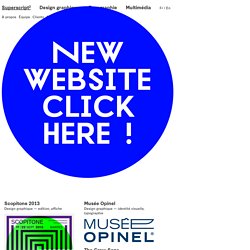 Le studio développe et produit en parallèle depuis mai 2006 une revue typographique : Ink. Cette édition ambitionne d'être un espace d'échange, de partage, de confrontation dans l'objectif d'offrir une approche plurielle du design graphique, à la fois visuelle et théorique. Showcase of Papercraft Design Ideas. Kavan & Co. Kevin Van Aelst. Marianne Beck. Logo Design Process and Walkthrough for BioThemes. It must be well over a year since I created the BioThemes logo, but the BioThemes website has finally launched with a bang so I thought I'd pull out my logo design to share my design process with you guys and girls.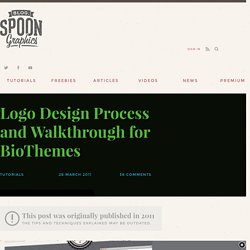 The BioThemes logo was pretty different to the majority of logos I've worked on in the past, which made it a super interesting project. John O'Nolan and Gilbert Pellegrom are the guys behind BioThemes. NOTCOUTURE. Quinspi.com - Your Quick Inspiration Resource. Human Nature: Jason deCaires Taylor's Submerged Figurative Sculptures House Thriving Coral Reefs. Jason deCaires Taylor possesses the title of a renowned "eco-sculptor" producing underwater sculptural environments which harbor life and offer a new place for marine species like fish and coral to thrive as well as a place for tourists to visit while not disrupting already existing natural habitats.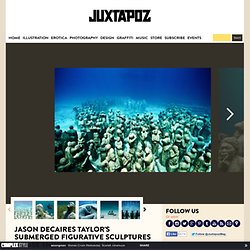 The works are impressively large and well researched, ensuring materials that are environmentally friendly and productive to the growth of marine life. The results are pretty impressive. (via) Zim and Zou. Official poster of the SXSW Film Festival 2014 (Austin, Texas).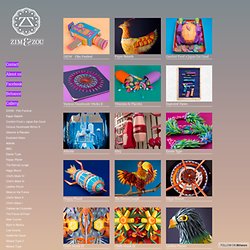 In collaboration with Gravillis. Austin's symbols : - Paramount Theater - Food Trailer Parks - South Congress Bridge bats (- The Texas Capitol) "Our goal was to create a poster that did not feel like it could be easily digitally reproduced. Ultimately, we wanted to embrace the 'do-it-yourself' ethos that SXSW has shown each year with their creative and imaginative footprint at the festival." -Gravillis Inc. Direction, Crafts, Illustration2014 The French NGO Ecofolio, who works to show the benefits of recycling, asked the agency June21 to promote this idea in a national print campaign. In addition to this, the creatives planned a two parts teasing campaign. Aaron Koblin - Work. [LIVE] Suivez en live la soirée DIZAIN ! #1 #Impression(s) Algorithmic. 3D, Algorithmic, Art, Audio-Reactive, Computational Design, Design, Generative, Graphic Design, Inspiration, Java, OpenGL, Particles, Processing.org, Reza, Simulation, Special Effects, Technology, vfx, Visuals March 14, 2012 My interpretation of the emoticon "OMG" for Samsung's Noteworthy Project: noteworthyproject.com/ 3D, Art, code art, Data Visualization, Design, Inspiration, Java, OpenGL, Particles, Processing.org, Reza, Special Effects, vfx, Visualization, Visuals, VJ Magneto: An Exploration of Lorentz Force.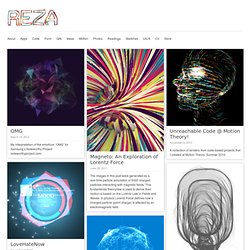 CONCRETE - All Day Long Parties - Concrete Paris. Atalante - Agence de création visuelle. Studio Frederic Tacer → Graphic Design. Honest logos by @Viktor | Designerscouch #thecritiquenetwork. Gregoire romanet _graphiste_ GTF - Graphic Thought Facility - London based design consultancy.
Design Numérique | Le club club. Archives de Design numérique The wilderness Downtown "The wilderness Downtown" expérience interactive Chris Milk pour Arcade Fire en collaboration avec Google Chrome.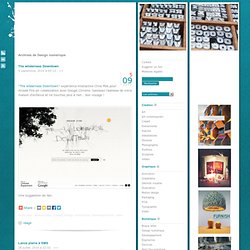 Saisissez l'adresse de votre maison d'enfance et ne touchez plus à rien… bon voyage ! Une suggestion de Yan. Bonjour! > redirection vers mon portfolio. A selection of graphic projects - Nanette Wallace. Inkulte - Graphisme, culture visuelle et musique underground, curiosité sans limite ! Fanette mellier .: graphiste :. Katia Garachon. Camille Baudelaire: Overview. Atelier Müesli – Design graphique.
BOOOOOOOM! - CREATE * INSPIRE * COMMUNITY * ART * DESIGN * MUSIC * FILM * PHOTO * PROJECTS. FFFFOUND! ERIC COLLET ╱ DESIGN & MUSIC.
---