NABB Camp
<p class="styleh4">This web application requires JavaScript to be enabled. We have detected that JavaScript is disabled in your web browser.<br /><a href="http://www.google.com/support/bin/answer.py?answer=23852" tabindex="30" title="Google Help web page on How to enable JavaScript">How to enable JavaScript <img src="/imagesHome/externalLink.jpg" alt="Link to External Website" width="11" height="11" class="linkExternal"/></a></p>
Request for WC/DB Exemption - Overview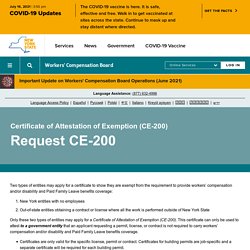 In my house growing up, bubbles always appeared in our Easter baskets...along with kites, sidewalk chalk, and other "it's still too cold to play outside, but we really want you to play outside" presents. Our bubbles were usually gone by the end of the day, and that pretty much did it for store-bought (or bunny-brought) bubbles until the next year. Luckily my mom had a few tricks up her sleeve and, with some pipe cleaners and a little dish soap, she could make us disappear for awhile with a fresh batch of homemade bubbles. You'll need: 2 cups water
Homemade Bubbles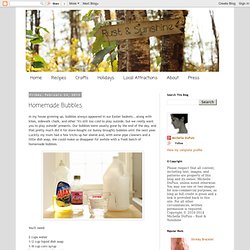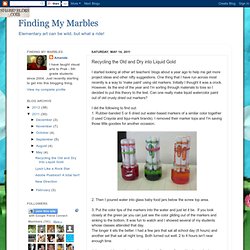 Recycling the Old Markers
I started looking at other art teachers' blogs about a year ago to help me get more project ideas and other nifty suggestions. One thing that I have run across most recently is a way to 'make paint' using old markers. Initially I thought it was a crock. However, its the end of the year and I'm sorting through materials to toss so I decided to put this theory to the test. Can one really make liquid watercolor paint out of old crusty dried out markers? I did the following to find out: 1.
Eco-Kid Projects
Layers or All Mixed Up In some recipes, the ingredients are all layered in a clear glass jar so that each layer is distinct, giving it the look of "sand art." If you're going for this layered look, the ingredients need to have different colors and textures. A sugar cookie mix made with white sugar and white flour is not going to show up well as layers! Packing 'em In Most of the cookie and brownie varieties of mix-in-a-jar recipes will fit into a 1-quart or 1-liter wide-mouth canning jar, as long as you pack the ingredients in as tightly as possible.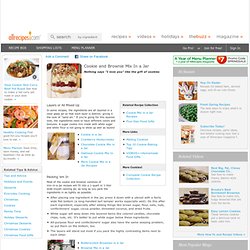 We're always looking for new and fun ways to keep the kids entertained, which is why we fell head-over-heels in love with this unique craft project. It's a simple activity to do with your kids, and the final result is gorgeous. How do you do it?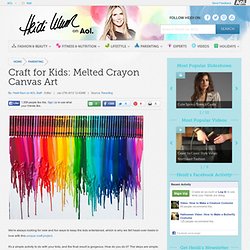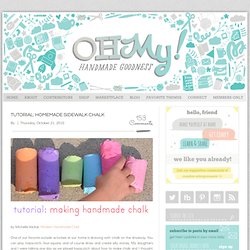 by Michelle Vackar, Modern Handmade Child One of our favorite outside activities at our home is drawing with chalk on the driveway. You can play hopscotch, four-square, and of course draw and create silly stories. My daughters and I were talking one day as we played hopscotch about how to make chalk and I thought to myself, let's try it! It ended up being quite a lot of fun.
Sex Offender Registry