Cortometrajes/Shortfilms
Woodkid - Run Boy Run (Official Video HD) on Vimeo
Walt Disney y Salvador Dali - Destino HD 2003
Great Short Films - naranjaja
Touch of Evil
Eatliz - Lose This Child (Official video - HD Version)
Murmation by Sophie Windsor Clive | Outdoors
Today Fleet Foxes dropped an incredible animated music video for "The Shrine / An Argument", a sprawling eight-minute standout from the band's 'universally acclaimed' 2011 LP Helplessness Blue s. The jaw-dropping animation comes from the hands of Sean Pecknold (brother of Fleet Foxes frontman Robin Pecknold, who has also created live visuals for the band in the past) and Britta Johnson . Their knack for traditional frame-by-frame animating is even further enhanced by outstanding character design by Stacey Rozich .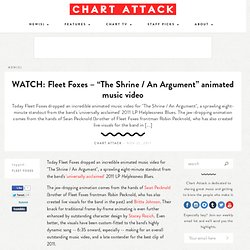 Fleet Foxes - "The Shrine / An Argument" animated music video
Flipbook animation video "Vines" is romantic and uplifting -
TUB - A Short Film
Imagining a Post-Apocalyptic Paris - Video
Less than a year after making the world's smallest animation , Nokia just ticked off that large, lurking item on the to-do list: conjuring the world's largest stop motion animation.
The "World's Largest" Stop Motion Animation Was Created With A Nokia N8 | Fast Company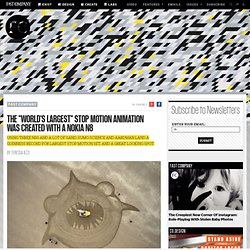 What happens when we try to walk in a straight line blindfolded