Web companies
The State of Wikipedia on Vimeo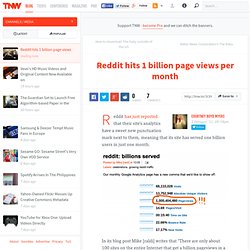 Reddit has just reported that their site's analytics have a sweet new punctuation mark next to them, meaning that its site has served one billion users in just one month. In its blog post Mike [raldi] writes that "There are only about 100 sites on the entire Internet that get a billion pageviews in a single month, and now reddit can put on its smoking jacket and join that exclusive club." A club, mind you, that doesn't include The New York Times, Expedia, Weather.com, about.com, or Fox News. Reddit has grown tremendously this year, from 250 million page views in January 2010 to 829 million in December, and more than doubling its number of servers from 50 to 119 in the same timeframe.
Reddit hits 1 billion page views per month
Apple, Facebook and Google Are the de Facto Regulators of the Digital Domain | Digital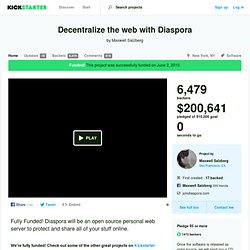 We're fully funded! Check out some of the other great projects on Kickstarter Diaspora - the privacy aware, personally controlled, do-it-all distributed open source social network We are four talented young programmers from NYU's Courant Institute trying to raise money so we can spend the summer building Diaspora; an open source personal web server that will put individuals in control of their data. What is it? Enter your Diaspora "seed," a personal web server that stores all of your information and shares it with your friends.
Diaspora publie le code source de son Facebook libre
Chose promise, chose faite. Né comme une simple idée au mois de mai et rapidement financé par un afflux sans précédent de dons de ses futurs utilisateurs, le projet Diaspora est désormais réalité. Mercredi soir, l'équipe de Diaspora a publié la toute première version publique du code source du réseau social à la Facebook, basé sur des logiciels libres et qui laisse surtout à l'utilisateur le contrôle de ses propres données. " A partir de maintenant, nous allons travailler étroitement avec la communauté pour améliorer et solidifier Diaspora ", indiquent les promoteurs.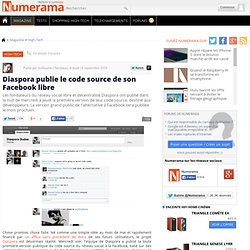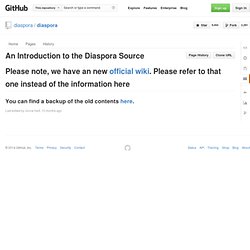 Framework and Tools: Diaspora is written in Ruby on Rails , a web framework for the Ruby programming language . If you've never looked at a Rails project, you may want to check out a Rails guide like this one . There are a few tools we're using that aren't in every rails project: Haml Our view templates are written in HAML (a templating language) instead of the default ERB (HTML with inline Ruby code).
An introduction to the diaspora source - diaspora - GitHub