Food Blogs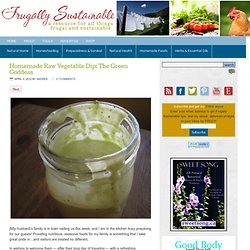 Homemade Raw Vegetable Dip: The Green Goddess
[M]y husband's family is in town visiting us this week, and I am in the kitchen busy preparing for our guests! Providing nutritious, seasonal foods for my family is something that I take great pride in…and visitors are treated no different. In wishing to welcome them — after their long day of traveling — with a refreshing mid-afternoon snack, we created this Green Goddess Raw Vegetable Dip, served alongside fresh seasonal veggies from our CSA farm.
Fried Dill Pickles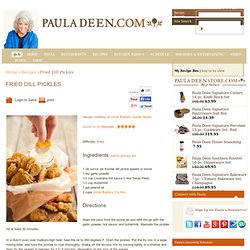 Drain the juice from the pickle jar and refill the jar with the garlic powder, hot sauce, and buttermilk. Marinate the pickles for at least 30 minutes. In a Dutch oven over medium-high heat, heat the oil to 350 degrees F.
1) FOR THE CRUST: Preheat your oven to 300°F. Spray a 9" x 13" pan lightly with cooking spray, or line with parchment, and set aside. 2) In a medium-sized bowl, beat together the butter, sugar and vanilla.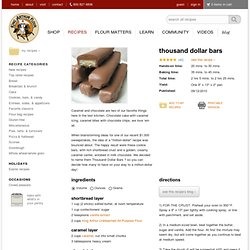 Thousand Dollar Bars: King Arthur Flour
Honey Mustard Chicken with Bacon and Mushrooms | Everyday Home Cook
"This is probably my favorite way to eat chicken." That's a quote from my husband the last time I made Honey Mustard Chicken with Bacon and Mushrooms for dinner. Marinate some chicken breasts in honey, mustard, and lemon, then top with bacon, mushrooms and cheese… How could that go wrong?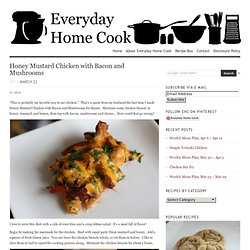 10 Ingredients to Make From Scratch
100 Ways to Cook...
Welcome | Dreaming of Poultry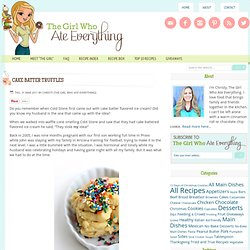 Do you remember when Cold Stone first came out with cake batter flavored ice cream? Did you know my husband is the one that came up with the idea? When we walked into waffle cone smelling Cold Stone and saw that they had cake battered flavored ice cream he said, "They stole my idea!" Back in 2005, I was nine months pregnant with our first son working full time in Provo while John was staying with my family in Arizona training for football, trying to make it to the next level. I was a little bummed with the situation.
Cake Batter Truffles
These sweet Tea Party Cupcakes are Almond Cupcakes with Coconut Buttercream Frosting. The Coconut Buttercream that tops these is crazy delicious, light and rich all at the same time. Perfect for any occasion! Don't you just love a sweet cupcake? And of course they say you eat with your eyes first (which I think sounds creepy, but whatev) so these are as pretty as they are delicious!
cookiesandcups.com —