Inspiration
CSS Galleries. Stunningly Creative and Unforgettable Print Ads. Aug 03 2011 Advertising is done in order to catch the attention of a target audience and deliver a specific message in a clear and concise manner.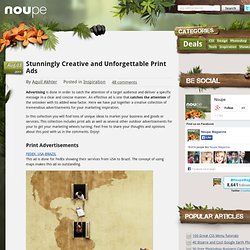 An effective ad is one that catches the attention of the onlooker with its added wow factor. Here we have put together a creative collection of tremendous advertisements for your marketing inspiration. In this collection you will find tons of unique ideas to market your business and goods or services. 30 Fresh Web Design Tutorials. The web design world is growing very fast.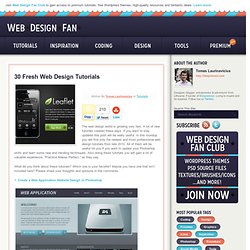 A lot of new tutorials created these days. If you want to stay updated this post will be really useful. CSS Gallery | Css Leak. 75 Cool Icon Illustration Design Inspiration at DzineBlog. Web Design Inspiration. CSS Design - CSS Gallery - Inspiration - Showcase - Ressources et outils SEO. Web Creme | Web design inspiration. The Design Inspiration - Daily Logo Designs, Illustration Art, Website Showcase, Photos and Patterns.
---