IAEA
Международное агентство по атомной энергии (МАГАТЭ) является ведущим мировым международным правительственным форумом научно-технического сотрудничества в области мирного использования ядерной технологии. Первый из двух предложенных сайтов является русскоязычным, второй - на английском языке (официальный сайт организации). На каждом из них содержится следующая информация о МАГАТЭ: общие сведения - информация о деятельности организации, цели и задачи, организационная структура и т.д.; список государств-членов; доклады МАГАТЭ - полные тексты докладов МАГАТЭ в формате pdf, начиная с 1999 года; ядерная безопасность - вопросы ядерной безопасности, ядерной энергетики, конвенции и декларации по ядерной безопасности, ООН и чернобыльская катастрофа; конвенции - международные конвенции и соглашения по ядерной безопасности.
Официальный сайт МАГАТЭ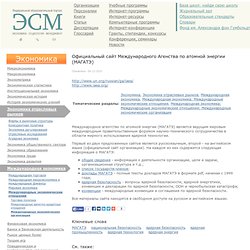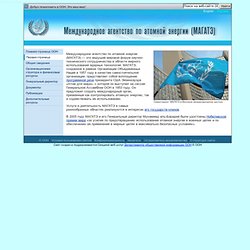 Международное агентство по атомной энергии (МАГАТЭ)
Секретариат МАГАТЭ в Венском международном центре. Международное агентство по атомной энергии (МАГАТЭ) — это ведущий мировой форум научно-технического сотрудничества в области мирного использования ядерных технологий. МАГАТЭ, созданное в рамках Организации Объединенных Наций в 1957 году в качестве самостоятельной организации, представляет собой воплощение программной речи президента США Эйзенхауэра «Атом для мира», с которой он выступил на сессии Генеральной Ассамблеи ООН в 1953 году.
Nuclear Safety & Security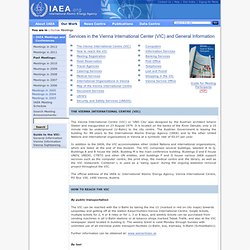 Meetings and Conferences
Information Services General information on the VIC, the IAEA and Vienna, as well as other information material and maps are available in building M (ground floor). Hotel Reservations »» see "Travel Agencies" Banking Services Bank Austria has two branch offices in the VIC.
Integrated Nuclear Fuel Cycle Information Systems (iNFCIS)
Publications
Safety Standards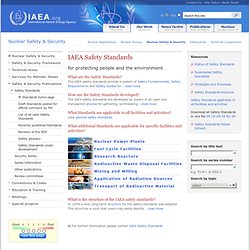 What are the Safety Standards? The IAEA safety standards provide a system of Safety FundamentalsAs the primary publication in the IAEA Safety Standards Series, Fundamental Safety Principles establishes the fundamental safety objective and principles of protection and safety. The Fundamental Safety Principles are drafted in language that is understandable to the non-specialist reader. They convey the basis and rationale for the safety standards for those persons at senior levels in government and regulatory bodies., Safety RequirementsSafety Requirements publications establish the requirements that must be met to ensure the protection of people and the environment, both now and in the future.
The most common reason for the error might be because the link you followed have been deleted, renamed or moved to another location. The web address or uniform resource locator (URL) may also be incorrect. You may want to try the following: Search. If you are looking for a particular article or topic, try using the search bar in the lower right corner of the site header. E-mail Us.
CNPP Country Profiles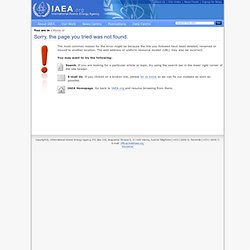 PRIS Home Page
The most common reason for the error might be because the link you followed have been deleted, renamed or moved to another location. The web address or uniform resource locator (URL) may also be incorrect. You may want to try the following: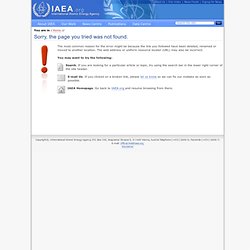 INPRO Starting Page