Autocad blocks
Category:Free AutoCAD Blocks - Draftsperson.net. AutoCAD DWG format blocks free for your use.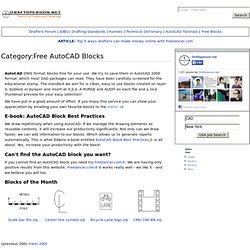 We try to save them in AutoCAD 2000 format, which most CAD packages can read. They have been carefully screened for the educational stamp. The standard we aim for is clean, easy to use blocks created on layer 0, byblock or bylayer and insert at 0,0,0. A PURGE and AUDIT on each file and a nice thumbnail preview for your easy selection! We have put in a good amount of effort. CAD Block Exchange Network - Free Online AutoCAD Block Library-
AutoCAD Blocks from Cadmonkey.com.
---