Technology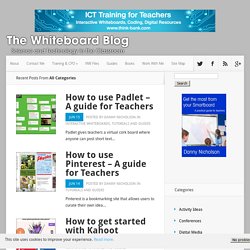 10 Tools for Digital Storytelling in Class Digital storytelling is simply using computer-based tools to tell stories. There are many different ways to do this – from making movies, recording voices, creating animations or electronic... 8 Word Cloud Makers for Teachers
Better Than Dropbox: The 6 Quickest Ways To Share Any File With Anyone
I love Dropbox. Ever since I found it a few years ago, the way I share files with friends, family and colleagues has changed completely. Dropbox, and similar services, make sharing big files and multiple files as easy as saving them on your own computer. What could be better?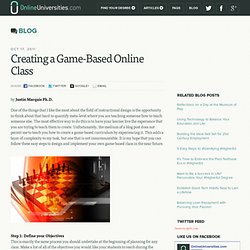 One of the things that I like the most about the field of instructional design is the opportunity to think about that hard to quantify meta-level where you are teaching someone how to teach someone else. The most effective way to do this is to have your learner live the experience that you are trying to teach them to create. Unfortunately, the medium of a blog post does not permit me to teach you how to create a game-based curriculum by experiencing it. This adds a layer of complexity to my task, but one that is not insurmountable. It is my hope that you can follow these easy steps to design and implement your own game-based class in the near future. Step 1: Define your Objectives This is exactly the same process you should undertake at the beginning of planning for any class. Built for Teachers Kidblog is designed for K-12 teachers who want to provide each student with an individual blog. Students publish posts and participate in academic discussions within a secure classroom blogging community. Teachers maintain complete control over student blogs and user accounts.
01 Aug 2012 The 101 Most Useful Websites on the Internet is a frequently updated list of lesser-known but wonderful websites and cool web apps. couch mode print story Presenting the 101 most useful websites of 2012. These sites, well most of them, solve at least one problem really well and they all have simple web addresses (URLs) that you can memorize thus saving you a trip to Google.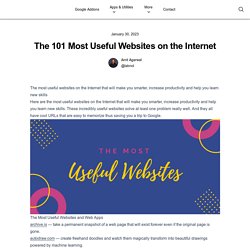 Skip to main content I Can Show You GrandMa Welcome to TBR Mobilization & Emerging Technology Want to receive notification when News, Apps for Learning or Calendar Events are added? Click here to create a free account! Mobilizing the Tennessee Board of Regents (mTBR) for new innovations of Emerging Technology and Mobile Devices and App Technology, Social Networking, Gaming, Simulations, Virtual Worlds for the purpose to increase recruiting, retention, graduation rates; to improve teaching, learning, and workforce development; and for meeting the needs of 21st Century Technological Mobilization Workforce: view video
A Google a Day
Education Twitter Users