Leadership
What is a PLN? Or, PLE vs. PLN? | Leadership Think Tank. Where the Magic Happens – A Metaphor for Leadership | Ready For Learning. These days, we seem to be questioning almost every aspect of our public education system.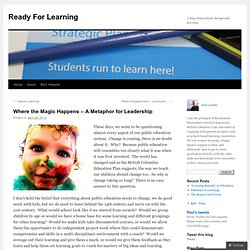 Change is coming, there is no doubt about it. Why? Leadership Teams: Why Two Are Better Than One | Alive and Learning. Leadership Is About Leading. By Mike Myatt, Chief Executive Officer, N2growth Leadership is about leading.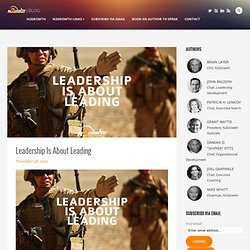 Leadership is a 24-7-365 endeavor. In fact, I'd go so far as to say the best leaders view what they do as a calling and not just a job. If you're a leader, what you do in public or private, in silence or in word, and in thought or in deed will be observed, evaluated and critiqued – count on it. There are simply no free passes for leaders. Leadership – It's About The People. By Mike Myatt, Chief Executive Officer, N2growth If you think leadership is about you, your ego has led you astray.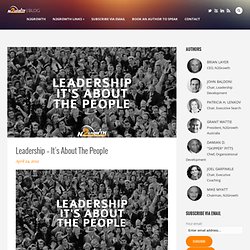 Leadership has little to do with you and everything to do with those you lead. If you think leadership is about the bottom line, think again; it's about the people. Six Secrets of Inspirational Leadership. Image source The real test of leadership isn't what you doit's what you inspire others to do.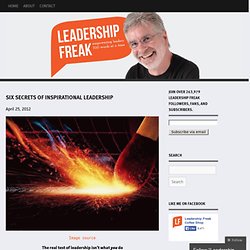 Great leaders inspire others to contribute greatly. The shift from individual contributor to inspiring others may be your greatest leadership challenge. They – not you - become central. Leadership In Teamwork | EZLifestyles | Alive and Learning. 12 Most Inescapable Leadership Teachings | 12 Most | Alive and Learning. Leadership character: A six-part series by West Point's Col. Eric Kail - Guest Insights. Posted at 04:34 PM ET, 06/10/2011 Jun 10, 2011 08:34 PM EDT TheWashingtonPost By Col.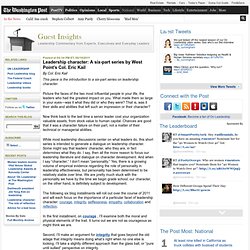 Eric Kail. 5 for Leadership | Gary Runn. Here is a fresh 5 for this fourth week in April. 7 Dangers of the Proud Leader This comes from Ron Edmondson.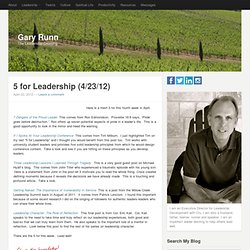 Proverbs 16:8 says, "Pride goes before destruction." The Source of Integrity. Posted on 22.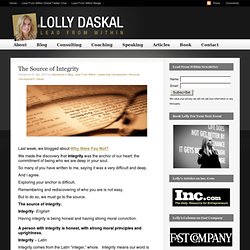 Apr, 2012 by lollydaskal in Blog, Lead From Within, Leadership Development, Personal Development, Values Last week, we blogged about Why Were You Not? We made the discovery that integrity was the anchor of our heart; the commitment of being who we are deep in your soul. So many of you have written to me, saying it was a very difficult and deep. And I agree. The Next Generation of Leadership | Alive and Learning. Thought Leadership – Thought Leadership e book – 12 Experts on the Thought Leadership Challenges of 2012 | Alive and Learning. 9 Timeless Leadership Lessons | Alive and Learning. Social Media as a Leadership Tool | Alive and Learning. @ Mayrick.net - Leadership – The biggest mistake a leader can make. What is the Biggest mistake a leader can make?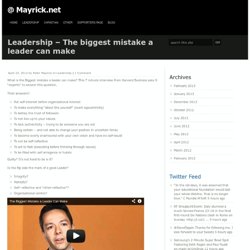 This 7 minute interview from Harvard Business asks 9 "experts" to answer this question. Their answers? : Put self-interest before organisational interest To make everything "about the yourself" (overt egocentricity) To betray the trust of followers To not live up to your values To lack authenticity – trying to be someone you are not Being certain – and not able to change your position in uncertain times To become overly enamoured with your own vision and have no self-doubt To not be self-reflective To act to fast (executing before thinking through issues) To be filled with self arrogance or hubris Guilty?
The Heart of Innovation: 34 Awesome Quotes on Leadership | Alive and Learning. Social Media and Two-Way Communication. Recently, I was invited to participate in a webinar titled, Using social media to enhance school-community relations.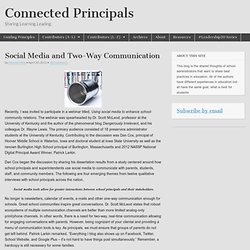 The webinar was spearheaded by Dr. Scott McLeod, professor at the University of Kentucky and the author of the phenomenal blog Dangerously Irrelevant, and his colleague Dr. What a 2-Legged Dog taught me about Leadership Resilience | A Slice of Leadership: A Leadership Blog, One Slice at a Time | Alive and Learning. How to Build Your Leadership Brand. People who aren't known for something haven't done anything.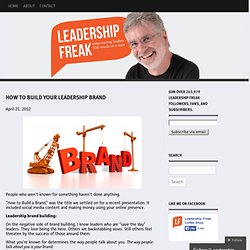 "How to Build a Brand," was the title we settled on for a recent presentation. It included social media content and making money using your online presence. Leadership brand building: On the negative side of brand building, I know leaders who are "save the day" leaders. The 10 Best Leadership Blogs I Read The Week Of April 16th | Brian Dodd On Leadership | Alive and Learning. Leadership is actually team work | Alive and Learning. Drew Dudley: Everyday leadership | Video on TED.com | Alive and Learning. TED: Ideas worth spreading. 12 Most Inescapable Leadership Teachings | 12 Most | Alive and Learning. 6 Habits of True Strategic Thinkers | LinkedIn | Alive and Learning. A silent leadership killer | SmartBlogs | Alive and Learning.
Busting the Mehrabian Myth. Action Learning for Leadership Development. Introduction When devising any leadership programme, it is important to ensure that as participants students are not only 'taught' or trained, but that they have the opportunity to put learning into action. Experience has shown us that unless we practice new skills and ideas soon after a programme we tend to forget the lessons learnt. In practice many of us tend to short circuit this cycle and often ship the reviewing phase as it is often difficult to do 'out of context. Action learning will help 'close the loop' and ensure our learning is as effective as possible (more about learning cycles in module one).
The Anti-List of Leadership Qualities | A Slice of Leadership: A Leadership Blog, One Slice at a Time | Alive and Learning. Imagine Learning | 2011 Lesson #3 - "Do then think": take risks. A "TO-BE" List for Aspiring Leaders by Angela Maiers. "Being' and 'doing' are inseparable aspects of your presence and influence. -author unknown I have the privilege each year of speaking to auditoriums full of aspiring young leaders, anxious to go out into the world and make their mark. They are looking for the "book", the "roadmap" , the "words or wisdom" that will guide them to the things they need "TO-DO" next.
This Week's Fav Five Leadership Posts » Leadership Done Right. Each week I have a hard time finding the top five posts because their are so many good leadership blogs. I feel I am only just beginning to see the number of good blogs out there. Here are the top five leadership blog posts I found this week. Lessons From a Failure in Leadership by Gwyn Teatro Burton Winters was a typical fourteen-year-old living with his parents in Makkovik, Labrador. Winter weather makes snow mobile driving a necessity there and, like most of the boys in his community, Burton was an experienced driver. 5 Things Great Bosses Never Do. I recently described what remarkable bosses do.
A number of people emailed and asked, "That's a great list, but flip it around: What things should I not do? " Glad you asked. As a leader what you don't do can sometimes make as much or even more impact than what you do. Here are five things remarkable bosses never do: Say, "I've been meaning to apologize for a while... " Building Effective Teams Isn't Rocket Science, But It's Just as Hard - Douglas R. Conant. By Douglas R. Conant | 9:20 AM April 4, 2012 Over my 35 years of experience in the corporate and non-profit worlds, I've been part of hundreds, if not thousands, of teams of all shapes and sizes: large, small, formal, informal, "real", "virtual" — and the list goes on.
A kind word changes everything—especially when you're learning something new. Radically Change Your Leadership, Today. What I Learned About Leadership from a Low Ropes Course. 4 choice leadership acts for 2012 | SmartBlog on Leadership. Why is it Important to be a Connected Educator? Classroom Teachers as Catalysts for PD - Houston, TX. Engaging Employees to Increase Engagement. Want Credibility? Be Consistent. How to Move Through Uncertainty to Opportunity. Delta School District Vision. The Weekly "Round-Up" Of Good School Reform Posts & Articles. The 3 Step Triple Threat: The courage to say it out loud.
Best Leadership Books of 2011. 12 Reasons You Will Be a Better Leader this Year. 7 Reasons Leaders Can't Transfer their Success to Other Organizations. Six Steps to Master Teaching: Becoming a Reflective Practitioner. 5 Not-Quite-Rocket-Science Ways to Build Leadership Trust. The Joy of Leadership. Five Lessons from World Changers - John Coleman. Five Characteristics of Effective School Leadership. Leadership Lessons: Ten Ideas to Take into 2012. Five Gifts Received. Developing Mindful Leaders - Polly LaBarre. Share a link. So Here's What I'd Do. First Look: Leadership Books for January 2012. Leading Blog: A Leadership Blog. Delegation Requires Training, Timing, and Trusting. Leadership501 — Examining the Gears of Leadership. Leadership Brief: Resources that Help You Show Appreciation.
How John Maxwell Navigates Leadership. The Vision All Leaders Always Need. Four Ways to Build Trust in Employee Performance Reviews – Do You "Meet Expectations?" 5 Leadership Lessons: What if You Could Take Control of Your Life with One Decision? Smarter Workplaces: Why High Achievers Flounder. Thoughts from the Office: Principle-based Decision Making. Applying Brain Science For Leadership Development | Brain Booster Club. Five Techniques That Make You Matter Most. The Vice Of Ingratitude. Everyday Leadership Through Everyday Actions — Random Acts Of Leadership. Education May Be for Later, but Learning is Right Now. Time to Think.
---