Digital tools
The big list of free Kindle tools | Digital Delights for Learners. Top 10 Blogging Dos and Don'ts. By Guest Blogger If you are a beginning blogger or are a seasoned blogging vet, you may occasionally need a blogging tip to help you create content or to get you back on track.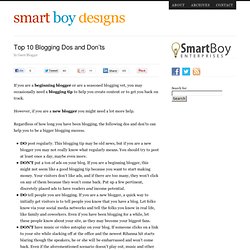 However, if you are a new blogger you might need a lot more help. Regardless of how long you have been blogging, the following dos and don'ts can help you to be a bigger blogging success. DO post regularly. This blogging tip may be old news, but if you are a new blogger you may not really know what regularly means. Creating Blogs and Websites. This page is where you can find resources related to my presentations about creating effective blogs and websites to complement instruction.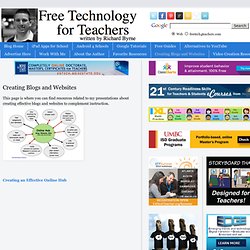 How to create a Blogger blog. How to turn on comment moderation in Blogger. New page. Ipads In The Classroom – Christmas Reflection - Keith Rispin » Keith Rispin. A student asked me last week if I was going to "do the iPad thing next year" and strangely I said yes without hesitation.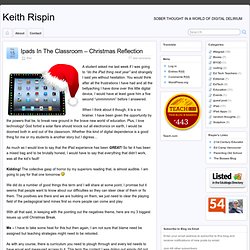 You would think after all the frustrations I have had and all the bellyaching I have done over this little digital device, I would have at least gave him a five second "ummmmmm" before I answered. When I think about it though, it is a no brainer. I have been given the opportunity by the powers that be, to break new ground in the brave new world of education. Plus, I love technology! Tools of the trade. Just Trying to be Better Than Yesterday | …how difficult can that be? Visual Note Taking / Sketchnotes.
---