Blog sites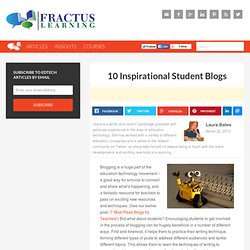 5 in Share Publish Your Book On Kindle - Online Course Finally - the ultimate training to get your book on Amazon, boost your credibility, reach more people and get more sales. Explore this online course at
10 Inspirational Student Blogs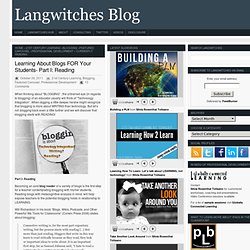 When thinking about "BLOGGING" , the untrained eye (in regards to blogging) of an educator usually will think of "Technology Integration". When digging a little deeper he/she might recognize that blogging is more about WRITING than technology. But let's roll blogging back even a little further and we will discover that blogging starts with READING! Part I- Reading Becoming an avid blog reader of a variety of blogs is the first step for a teacher contemplating blogging with his/her students.
Learning About Blogs FOR Your Students- Part I: Reading 
Education Blogs
Google Reader (1000+)
Highly recommended ELT Blogs
Adventures in High School Administration
Enjoy and Embrace Learning
Engaging Employees to Increase Engagement
Leaders everywhere these days are talking about how to create more engaged employees. Consultants, authors, and speakers are consulting, writing, and speaking about the importance of increased employee engagement. It is a trend that makes good sense. In Gallup's most recent survey, they found only 28% of employees actively engaged, which they define as: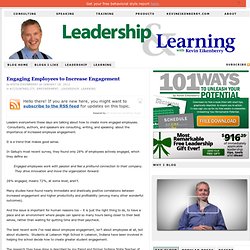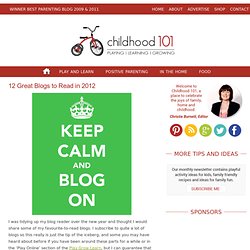 12 Great Blogs to Read in 2012
I was tidying up my blog reader over the new year and thought I would share some of my favourite-to-read blogs. I subscribe to quite a lot of blogs so this really is just the tip of the iceberg, and some you may have heard about before if you have been around these parts for a while or in the 'Play Online' section of the Play Grow Learn , but I can guarantee that these twelve always provide good blog – whether it be for information, inspiration or educational purposes… 1. Not Just Cute : I love learning from others in my profession and Amanda never fails to get me thinking! From the Not Just Cute About page: "I don't have a personal grievance with the word "cute". I use the four letter word frequently when describing my fashionista friend's new shoes or something comical my two-year old just said.
12 Great Blogs to Read in 2012
Bob Sutton
Twinkle's Happy Place
Keith Rispin
Principal Blogs for ideas
http://larrycuban.wordpress.com/