LANGUAGES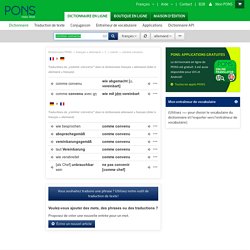 comme convenu : allemand » français : PONS.eu
Comment puis-je reprendre mes traductions dans l'entraîneur de vocabulaire?
Mon tableau de bord
Cours de langues gratuits
Dans ma série d'article sur la recherche de l'apprentissage des langues optimal, et avant de parler pédagogie ou technique de mémorisation, j'aimerais reparler d'un sujet que j'avais évoqué dans un article précédents : l'importance d'apprendre du vocabulaire utile en se basant sur la fréquence d'utilisation des mots. En effet, à quoi ça sert d'apprendre des mots et tournures de phrases qui ne sont pas ou plus utilisés, mais qui sont pourtant parfois présents dans les manuels scolaires ? Par exemple, si vous connaissez les 100 mots de cette liste, vous comprendrez 50% des textes écrits. Bon évidemment, c'est quand même très limité et je vous conseille vraiment d'aller au-delà de 100 mots, mais cela montre bien la puissance des listes de fréquence.
La liste des mots les plus utiles/fréquents à l'oral et à l'écrit en anglais, espagnol, allemand, italien… | MosaLingua : Apprendre rapidement l'anglais, l'espagnol, l'italien sur téléphone mobile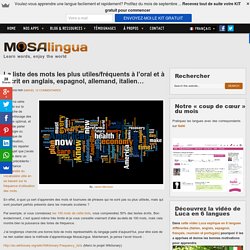 Well was my English teacher told me about it...now I learn German with it. One thing missing...I don't find where to download other users decks :-( by virginia.m Apr 10
Counting words and lemmas: The following frequency lists count distinct orthographic words, including inflected forms. For example, the verb "to be" is represented by the conjugations "is", "are", "were", etc. English[edit] TV and movie scripts[edit] Most common words in TV and movie scripts: Here are frequency lists comparable to the Gutenberg ones, but based on 29,213,800 words from TV and movie scripts and transcripts.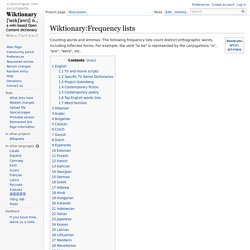 Frequency lists