Classements de fin d'année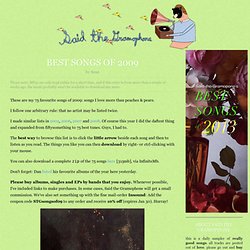 by Sean Please note: MP3s are only kept online for a short time, and if this entry is from more than a couple of weeks ago, the music probably won't be available to download any more. These are my 75 favourite songs of 2009: songs I love more than peaches & pears. I follow one arbitrary rule: that no artist may be listed twice. I made similar lists in 2005, 2006, 2007 and 2008. Of course this year I did the daftest thing and expanded from fiftysomething to 75 best tunes.
Said the Gramophone: BEST SONGS OF 2009 3.6 Beta 5
Nos 50 meilleurs albums de l'année : LesInrocks.com 3.6 Beta 5
Inventaire rapide de ce qui m'a marqué en 2009. Un groupe au dessus de la mêlée. Une poignée de disques chouchous qui n'auront pas cessé de m'accompagner. Et quelques albums qui méritaient au moins d'être mentionnés. Groupe/disque de l'année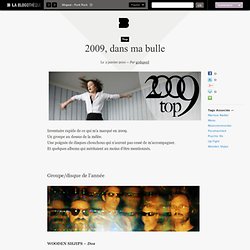 2009, dans ma bulle - LA BLOGOTHEQUE 3.6 Beta 5
Great Songs of 2009 - Top 10 Songs of 2009 - Esquire 3.6 Beta 5
Top des blogueurs 2009 3.6 Beta 5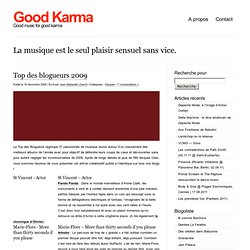 Publié le 16 décembre 2009 | Ecrit par Jean-Sébastien Zanchi | Catégories : Disques | 7 commentaires » Le Top Blogueurs 2009 : La sélection des meilleurs albums de l'année : Le Top des Blogueurs regroupe 37 passionnés de musique réunis autour d'un classement des meilleurs albums de l'année avec pour objectif de défendre leurs coups de cœur et découvertes sans pour autant négliger les incontournables de 2009. Après de longs débats et plus de 580 disques cités, nous sommes heureux de vous présenter cet article collaboratif publié à l'identique sur tous nos blogs ! St Vincent – Actor Panda Panda : Dans le monde merveilleux d'Annie Clark, les instruments à vent et à cordes dansent ensemble d'une jolie manière, parfois balayés par l'horreur tapie dans un coin qui ressurgit sous la forme de déflagrations électriques et tordues, l'imaginaire de la belle étonne et ne ressemble à nul autre avec ses cent idées à l'heure.