Marketing
Adwords/Paid
Email Marketing. User Testing. 11 Responsively Designed Nonprofit Websites to Study and Learn From. With 51% of Facebook's referral traffic now coming from mobile and more than two-third's of Twitter users being mobile, many nonprofits are finally starting to come to the realization that their social media campaigns are doomed unless they embrace a mobile-first approach to online communications and fundraising.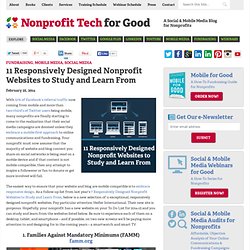 Your nonprofit must now assume that the majority of website and blog content you share on social networks is being read on a mobile device and if that content is not mobile compatible, then any attempt to inspire a followerer or fan to donate or get more involved will fail. The easiest way to ensure that your website and blog are mobile compatible is to embrace responsive design. As a follow-up list from last year's 7 Responsively Designed Nonprofit Websites to Study and Learn From, below is a new selection of 11 exceptional, responsively designed nonprofit websites. Pay particular attention Heifer International. Their new site is gorgeous.
Event
Multimedia. Social. Marketing Strategy. Using Survey.io. Pick-up Line Tips (for Reporters) | M+R. When you're trying to meet a potential mate, date, friend, or luge partner, the first impression matters.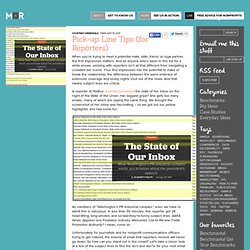 And as anyone who's been in this biz for a while knows, working with reporters isn't all that different from navigating a crowded bar scene. Your first impression has the potential to make or break the relationship, the difference between the warm embrace of extensive coverage and lonely nights shut out of the news. And that means subject lines are critical. A reporter at Politico recently bemoaned the state of her inbox on the night of the State of the Union.
SEO
Marketing Success - Delivered - Vocus Marketing Software. 5 Stages in the Digital Marketing Funnel. I ran into this colorful infographic depicting the digital marketing funnel the other day and thought I'd share it with you.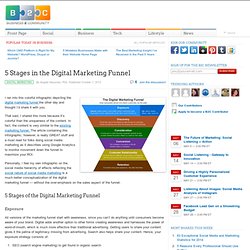 That said, I shared this more because it's colorful than the uniqueness of the content. In fact, the content is very similar to the existing marketing funnel. The article containing this inforgraphic, however, is really GREAT stuff and a must read for folks doing social media marketing as it describes using Google Analytics to monitor movement down the funnel to maximize your ROI.
Search for "newsletters" - Small Business Marketing Blog from Duct Tape Marketing. Small Business Marketing Blog from Duct Tape Marketing - Small business marketing blog. Bright One. Blog. Beth's Blog: Nonprofits and Social Media. Public Relations Measurement and Social Media Measurement Resources - kdpaine.com. HubSpot Inbound Marketing Software. A/B Testing + Analytics. Content Curation. Branding. Tubefilter - YouTube, web series, webseries, web tv and online video news. PPC: 7 Basic Tips for Choosing Good Keywords for your Search Advertising.
Selecting keywords for your PPC or search advertising can be overwhelming for any local business running their own advertising.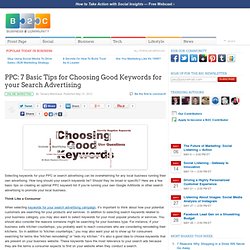 How long should your search keywords be? Should they be broad or specific? Inbound Marketing vs. Outbound Marketing. Inbound Marketing vs.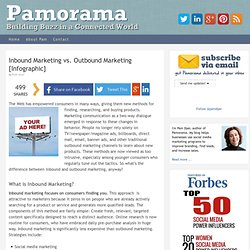 Outbound Marketing [Infographic] The Web has empowered consumers in many ways, giving them new methods for finding, researching, and buying products. Marketing communication as a two-way dialogue emerged in response to these changes in behavior.
---