Marketing
I ran into this colorful infographic depicting the digital marketing funnel the other day and thought I'd share it with you. That said, I shared this more because it's colorful than the uniqueness of the content.
5 Stages in the Digital Marketing Funnel - Business 2 Community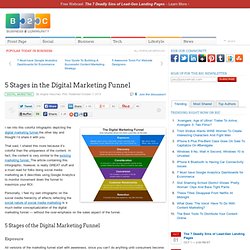 Search for "newsletters" - Small Business Marketing Blog from Duct Tape Marketing
Seven Ways to Make Sure Your Blog Gets Noticed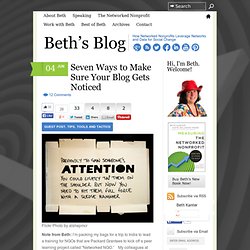 Flickr Photo by alshepmcr Note from Beth: I'm packing my bags for a trip to India to lead a training for NGOs that are Packard Grantees to kick off a peer learning project called "Networked NGO." My colleagues at Momsrising, the poster child for Networked Nonprofits, offered this amazing guest post filled with great tips on how to get your blog noticed.
http://sethgodin.typepad.com/seths_blog/2012/07/the-circles-of-m
Bright One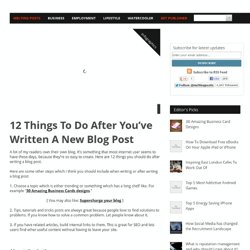 12 Things To Do After You've Written A New Blog Post
A lot of my readers own their own blog. It's something that most internet user seems to have these days, because they're so easy to create. Here are 12 things you should do after writing a blog post. Here are some other steps which I think you should include when writing or after writing a blog post: 1. Choose a topic which is either trending or something which has a long shelf like.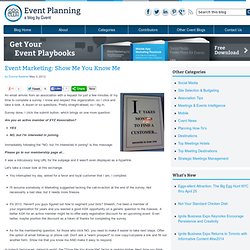 An email arrives from an association with a request for just a few minutes of my time to complete a survey. I know and respect this organization, so I click and take a look. A dozen or so questions. Pretty straight-ahead, so I dig in. Survey done, I click the submit button, which brings on one more question:
Event Marketing: Show Me You Know Me - Meeting Planning Innovation
From Mentions to Meaning: An Analytics Journey
Maslow's hierarchy of needs is an invaluable tool in the study of human motivations, with higher "self-actualization" needs rising above lower level "physiological" requirements such as food, water, sex, and sleep. These needs are expressed in our everyday lives, in our words, actions, and interactions, forms of expression relayed online, on-social, and enterprise-feedback sources such as customer surveys. Whether you work in customer experience, market research, product management, or financial markets, you need a guide to making sense of the attitudes, emotions, and opinions—and associated transactions, behaviors, and networks—that make up so much of today's Big Data. So why not fashion a hierarchy, in homage to Maslow's, of functions involved in mining and exploiting human sentiment?
10 Ideas for Visual Content [Infodoodle] Pinterest , Tumblr, now Facebook Timeline… Due to the popularity of visually appealing platforms, businesses need to heed the growing demand for visual content. To help you brainstorm ideas for adding visual content to your marketing mix, I drew up a few infodoodles, then I put them in a slide show for you. (If you'd rather have the non-colorful, text version of these tips, just read the quick list beneath the slide show in this post.) If you'd rather not go through the slide show (even though it's superquick), here's the non-colorful version.
10 Ideas for Visual Content [Infodoodle]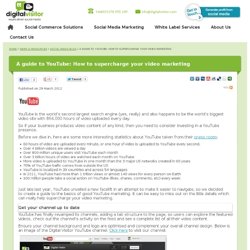 A guide to YouTube: How to supercharge your video marketing
Published on 29 March 2012 YouTube is the world's second largest search engine (yes, really) and also happens to be the world's biggest video site with 864,000 hours of video uploaded every day. So if your business produces video content of any kind, then you need to consider investing in a YouTube presence.
Public Relations Measurement and Social Media Measurement Resources - kdpaine.com
Here is a compilation of helpful resources on public relations measurement, social media measurement, and public relations research. Ask The Measurement Guru : Katie Delahaye Paine answers your public relations measurement questions. White Papers and Research Reports We constantly monitor the work of the Institute for Public Relations, the IABC Research Foundation, and other industry research organizations for the most recent and most important new publications. Case Studies The case studies in this section offer examples of how organizations have created and implemented successful public relations measurement programs. Books on Public Relations Measurement and Social Media Measurement Including Katie Delahaye Paine's new book "Measure What Matters."
Just as a baby grand piano doesn't make someone a virtuoso musician, a digital camera and editing software doesn't make someone a producer of compelling videos. There's a wide range of quality and costs across the spectrum of videos available on the Web. The spectrum runs from jerky, poorly lit camera phone recordings of a child's birthday party, to slick advertorials for luxury cars produced by top Hollywood talent. Our clients' needs and budgets fall somewhere in between.
Anyone Can Shoot Videos | acSellerant.com « acSellerant
Inbound Marketing vs. Outbound Marketing
The Web has empowered consumers in many ways, giving them new methods for finding, researching, and buying products. Marketing communication as a two-way dialogue emerged in response to these changes in behavior. People no longer rely solely on TV/newspaper/magazine ads, billboards, direct mail, email, banner ads, and other traditional outbound marketing channels to learn about new products. These methods are now viewed as too intrusive, especially among younger consumers who regularly tune out the tactics.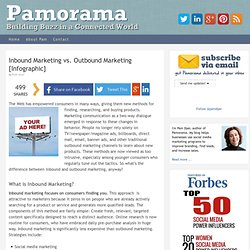 Tubefilter - YouTube, web series, webseries, web tv and online video news.
Selecting keywords for your PPC or search advertising can be overwhelming for any local business running their own advertising. How long should your search keywords be? Should they be broad or specific?
PPC: 7 Basic Tips for Choosing Good Keywords for your Search Advertising
Most amateurs and citizens believe that marketing is the outer circle. Marketing = advertising, it seems. The job of marketing in this circle is to take what the factory/system/boss gives you and hype it, promote it and yell about it.
The circles of marketing