Gaming
October 8, 2010 / Phillip Larwood Or 30 Things to find on a Villain's Corpse. [See The Dead Adventurer's Catalogue ]
The Dead Villain's Catalogue / Kobold Quarterly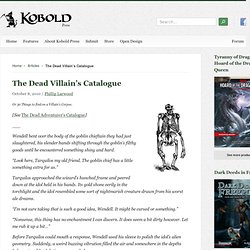 World of Darkness/White Wolf Compatible Dice Roller - provided by the Red Dragon Inn
List of Physics Games » Fun-Motion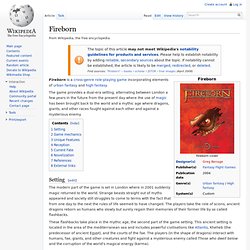 Fireborn is a cross-genre role-playing game incorporating elements of urban fantasy and high fantasy . The game provides a dual-era setting, alternating between London a few years in the future from the present day where the use of magic has been brought back to the world and a mythic age where dragons, giants, and other races fought against each other and against a mysterious enemy. [ edit ] Setting
Fireborn
Ever find yourself stuck for an adventure idea right up to the time your players arrive for the game? Our Adventure Hook Random Generator gives you Dungeon Masters a starting point from which you can develop a new adventure.
Adventure Hook Random Generator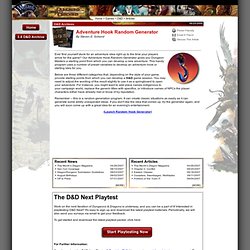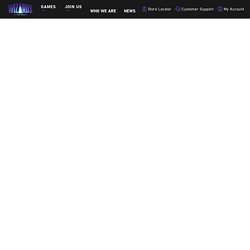 I finally found the perfect wizard armor!!! Behold!!! the "no drawback for wearing it armor":
Armored Wizards here they come! -- Best Armor for Arcane Spellca
D&D Character Sheets
This page contains download links to D&D character sheets.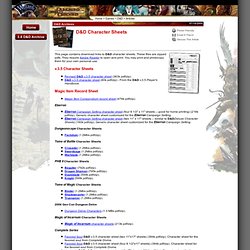 Invisible Castle
Roleplaying Tips Weekly E-Zine Issue #455 Contents: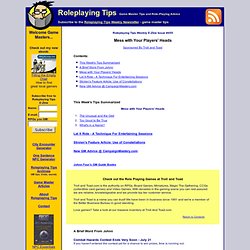 Roleplaying Tips for game masters for all role-playing systems
System Reference Document v3.5
1. As far as looks go, I am... ugly, I am the worst looking member of my social circle. average, my appearance is normal overall. attractive, I am the best looking member of my social circle. extremely attractive, my appearance aids me in every situation in life.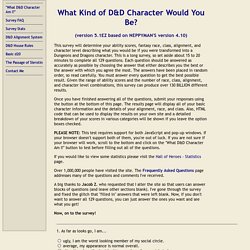 munch