Violet63
Vicki
Filey Bay Tide Times for 22nd July 2012 | Tide Times
Web Search Results
- Google Search
As you can see, our new online learner, Lou, is experiencing considerable frustration in logging on (the one with the hatchet!). The e-moderator adopts the role of ensuring access and welcoming and encouraging. Use of time and motivation to take part becomes an issue from the very beginning. Motivation is an essential element to get participants through the early stages of use of the hardware and software systems and towards engagement and mobilisation of learning. E-tivities at this stage therefore need to provide a gentle but interesting introduction to using the technological platform and acknowledgement of the feelings surrounding using technology and meeting new people through the online environment.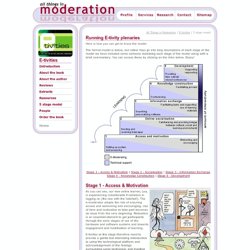 Literacy At Secondary
Curious Minds | Schools environment Day: FREE CPD event for teachers
Schools environment Day: FREE CPD event for teachers in partnership with Places Matter and Curious Project6 Don't forget to book your place on this event on the 18 th January at Marsden Heights Community College Nelson... Aimed at both Primary and Secondary sectors, the day will include presentations from landscape architects and artists, practical exercises for designing your space and case studies from Lancsahire schools. Not to mention free resources to take away.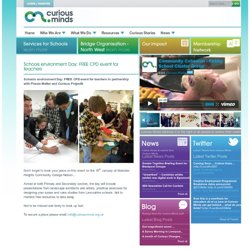 Learning outcomes - School Governors: Being strategic
5 Time-saving Tips from the E-learning Community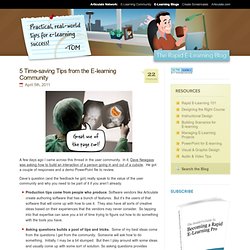 A few days ago I came across this thread in the user community. In it, Dave Newgass was asking how to build an interaction of a person going in and out of a cubicle . He got a couple of responses and a demo PowerPoint file to review. Dave's question (and the feedback he got) really speak to the value of the user community and why you need to be part of it if you aren't already. Production tips come from people who produce . Software vendors like Articulate create authoring software that has a bunch of features.
http://www.cisco.com/web/about/citizenship/socio-economic/docs/LearningfromExtremes_WhitePaper.pdf
Website Tour
http://www.cisco.com/web/about/citizenship/socio-economic/docs/LearningfromExtremes_WhitePaper.pdf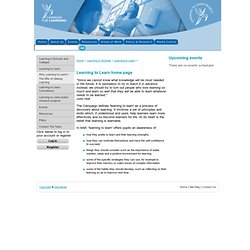 "Since we cannot know what knowledge will be most needed in the future, it is senseless to try to teach it in advance. Instead, we should try to turn out people who love learning so much and learn so well that they will be able to learn whatever needs to be learned." John Holt
Learning to Learn home page
http://www.ibe.unesco.org/fileadmin/user_upload/archive/publications/EducationalPracticesSeriesPdf/prac07e.pdf
‪Animal School‬‏
Year Five Reading Blog
https://www.education.gov.uk/publications/eOrderingDownload/working_laterally.pdf
‪The Importance of Motivation‬‏
‪My 21st Century Vision for Motivation & Learning‬‏
‪20th Century & 21st Century Teachers‬‏
‪Web 2.0 Digital Learner VS. Traditional Learner‬‏
Literature & Poetry Sites