Crafts
Get flash to fully experience Pearltrees
A little while back, I was brainstorming Father's Day craft ideas, and I had one of those "a-ha" moments.
Check out the 31 ways paint chips are used in all kinds of projects!!
Sentimental gifts are always the best, right?!
Adapted from Clare Youngs's The Perfect Handmade Bag ($19.95; Cico), this cute carryall requires little more than a pair of small wooden spatulas and two tea towels ($15 each; motherlindas.com ). Cut six strips of fabric from one towel. Two, measuring 33⁄4"W x 141⁄4"L each, will serve as the decorative horizontal bands at the top of the tote and should incorporate the towel's graphics (as shown, left).
Antique teacups that have lost their saucers still make sweet gifts when fitted with candles.
Tile Coaster Tutorial April 7th, 2010 So my good friend Emily just moved into her completely redone house a few weeks ago, and she asked me to make her some unique coasters.
I love things that are quirky, and if they boarder on the nerdy side of quirky I love them even more. Olympia Le-Tan's handmade embroidered book clutches are so perfectly and quaintly quirky that I immediately fell in love.
Look what I found in my desk drawer! I made these embroidered cards so long ago and then just tucked them away in a drawer to be forgotten about.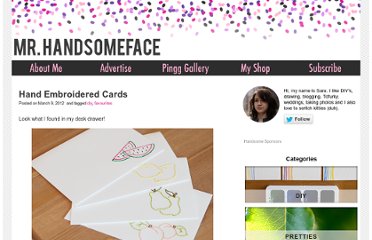 This project comes to you at the request of Twitterer @GCcapitalM.
Du behöver: Kuvert (återanvänd gärna gamla kuvert), ett ark med vitt papper (för mallen), sax, penna, lim och ett mönstrat papper.
I'm pretty dang excited to be guest posting on Ucreate, of all places, with an easy and fun project for you. Just in time for heading back to school, I came up with this cute top: A little about me first . . .