Accessories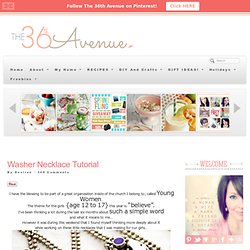 I have the blessing to be part of a great organization inside of the church I belong to; called Young Women. The theme for the girls {age 12 to 17} this year is "believe". I've been thinking a lot during the last six months about such a simple word and what it means to me… However it was during this weekend that I found myself thinking more deeply about it while working on these little necklaces that I was making for our girls…
We're always looking for fun ways to add embellishments and touches of color to our outfits especially in the winter when we tend to get bored with everything and anything. With bows being fiercely back in style, what better way than with a bright bow belt! You can pick any color for this but we'd recommend something solid and cotton. You'll need a simple snap as well to hand stitch on.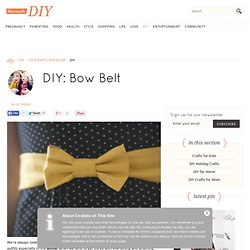 Make It: Glittery Gold Bow Clutch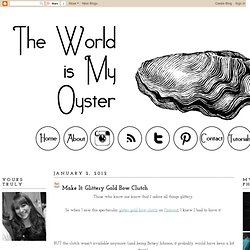 Those who know me know that I adore all things glittery. Take the two pieces of felt (yellow would be best, but I only had grey) and glue them together, overlapping the long sides by a couple of millimeters. Now you have a rectangle that's wider than it's long.
My mom absolutely loved the beautiful puff stitches of the crocheted slouchy beanies I made for myself and my brother and sister. Because my mom does not wear hats, she asked if I could make her a scarf using puff stitches! I thought this was a great idea as I loved the texture and staggered rows of these stitches, so I knew that a scarf using them would turn out beautifully! My mom and I went to Michaels together to pick out the yarn for her scarf. One of our biggest pet peeves is "itchy" material for scarves and sweaters: we went down the aisles in search of soft yarn that would not irritate the skin.
Pattern: Puff Stitch Scarf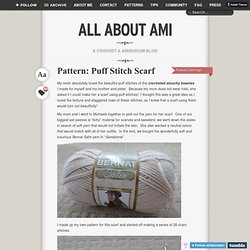 Eight Petal Flower Bead Ring Tutorial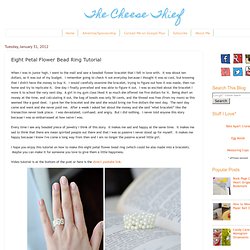 When I was in junior high, I went to the mall and saw a beaded flower bracelet that I fell in love with. It was about ten dollars, so it was out of my budget. I remember going to check it out everyday because I thought it was so cool, but knowing that I didn't have the money to buy it. I would carefully examine the bracelet, trying to figure out how it was made, then run home and try to replicate it. One day I finally prevailed and was able to figure it out.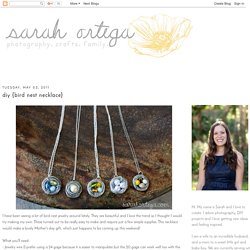 I have been seeing a lot of bird nest jewelry around lately. They are beautiful and I love the trend so I thought I would try making my own. These turned out to be really easy to make and require just a few simple supplies.
It's been awhile since our last bracelet DIY. I don't know about you, but our wrists have been begging for another colorful addition for months now. So after playing with some materials that were already on hand, we've created a tutorial for a braided bead bracelet, which is a not so distant cousin of the hex nut and wrap bracelet.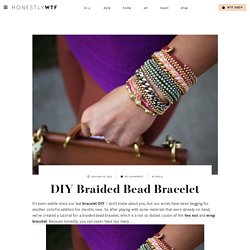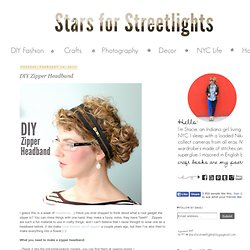 I guess this is a week of headbands. ;) Have you ever stopped to think about what a cool gadget the zipper is? You can close things with one hand, they make a funny noise, they have "teeth"... Zippers are such a fun material to use in crafty things, and I can't believe that I never thought to wear one as a headband before. (I did make shoe flowers out of zippers a couple years ago, but then I've also tried to make everything into a flower.) :) What you need to make a zipper headband: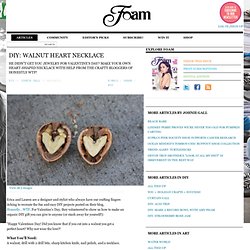 Erica and Lauren are a designer and stylist who always have our crafting fingers itching to recreate the fun and easy DIY projects posted on their blog, Honestly...WTF. For Valentine's Day, they volunteered to show us how to make an organic DIY gift you can give to anyone (or stash away for yourself!): "Happy Valentines Day!
Did you know...that you can make new earrings with a button and a paperclip? True story! I've been trying to think of a way for us to make some earrings without having to buy supplies. Buying the beads and all the findings can really add up.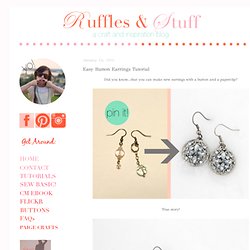 Thankfully everyone seems to be making a switch from plastic to lasting when it comes to shopping bags, so here's another fun little tutorial on customizing one to make it oh so cute. You might notice a lot of doilies in my recent diy projects. Since I was getting so many ready for A Christmas Gathering I used a lot of the same materials…monograms seems to be pretty popular now too.
Knot Tote Tutorial
I guess I figure if I am going to be going on a brief Maternity Leave soon, I might as well leave with a BANG! So I am hitting you up with some awesome tutorials I have had sitting on my backlog pile this week, and a couple next week as well! We started off the week with the Pipe Dreams dress, then moved onto watercolor fabric at The Girl Creative, and now I give you this adorable knot tote which I am in love with! I was playing around with some fabric, trying to figure out the knot shirt which I love so much (I must have watched that YouTube video like 100 times, all to no avail). So after what felt like hours of frustration, crumpled up paper, and ruined fabric, I came up with a much easier way to make this knot tote…
Here is my latest little jewelry love! It was inspired by this little pretty at JCrew: I thought it would be a perfect little necklace to introduce some of the basics of jewelry making to those of you who have been asking about that! I'm sorry it's taken so long!
~Ruffles And Stuff~: JCrew-Inspired Necklace Tutorial (and the Basics of...
I have jars of buttons all over my studio and I'm always brainstorming different unique ways to use them. I recently ordered some leather cuffs from Dharma Trading and thought the buttons would be a great way to embellish them. These leather blank cuffs are a great base for a project since the hardware is already attached.
Bohemian Leather Button Cuff
* Katie Holmes + In Style Magazine Editorial + August 2011 wearing Dolce and Gabbana Fall 2011 jeweled silk embroidery pumps price upon request. * Suede pumps …fabric will do as well. These fabrics will hold glue the best.
...love Maegan: D&G Jewel Embellished Shoes DIY Fashion+Home+Lifestyle
10 Awesome Jewelry Tutorials | The New Home Ec
Vintage Wanna Bee: ANASTASIA: 'Disney' Princess Inspired Collection
button ring tutorial | Craftaholics Anonymous™
Sweet & Skinny Ruffled Headband
Vintage Wanna Bee: ANTHRO INSPIRED NECKLACE TUTORIAL
DIY: How to Make a Glam Glitter Clutch | The Fashion Spot
"Summer Social" Guest Project — Make Embellished Resin Rings