Startup
What is this documentary project about? – Design the new Business
Wondering if this is a design or business site? Well it's both actually… We believe design is the new way of doing business, and we set out to find keys to success through the making of a documentary.Fascinating interviews with industry leaders will unveil the creative ways in which design is changing mindsets across industries….We are searching for the truth behind the "design thinking" smoke and mirrors. Interested?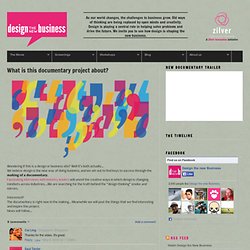 Top 100 Startup Blogs | OnStartups 100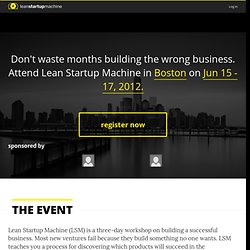 Boston, June 15 – 17
What is Lean Startup? "Lean Startup" is a term coined by Eric Ries while an Advisor to the venture capital firm Kleiner Perkins. It's based on the new management processes he employed while Chief Technology Officer at IMVU, one of Silicon Valley's most successful startups. What is Customer Development?
Como o design thinking pode ajudar a gerar boas ideias de negócio « Eureca Empreendedorismo Universitário
Como parte da série Recursos & Eventos, vocês poderão ler histórias de quem está ajudando empreendedores, seja organizando eventos que ajudam a encontrar sócios, seja criando prêmios que estimulam o empreendedorismo, seja proporcionando serviços jurídicos para acelerar a incorporação e captação de fundos. Na última categoria, a meta dos posts não é sugerir uma firma de advocacia específica, mas descrever as opções que os empreendedores têm. A Derraik & Menezes Advogados é um escritório jurídico com várias áreas de atuação, e com um foco grande em startups. Conversei com o Menezes e vale a pena entender um pouquinho do seu background, já que ele sempre gostou de empreendedorismo. Aos 13 anos, lavava os carros dos amigos do seu pai e ganhava o equivalente a 3 dólares por carro lavado.
Startups Brasil | Cultura empreendedora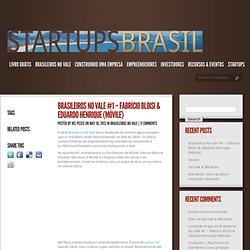 Startups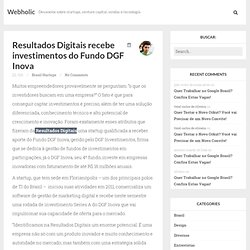 Autor convidado: Matt Montenegro, publicitário especializado em Design de Interação, é um empreendedor desde sua adolescência, quando começou vendendo na escola a sobra das pizzas da janta de domingo. A partir de 2009, depois de conquistar o império de balas e doces onde estudava e passar por algumas agências de publicidade, passou a trabalhar com startups. Fundador do Beved, a maior comunidade de aprendizado colaborativo do Brasil, Matt é Gerente de Produtos e UX Designer na startup de educação que fundou em 2012.
Amplify.LA | Startup Accelerator | Los Angeles
All companies are not created equal, nor do they travel similar paths. A flexible approach to accelerating startups is at the core of the Amplify program. No classes, no cohorts, no weekly schedule of activities. We actively monitor your performance and provide support and guidance throughout your stay at our campus in Venice Beach, California. Apply today, or learn more about how we help technology startups.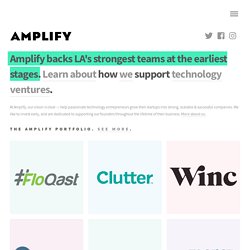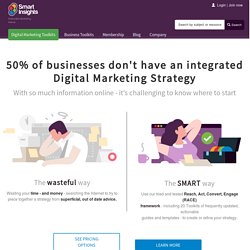 Danyl Bosomworth, March 24, 2014 Statistics on mobile usage and adoption to inform your mobile marketing strategy "Mobile to overtake fixed Internet access by 2014" was the huge headline from the widely shared infographic at the end of this post summarising the bold prediction from 2008 ….. Mobile marketing analytics Read more
"Buying every book recommended by Venture Hacks." – Jonathan Grubb, Founder of Get Satisfaction "The Venture Hacks bookstore lists a couple of really good business books for entrepreneurs." – Tim O'Reilly Our favorite books for entrepreneurs. In order of importance.
Startup Bookstore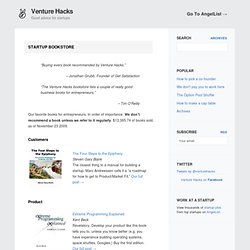 Quem Somos