Linux
Get flash to fully experience Pearltrees
Next Previous Contents Tigran Aivazian tigran@veritas.com 7 August 2002 (29 Av 6001)
Juan-Mariano de Goyeneche < jmseyas@dit.upm.es > /* * The latest version of this document may be found at: * http://www.dit.upm.es/~jmseyas/linux/kernel/hackers-docs.html */ The need for a document like this one became apparent in the linux-kernel mailing list as the same questions, asking for pointers to information, appeared again and again.
The Flux Research Group works in software systems . Our interests and work cover many areas, including both local and distributed operating systems, networking, component-based systems, programming and non-traditional languages, compilers, information and resource security, and even a pinch of software engineering and formal methods. All of our publications and some presentations are available. Additionally, we try to produce and distribute usable versions of the developed software .
Securing your Linux server is important to protect your data, intellectual property, and time, from the hands of crackers (hackers). The system administrator is responsible for security Linux box. In this first part of a Linux server security series, I will provide 20 hardening tips for default installation of Linux system. #1: Encrypt Data Communication All data transmitted over a network is open to monitoring.
OpenSSH is the implementation of the SSH protocol. OpenSSH is recommended for remote login, making backups, remote file transfer via scp or sftp, and much more. SSH is perfect to keep confidentiality and integrity for data exchanged between two networks and systems.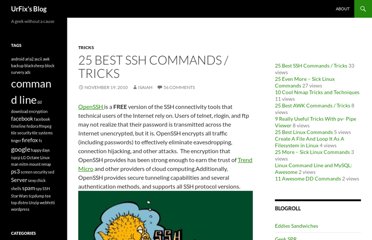 OpenSSH is a FREE version of the SSH connectivity tools that technical users of the Internet rely on. Users of telnet, rlogin, and ftp may not realize that their password is transmitted across the Internet unencrypted, but it is. OpenSSH encrypts all traffic (including passwords) to effectively eliminate eavesdropping, connection hijacking, and other attacks. The encryption that OpenSSH provides has been strong enough to earn the trust of Trend Micro and other providers of cloud computing.Additionally, OpenSSH provides secure tunneling capabilities and several authentication methods, and supports all SSH protocol versions. SSH is an awesome powerful tool, there are unlimited possibility when it comes to SSH, heres the top Voted SSH commands 1) Copy ssh keys to user@host to enable password-less ssh logins.