SSO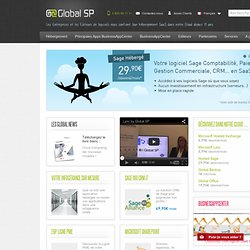 Boccard « Global SP a su nous accompagner dans l'approvisionnement des comptes Exchange. Il nous offre une vraie sécurité de données avec un Datacenter parisien, et un vrai suivi sur le fonctionnement de la messagerie au sein de notre groupe. Satisfaits de la solution, nous sommes en train de déployer la solution en Pologne et en Afrique. » Telfrance « Nous souhaitions utiliser une solution efficace pour sauvegarder nos données contenues dans notre NAS.
Les 4 composantes du Bureau Virtuel | Global SP
Bourse en ligne, actualité des cours de la bourse en ligne avec LCI
SCM Microsystems USA
Accueil
The Cloud Security Company | Symplified
Kamesh PemmarajuSand Hill Group That the mobile and cloud revolution is upon us is a foregone conclusion. Mobile devices are set to overtake PC shipments within the next year. According to Gartner, 46 percent of the world mobile phones (nine percent in mid-2011) will be smartphones by 2013.
Opinion : Securing Employee Access in a Mobile Cloud World