Atgences
Référencement Lille - Arras, conseil en referencement nord, specialiste en référencement internet naturel Google Yahoo Msn 59. Referencement site Web Tourcoing, referencement site internet lille, Referencement Nord, referencement Roubaix, Nayet Stéphane. Intelligent Text Link Marketing. What is Intellilinks?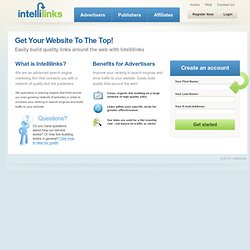 We are an advanced search engine marketing firm that connects you with a network of quality text link publishers. We specialize in placing organic text links across our ever-growing network of websites in order to increase your ranking in search engines and build traffic to your website. Benefits for Advertisers Improve your ranking in search engines and drive traffic to your website. EN EUROPE - Adidas à l'assaut du voleur. Adidas sollicite ses fans pour résoudre une énigme, via un spot viral.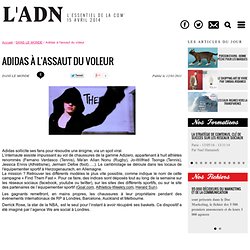 L'internaute assiste impuissant au vol de chaussures de la gamme Adizero, appartenant à huit athlètes renommés (Fernano Verdasco (Tennis), Ma'an Allan Nonu (Rugby), Jo-Wilfried Tsonga (Tennis), Jessica Ennis (Athlétisme), Jermain Defoe (foot)…..). Le cambriolage se déroule dans les locaux de l'équipementier sportif à Herzogenaurach, en Allemagne. La mission ? Retrouver les différents modèles le plus vite possible, comme indique le nom de cette campagne « Find Them Fast ».
Laird and Partners - Home. DAVYTOPIOL - Agence conseil en presentation | Powerpoint | Flash | Web | Www.studiopoulain.fr. La solution de réseau social d'entreprise qui impulse votre business | Jamespot.pro - Réseau Social d'Entreprise. YOURWEBSITE - Agence E2.0 - Entreprise 2.0 - Web 2.0 SaaS PRaaS. Agence web Clark : L'agence web-durable !
La pause design - Graphèmes. NiceToMeetYou, Agence de Communication Web, Médias Sociaux, Mobile à Lille. We Are Social - agence médias sociaux / agence e-réputation / agence de buzz marketing / agence de RP online / agence social media - Paris, France, Europe. jQuery Image Scale Carousel. What Makes jQuery Image Scale Carousel Different?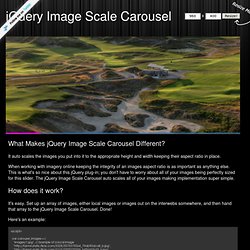 It auto scales the images you put into it to the appropriate height and width keeping their aspect ratio in place. When working with imagery online keeping the integrity of an images aspect ratio is as important as anything else. This is what's so nice about this jQuery plug-in; you don't have to worry about all of your images being perfectly sized for this slider. The jQuery Image Scale Carousel auto scales all of your images making implementation super simple. How does it work?
---