Real-time search
These Terms of Service constitute an agreement ("Agreement") between you ("you", "your", or "User") and Kurrently Inc.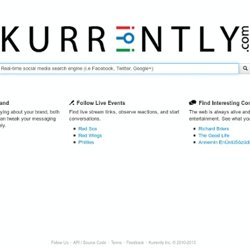 A real-time search engine for Facebook and Twitter.
ZOCIAL.tv - Top Videos Trending Today
Google Custom Search n'est pas un nouvel outil. Cependant, et pour celles et ceux qui ne l'ont pas encore exploré, il permet de faciliter certaines recherches répétitives sur les pages Facebook, les commentaires de blogs, les forums… Voire de fournir un support de diffusion de l'information intéressant.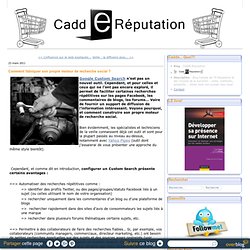 Recherche personnalisée Google - E-reputation & veille d'opinion
Rechercher rapidement des informations, cas, techniques, outils ,méthodologies liées à l'e-réputation. Et ceux à travers de nombreuses sources (blogs, sites, etc.) dédiées au sujet. recherche sur les sites, notamment : http://trendereputation.wordpre..., http://www.influenceursduweb.org, http://www.scanblog.com/blog/, http://www.management-reputatio..., http://intelligencecollective.b... Mots clés: e-reputation,veille d'opinion, identité numérique, médias sociaux, personnal branding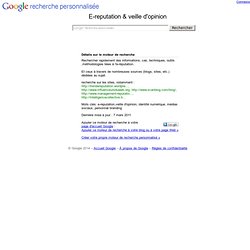 909c