Monitoring & Analytics
4 Ways to Use Twitter Data to Optimize Your Social Activities. Twitter is just over 5 years old and its users are sending more than 200 million tweets per day.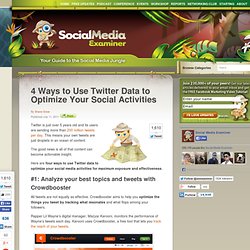 This means your own tweets are just droplets in an ocean of content. The good news is all of that content can become actionable insight. Here are four ways to use Twitter data to optimize your social media activities for maximum exposure and effectiveness. #1: Analyze your best topics and tweets with Crowdbooster All tweets are not equally as effective. Six Best Practices in Social Media Metrics | the hubze blog. How to: Teach Your Client Social Media | oneforty. 6 Ways To Use Google Analytics To Find "Golden Opportunities" To Improve Your Website.
Most websites have a few "golden opportunities" lurking just below the surface – simple strategies or changes you can implement to improve revenue.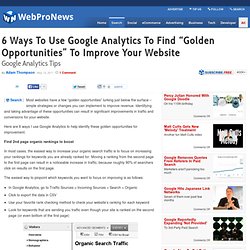 Identifying and taking advantage of these opportunities can result in significant improvements in traffic and conversions for your website. Here are 6 ways I use Google Analytics to help identify these golden opportunities for improvement. Find 2nd page organic rankings to boost In most cases, the easiest way to increase your organic search traffic is to focus on increasing your rankings for keywords you are already ranked for. Moving a ranking from the second page to the first page can result in a noticeable increase in traffic, because roughly 90% of searchers click on results on the first page. How to track Social Media within Google Analytics - TNW Social Media. For all the information and insight Google's powerful Analytics tools can provide, they're still only providing some top level figures, primarily Direct, Search and Referral traffic.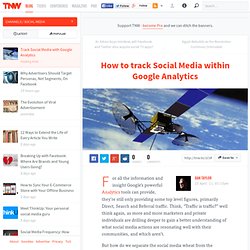 Think, "Traffic is traffic?" Well think again, as more and more marketers and private individuals are drilling deeper to gain a better understanding of what social media actions are resonating well with their communities, and which aren't. Social Media Monitoring Wiki - A Wiki of Social Media Monitoring Solutions.
Réseaux sociaux : quels outils gratuits utiliser pour une veille ? C'est une recommandation qu'on entend souvent de la part des plus grands spécialistes des Réseaux Sociaux (Loïc Le Meur par exemple) : une présence de marque sur des plateformes sociales ne s'improvise pas.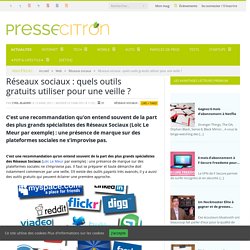 C'est une recommandation qu'on entend souvent de la part des plus grands spécialistes des Réseaux Sociaux (Loïc Le Meur par exemple) : une présence de marque sur des plateformes sociales ne s'improvise pas. Il faut se préparer et toute démarche doit notamment commencer par une veille. S'il existe des outils payants très avancés, il y a aussi des outils gratuits qui peuvent éclairer une première approche. Google Je pensais que tout le monde connaissait Google Alertes et Google Blog Search, mais je rencontre encore beaucoup d'utilisateurs dans mes formations qui ne connaissent pas ces outils. Manage Social Networks. Seesmic has been acquired by HootSuite and as of March 2013, the Seesmic website is no longer supported.
But HootSuite welcomes all Seesmic users into our nest! Here's how you can start using HootSuite today. Making the transition to HootSuite: 5 Must-Have Social Media Measurement Tools for PR Pros | oneforty. HootSuite Social Analytics. Real-Time Analytics For Social Plugins - Développeurs Facebook. Over the past year, social plugins have become an important and growing source of traffic for millions of websites.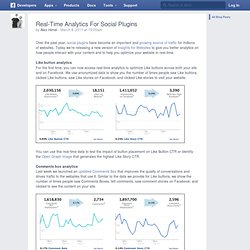 Today we're releasing a new version of Insights for Websites to give you better analytics on how people interact with your content and to help you optimize your website in real-time. Like button analytics For the first time, you can now access real-time analytics to optimize Like buttons across both your site and on Facebook. We use anonymized data to show you the number of times people saw Like buttons, clicked Like buttons, saw Like stories on Facebook, and clicked Like stories to visit your website. 8 Things You Must Know About Your Audience to Inspire & Connect In Social Media. So you say you know your audience?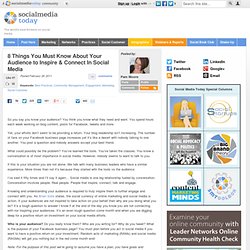 You think you know what they need and want. You spend hours each week working on blog content, posts for Facebook, tweets and more. Should You Use Radian6 for Social Media Monitoring? Are you befuddled by all the social media tools out there?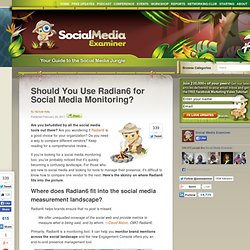 Are you wondering if Radian6 is a good choice for your organization? Do you need a way to compare different vendors? UberVU. UberVU is designed to help brands stay on top of their social media using a single tool.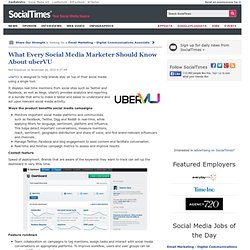 It displays real-time mentions from social sites such as Twitter and Facebook, as well as blogs. uberVU provides analytics and reporting in a bundle that aims to make it faster and easier to understand and act upon relevant social media activity. Ways the product benefits social media campaigns Monitors important social media platforms and communities such as Facebook, Twitter, Digg and Reddit in real-time, while applying filters for language, sentiment, platform and influence. Synthesio. The Synthesio social media monitoring platform uses a hybrid of tech and human monitoring services to help brands and agencies collect and analyze consumer conversations and online mainstream media.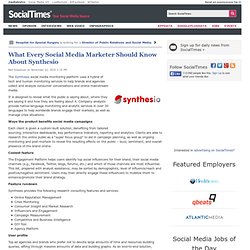 It is designed to reveal what the public is saying about, where they are saying it and how they are feeling about it. Company analysts provide native-language monitoring and analytic services in over 30 languages to help worldwide brands engage their markets, as well as manage crisis situations. Spiral16. Spiral16 offers a web-monitoring platform and 3D visual-mapping tool that gathers and analyzes relevant, in-depth business intelligence. Its analytics' team helps brands set up, test and implement the topics the Spiral16 technology collects and correlates from targeted digital content. The objectives of improving relevancy and efficiency are supported by a professional services team offering data analysis, interpretation and reporting. Ways the product benefits social media campaigns The Spiral16 platform is deigned to help companies monitor their brand reputations, identify influencers, measure campaign effectiveness, gather competitive intelligence and generate leads.
Understanding how a brand lives online and how it is perceived by others can improve preparedness from a standpoint of risk and reputation management, as well as revealing trends and potential crisis. Scout Labs. Scout Labs is designed to help brand teams tune in to social media across the Internet. Scanning blogs, forums, Twitter, news, photos, videos, open social networks and more, Scout Labs takes all of that data, counts it, trends it, analyzes it, scores it for sentiment and extracts interesting customer quotes and emotions to present what customers love, hate, want, wish, think, and feel about a brand right now. After the jump – what you need to know about Scout Labs. The application in a sentence Scout Labs a real-time social media search engine that is continuously scanning the web for the voice-of-the customer, processing the data and displaying it in a real-time dashboard.
RowFeeder. RowFeeder is designed to bring social media analysis into the familiar spreadsheet workflow. It tracks keywords on Twitter and Facebook, aggregating the matching posts and related data. Results are then made available for the user to download in raw format, as a rich Excel report with pre-populated graphs, or in real-time using Google docs spreadsheets. After the jump – what you need to know about RowFeeder. PSS CREDBoard. We've written about a number applications – Involver AMP, Context Optional Social Marketing Suite, Hootsuite, Scout Labs and others – for social media monitoring and management designed to support brands' marketing and client support efforts. Contact center system integrator and service provider Product Support Solutions, Inc.
(PSS) approaches these needs with its just-introduced CREDboard social media dashboard, adding social media touch points to its existing, enterprise-wide customer engagement offerings. The result is that social media marketing is a part of – rather than apart from – ongoing sales and support interactions. Position2 Brand Monitor. Position2 recently launched a new product in the social media analytics and engagement space. Brand Monitor is a platform that enables companies to listen, discover and engage with social media conversations in real time. A cloud based platform, Brand Monitor helps companies track and monitor conversations across millions of blogs, micro-blogs like Twitter, social media, forums, news, video and photo sharing sites.
After the jump – what you need to know about Position2′s Brand Monitor The application in a sentence Brand monitor is an action-oriented platform that helps brands listen, discover and engage with social media, blogs and news in real-time. SocialSenseFB. NetBase. InfiniGraph. Converseon. Awareness Perspectives. Analytic.ly. Alterian SM2.
---