Ressources Générales Antiquité
Nouvelle page 2. The Department of Greek and Latin at The Ohio State University. PLEKOS Startseite. Elektronische Zeitschrift für Rezensionen und Berichte zur Erforschung der Spätantike Ferdinand R.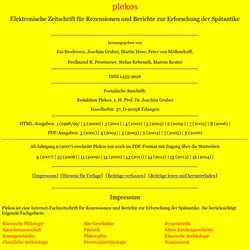 Prostmeier, Stefan Rebenich, Marcus Reuter. Folia Electronica Classica (Louvain-la-Neuve) HISTOS Volume 1 (1997) HISTOS. Histoire de l'Antiquité. The Bryn Mawr Classical Review. Electronic Antiquity - Virginia Tech Digital Library and Archive. HUMANITIES AND THE LIBERAL ARTS. Bibliotheca Augustana. Nimispauci - Ugo Bratelli - Traductions de textes latins, grecs.
---