Ressources Générales Antiquité
Nouvelle page 2
The Department of Classics is devoted to the study of the languages, literature, and cultures of Greece and Rome, focusing on Antiquity but including all periods from the Bronze Age to Modern Greece. This study is important, as the origins of western and much Near Eastern literature, philosophy, art, religion, and social forms lay in the ancient world, making Greece and Rome vital contributors to ongoing discussions of "who we are" in a broader sense. The aim of our scholarship and teaching, however, is not only to document origins but to question the relationship between texts and social practices in both antiquity and modern times as well as to challenge current assumptions. The cultures of Greece and Rome provide us with provocative standpoints from which to understand our own very different world of rapid social and technological change. Conversely, we also recognize that our ways of looking at antiquity are evolving in response to the changes in the world around us.
The Department of Greek and Latin at The Ohio State University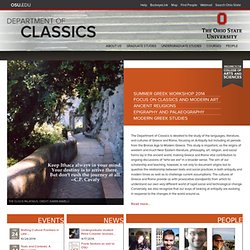 PLEKOS Startseite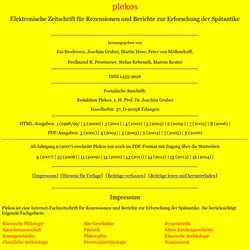 Elektronische Zeitschrift für Rezensionen und Berichte zur Erforschung der Spätantike Ferdinand R. Prostmeier, Stefan Rebenich, Marcus Reuter
Folia Electronica Classica (Louvain-la-Neuve)
HISTOS Volume 1 (1997)
HISTOS
Bryn Mawr Classical Review (BMCR) (ISSN 1055-7660) publishes timely open-access, peer-reviewed reviews of current scholarly work in the field of classical studies (including archaeology). This site is the authoritative archive of BMCR's publication, from 1990 to the present. Reviews from August 2008 on are also posted on our blog. BMCR welcomes volunteers to review books.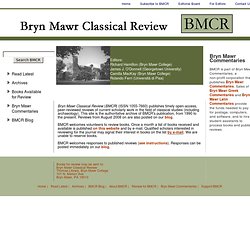 The Bryn Mawr Classical Review
Electronic Antiquity - Virginia Tech Digital Library and Archive
HUMANITIES AND THE LIBERAL ARTS