Lighthouses Phares
Lighthouses in France, Find Local Boating Information for France
Le phare à travers le monde
Ministère de la culture - Mérimée
Nord-Par-de-Calais, Picardie
französische Leuchttürme/Feuerschiffe auf historischen Postkarte
Pleins Feux sur les Phares : phare, feu, tour-tan, lighthouses,
Lighthouses of France's North Coast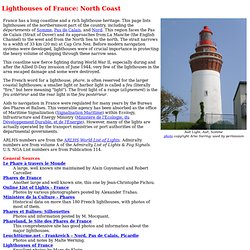 This coastline saw fierce fighting during World War II, especially during and after the Allied D-Day invasion of June 1944; very few of the lighthouses in the area escaped damage and some were destroyed. The French word for a lighthouse, phare, is often reserved for the larger coastal lighthouses; a smaller light or harbor light is called a feu (literally "fire," but here meaning "light"). The front light of a range (alignement) is the feu antérieur and the rear light is the feu postérieur.
The lighthouse of Aveiro, west coast of Portugal A lighthouse is a tower, building, or other type of structure designed to emit light from a system of lamps and lenses and used as an aid to navigation for maritime pilots at sea or on inland waterways. Lighthouses mark dangerous coastlines, hazardous shoals, reefs, safe entries to harbors, and can also assist in aerial navigation. Once widely used, the number of operational lighthouses has declined due to the expense of maintenance and replacement by modern electronic navigational systems.
Lighthouse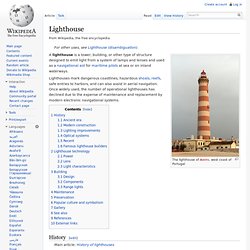 Bienvenue sur Phareland, le site des phares de France
France / Frankreich
Lighthouse Directory
Flügge Light, Fehmarn, Flensburg to Lübeck, Germany, April 2011 Picasaweb photo copyright Stephen Hix; used by permission A Month of Lighthouse News: January 9. Storm in Ireland damaged the Inisheer Lighthouse and five others.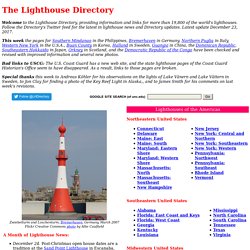 Because Lighthouse Depot is no longer selling lighthouse products we would recommend that you visit www.LighthouseDigest.com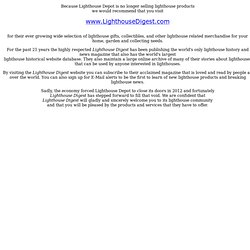 Lighthouses at Lighthouse Explorer
Lighthouses Directory
SOCIÉTÉ NATIONALE POUR LE PATRIMOINE DES PHARES ET BALISES - FÉD
Le phare à travers le monde