Lighthouses Phares
Lighthouses in France, Find Local Boating Information for France
Le phare à travers le monde
Ministère de la culture - Mérimée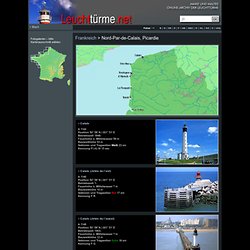 Nord-Par-de-Calais, Picardie
A 1144 Position 50° 58' N | 001° 51' E Betriebszeit 1848- Feuerhöhe ü. Mittelwasser 59 m Bauwerkhöhe 53 m Sektoren und Tragweiten Weiß 23 sm Kennung Fl (4) W 15 sec A 1146 Position 50° 58' N | 001° 51' E Betriebszeit ?
französische Leuchttürme/Feuerschiffe auf historischen Postkarte
Pleins Feux sur les Phares : phare, feu, tour-tan, lighthouses,
Lighthouses of France's North Coast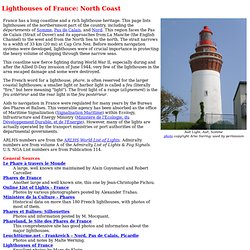 France has a long coastline and a rich lighthouse heritage. This page lists lighthouses of the northernmost part of the country, including the départements of Somme, Pas de Calais, and Nord. This region faces the Pas de Calais (Strait of Dover) and its approaches from La Manche (the English Channel) to the west and from the North Sea to the north.
A lighthouse is a tower, building, or other type of structure designed to emit light from a system of lamps and lenses and used as an aid to navigation for maritime pilots at sea or on inland waterways. Lighthouses mark dangerous coastlines, hazardous shoals , reefs , safe entries to harbors, and can also assist in aerial navigation. Once widely used, the number of operational lighthouses has declined due to the expense of maintenance and replacement by modern electronic navigational systems. [ edit ] Lighthouse technology
Lighthouse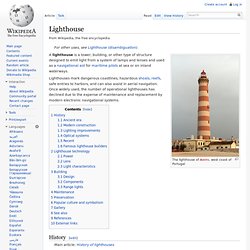 Bienvenue sur Phareland, le site des phares de France
France / Frankreich
Lighthouse Directory
Dunkirk Light, Dunkirk, Upstate New York , U.S.A., January 2004 Flickr Creative Commons photo copyright C.W. Bash A Month of Lighthouse News: March 30 .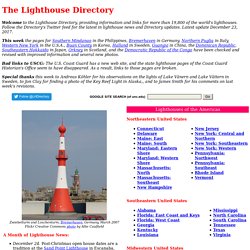 Because Lighthouse Depot is no longer selling lighthouse products we would recommend that you visit www.LighthouseDigest.com for their ever growing wide selection of lighthouse gifts, collectibles, and other lighthouse related merchandise for your home, garden and collecting needs.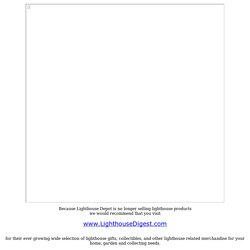 Lighthouses at Lighthouse Explorer
Lighthouses Directory
SOCIÉTÉ NATIONALE POUR LE PATRIMOINE DES PHARES ET BALISES - FÉD
Le phare à travers le monde