Info International Affairs Reviews 1
Global Financial Integrity - Home
The Brown Journal of World Affairs
Chechnya News
Journal of International Affairs
Harvard International Review
Politique Internationale - La Revue
Georgetown Journal of International Affairs
The Wilson Quarterly :
World Policy Journal Writer's Guidlines - World Policy Institute
The Washington Quarterly - Home Page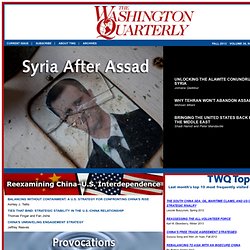 The South China Sea: Oil, Maritime Claims, and US-China Strategic Rivalry Leszek Buszynski, Spring 2012 Reassessing the All-Volunteer Force Karl W. Eikenberry, Winter 2013 China's Free Trade Agreement Strategies Guoyou Song and Wen Jin Yuan, Fall 2012 Rebalancing to Asia with an Insecure China Ely Ratner, Spring 2013 The Pakistan Thorn in China-India-U.S.
World Politics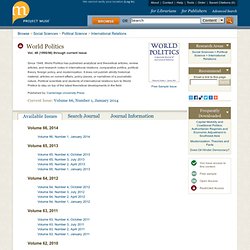 Vol. 48 (1995/96) through current issue Since 1948, World Politics has published analytical and theoretical articles, review articles, and research notes in international relations, comparative politics, political theory, foreign policy, and modernization. It does not publish strictly historical material, articles on current affairs, policy pieces, or narratives of a journalistic nature.
The Journal of Public and International Affairs (JPIA) is the premier student-run journal of policy studies. Now in its 23rd year of publication, JPIA is a joint publication of the Association of Professional Schools of International Affairs (APSIA) and the Woodrow Wilson School of Public and International Affairs at Princeton University. The Journal seeks to publish both scholarly and expository articles on a diverse range of subjects, covering the areas of international affairs, development studies, and domestic policy. JPIA is an annual publication, accepting submissions from any advanced student in the field from an accredited institution.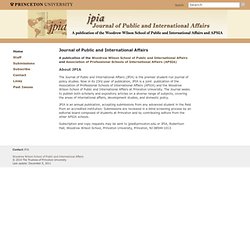 Journal of Public and International Affairs
Whitehead School of Diplomacy and International Relations - Seto
Chatham House - Publications - The World Today
INSS - המכון למחקרי ביטחון לאומי
L'International Magazine - Actualité et Analyse des enjeux inter
JOURNAL D'ACTUALITES ANIME PAR LE LION DE MAKANDA. SITE WEB DES
Arab Reform Initiative
Eyes On The Ground in East Jerusalem
BlogCentral | Building Bridges
Index English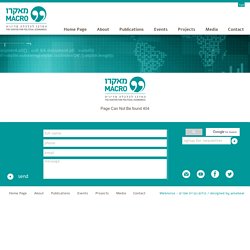 Presentation of Results of the Third Youth Study (in English and Hebrew): All of the Above: Identity Paradoxes of Young People in Israel - the Third Youth Study of the Friedrich-Ebert-Stiftung - Changes in National, Societal and Personal Attitudes , at the Friedrich-Ebert-Stiftung in Berlin, June 21, 2011 . Click here to download the full version of the Third Youth Study: All of the Above: Identity Paradoxes of Young People in Israel Survey Findings of the Third Youth Study Program points of the Event: Presentation of the Third Youth Study Results by Prof.
Adam Smith International
YaleGlobal Online Magazine