Info International Affairs Reviews 1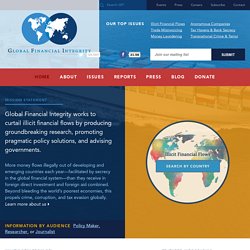 Global Financial Integrity - Home
Illicit Financial Outflows from Developing World Up 13.7% from 2010 Nearly $6 Trillion Stolen from Developing Countries in Decade between 2002 and 2011 China, Russia, Mexico, Malaysia, India—in Declining Order—are Biggest Exporters of Illicit Capital over Decade; Sub-Saharan Africa Suffers Biggest Illicit Outflows as Percent of GDP Study Is First GFI Analysis to Incorporate Re-Exporting Data from Hong Kong and First GFI Report to Utilize Disaggregated Trade Data in Methodology
Dr. Givens looks at electoral results of extremist parties within Europe across national and European Parliament election to argue that the latter still offer an arena where these parties can gain support—mainly because of the absence of strategic voting. Dr. Art, instead, focuses on evaluating the extent to which far right parties have indeed been gaining support. The author explains the distinction between radical right and right wing extremists to claim that the radical right hasn't in fact gained electoral advantage from the debt crisis, and that its political power should not be overstated. Finally, in an interview with the Journal, former Greek Prime Minister George Papandreou discusses its country's case to address some of the issues at the intersection between European institutional design, the debt crisis, and political extremism.
The Brown Journal of World Affairs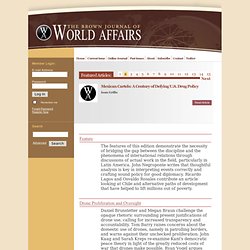 Chechnya News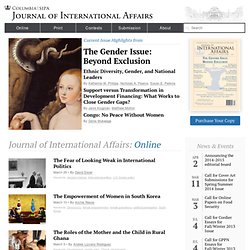 National leaders have the ultimate responsibility to balance the needs of a diverse set of con- stituents in society while using their country's unique set of resources to grow the economy and gain comparative advantages. Ethnic diversity is known to be an extremely challenging factor to reconcile nationally and is negatively associated with GDP growth; in fact, high levels of ethnic diversity are associated with a 2 percent decline in GDP growth. In most countries throughout modern history, the role of the national leader has been played by men.
Journal of International Affairs
Harvard International Review
Politique Internationale - La Revue
Georgetown Journal of International Affairs
The Wilson Quarterly :
World Policy Journal Writer's Guidlines - World Policy Institute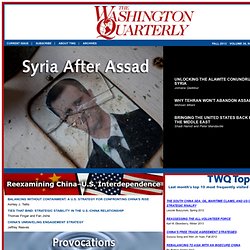 The South China Sea: Oil, Maritime Claims, and US-China Strategic Rivalry Leszek Buszynski, Spring 2012 Reassessing the All-Volunteer Force Karl W. Eikenberry, Winter 2013 China's Free Trade Agreement Strategies Guoyou Song and Wen Jin Yuan, Fall 2012 Rebalancing to Asia with an Insecure China Ely Ratner, Spring 2013 The Pakistan Thorn in China-India-U.S.
World Politics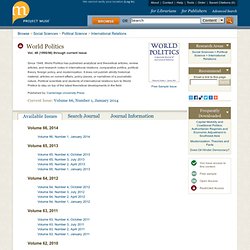 Vol. 48 (1995/96) through current issue Since 1948, World Politics has published analytical and theoretical articles, review articles, and research notes in international relations, comparative politics, political theory, foreign policy, and modernization. It does not publish strictly historical material, articles on current affairs, policy pieces, or narratives of a journalistic nature.
The Journal of Public and International Affairs (JPIA) is the premier student-run journal of policy studies. Now in its 23rd year of publication, JPIA is a joint publication of the Association of Professional Schools of International Affairs (APSIA) and the Woodrow Wilson School of Public and International Affairs at Princeton University. The Journal seeks to publish both scholarly and expository articles on a diverse range of subjects, covering the areas of international affairs, development studies, and domestic policy. JPIA is an annual publication, accepting submissions from any advanced student in the field from an accredited institution.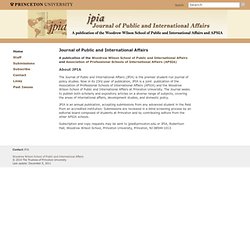 Journal of Public and International Affairs
Whitehead School of Diplomacy and International Relations - Seto
Chatham House - Publications - The World Today
INSS - המכון למחקרי ביטחון לאומי
L'International Magazine - Actualité et Analyse des enjeux inter
JOURNAL D'ACTUALITES ANIME PAR LE LION DE MAKANDA. SITE WEB DES
« La Tribalité est la gouvernance qui donne vie à la nation» Kovalin Tchibinda Kouangou "Starducongo.com : Vous prônez la Tribalité comme seul recours contre le tribalisme. Pour ceux qui ne vous ont pas suivi jusqu'à présent, où se situe la différence entre ces deux notions ?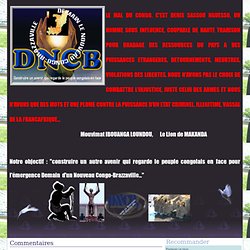 Arab Reform Initiative
Eyes On The Ground in East Jerusalem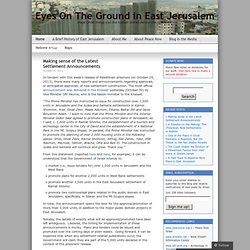 In tandem with this week's release of Palestinian prisoners (on October 29, 2013), there were many reports and announcements regarding approvals, or anticipated approvals, of new settlement construction. The most official announcement was delivered in the Knesset yesterday (October 30) by Vice Minister Ofir Akunis, who is the liaison-minister to the Knesset: "The Prime Minister has instructed to issue for construction over 1,500 units in Jerusalem and the Judea and Samaria settlements in Karnei Shomron, Ariel, Givat Zeev, Maale Adumim, Elkana, Beitar Illit and Geva Binyamin-Adam. I want to note that the Prime Minister and the Interior Minister Gidon Saar agreed to promote construction plans in Jerusalem, as I said, c. 1,500 units in Ramat Shlomo, the establishment of a tourists and archeology center in the City of David and the establishment of a National Park in the Mt.
BlogCentral | Building Bridges
Index English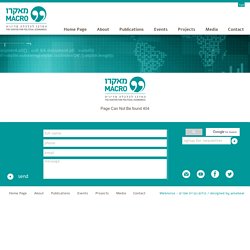 Presentation of Results of the Third Youth Study (in English and Hebrew): All of the Above: Identity Paradoxes of Young People in Israel - the Third Youth Study of the Friedrich-Ebert-Stiftung - Changes in National, Societal and Personal Attitudes , at the Friedrich-Ebert-Stiftung in Berlin, June 21, 2011 . Click here to download the full version of the Third Youth Study: All of the Above: Identity Paradoxes of Young People in Israel Survey Findings of the Third Youth Study Program points of the Event: Presentation of the Third Youth Study Results by Prof.
Adam Smith International
Reuters Resources for Global Business Explore issues at the nexus of business and foreign policy featured on our corporate webpage and in our CEO Speaker series archive, and learn more about membership in the Corporate Program. Courtesy Kaveh Sardari Informing Policy on Capitol Hill Learn about how CFR connects with members of the U.S. Senate and House of Representatives on international and economic issues. Reuters Informing Policy in Foreign Capitols Find out more about CFR's efforts to foster exchange between foreign representatives and U.S. business, political, and academic leaders. Reuters Interactive Tools for the Classroom Integrate our multimedia guides, customized teaching modules, academic conference calls, and other pedagogical materials into your syllabus.