Info Europe 3
HyperWar: European Theater of Operations--Contents
27/03/2013 - La Commission européenne a présenté un ensemble d'initiatives visant à rendre les systèmes d'enregistrement des marques moins chers, plus rapides, plus fiables et plus prévisibles dans l'ensemble de l'Union européenne. La réforme proposée améliorerait les conditions permettant aux entreprises d'innover et de bénéficier d'une protection plus effective contre les contrefaçons, y compris les marchandises contrefaites en transit sur le territoire de l'UE.
Comment la législation européenne est-elle adoptée? La « procédure législative ordinaire » (anciennement «codécision») est la procédure la plus courante pour adopter la législation de l'UE. Les propositions législatives doivent être approuvées à la fois par le Parlement européen, qui est directement élu par les citoyens, et par le Conseil, qui réunit les gouvernements des 27 États membres. La Commission est chargée à la fois d'élaborer les propositions de législation et de les mettre en œuvre. Traités européens Les traités européens sont le fondement de l'Union européenne: toute action entreprise par l'UE découle de ces traités, qui ont été approuvés librement et démocratiquement par tous les États membres.
Législation de l'UE, traités et procédures législatives en cours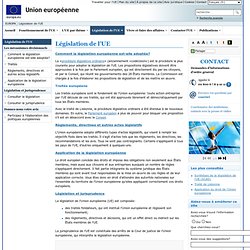 [Mouvement Europe et Laïcité - C.A.E.D.E.L]
The European Railway Server
PreLex
Welcome to CIRCA : A collaborative workspace with partners of th
Home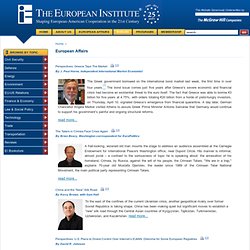 European Affairs official website
Editor's Note: As the European Union and the United States launch negotiations on The Transatlantic Trade and Investment Partnership, European Affairs inaugurates a series of occasional articles that will chart the progress and assess the implications of this historic initiative. The interaction between the European unification process towards "an ever closer Union" 2 and its most important partner, the "more perfect Union" 3 of the United States of America, has been among the top foreign policy issues since the early days of the European project. Equally, helping shape the evolving EU/US relationship has been at the top of my own professional agenda for more than four decades, during which I worked as a close collaborator of European Commission President Jacques Delors, as Director General in charge of External Relations and Political Director for the European Commission, with a stint as the EU Ambassador and Head of the Commission Delegation in the United States from 2000 to 2005.
ISIS Europe
FESE
Center for European Studies - Harvard University
photo©Jean-René Tancrède Chers membres de l'U.A.E., chers amis, J'ai le plaisir de m'adresser à vous en tant que nouveau Président de notre prestigieuse association internationale d'avocats que j'ai l'honneur de représenter pendant deux ans. La belle ville de Marseille a accueilli le 13 octobre dernier l'Assemblée Générale de l'U.A.E. en renouvelant le Bureau et le Comité Exécutif au lendemain de la conférence internationale magistralement organisée par Me Gérard Abitbol, doyen des présidents d'honneur de l'U.A.E., sur le thème « L'Europe et la gestion des risques : de l'effet pervers du principe de précaution ».
European Lawyers' Union - www.uae.lu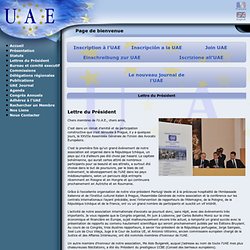 GRIP - Groupe de Recherche et d'Information sur la Paix et la Sé
Homepage - European Journalism Centre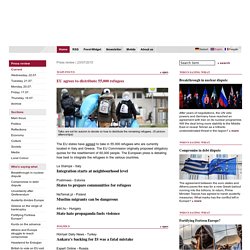 Press review
Germany and its chancellor are charting the course for European economic policy but they're steering in the wrong direction, the daily Tages-Anzeiger writes: "What Chancellor Merkel really wants is a union of countries that take responsibility for their own fate. The European Central Bank as the lender of last resort at the helm of a true banking union , or even euro bonds , are ideas that are abhorrent to her. Despite all assurances that it will spur growth, such an austerity policy remains that of the Swabian housewife: save more, spend less, work more. In view of the gross economic discrepancies in Europe, it is highly improbable that Merkel will be successful. How are the deficit sinners supposed to get out of this mess if they have to cut salaries and government spending while they're saddled with higher interests and lack any influence on the currency?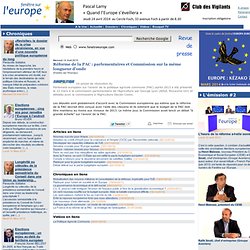 Mercredi 14 Avril 2010 Réforme de la PAC : parlementaires et Commission sur la même longueur d'onde [Fenêtre sur l'Europe]
Fenêtre sur l'Europe