Blogs Global Climate Change 1
Climate Progress recently reported on a study that found both economic and environmental benefits if homes in the northeastern United States upgraded older heating systems by moving from heating oil to switchgrass. However, one point to emphasize was the findings were specific to those circumstances — the region, the homes, and that particular use. Switchgrass was not nearly as good an idea for electricity generation or transportation fuel. Further confirming the need for a diversity of renewable solutions to our energy needs, a recent study determined that electricity generated by solar beats out biofuels for powering cars under myriad scenarios.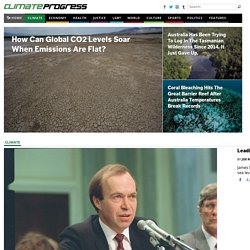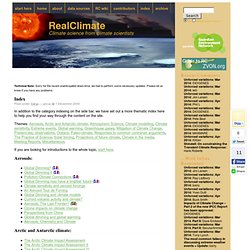 In addition to the category indexing on the side bar, we have set out a more thematic index here to help you find your way through the content on the site. Themes: Aerosols , Arctic and Antarctic climate , Atmospheric Science , Climate modelling , Climate sensitivity , Extreme events , Global warming , Greenhouse gases , Mitigation of Climate Change , Present-day observations , Oceans , Paleo-climate , Responses to common contrarian arguments , The Practice of Science , Solar forcing , Projections of future climate , Climate in the media , Meeting Reports , Miscellaneous . If you are looking for introductions to the whole topic, start here .
Index
http://www.skepticalscience.com/argument.php?f=taxonomy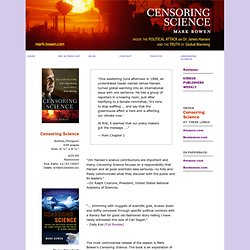 About Censoring Science
Censoring Science Dutton/Penguin 336 pages Size: 6-¼" x 9-¼"
The collected videos of Peter Sinclair's excellent series "Climate Denial Crock of the Week" : MYTH : "They" started calling it "climate change" to hide the cooling Global Warming? or Climate Change?
Climate Denial Crock of the Week « Greenfyre's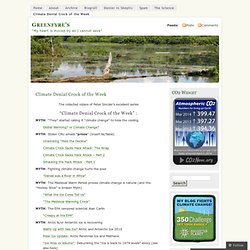 How to Talk to a Climate Sceptic : A Few Things Ill Considered
Stoat
The Island of Doubt
http://www.columbia.edu/~jeh1/mailings/2010/20100127_Temperature
http://www.columbia.edu/~jeh1/mailings/2009/20091216_Temperature
Makiko Sato & James Hansen
Makiko's Page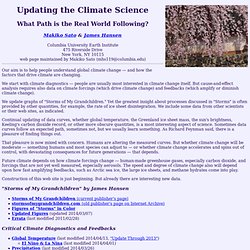 http://www.columbia.edu/~jeh1/mailings/2010/20100112_PeopleVersu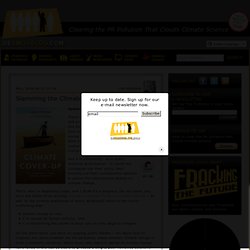 This is the first post in a three-part series.
Jim Hoggan | Slamming the Climate Skeptic Scam
Below is a complete listing of the articles in "How to Talk to a Climate Skeptic," a series by Coby Beck containing responses to the most common skeptical arguments on global warming. There are four separate taxonomies; arguments are divided by: Individual articles will appear under multiple headings and may even appear in multiple subcategories in the same heading. Stages of Denial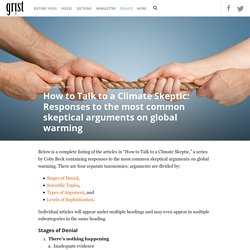 How to Talk to a Climate Skeptic: Responses to the most common s
Climate Cover-Up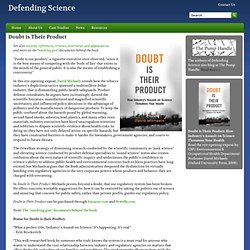 See also: excerpt , references , reviews , interviews and appearances , and more on the " smoking gun " documents behind the book
Doubt is Their Product
The Discovery of Global Warming - A History
YouTube - The American Denial of Global Warming
Watts Up With Watts?
James Hansen on David Letterman
YouTube - The American Denial of Global Warming
2020 Science — Providing a clear perspective on developing scien
BraveNewClimate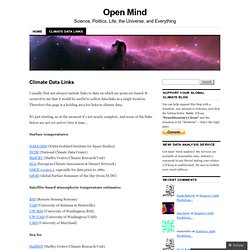 Climate Data Links « Open Mind
I usually (but not always) include links to data on which my posts are based. It occured to me that it would be useful to collect data links in a single location. Therefore this page is a holding area for links to climate data.
ClimateSight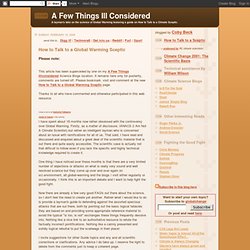 Please note: This article has been superceded by one on my A Few Things Illconsidered Science Blogs location. It remains here only for posterity, comments are turned off.
How to Talk to a Global Warming Sceptic
Intergovernmental Panel on Climate Change
Texas Climate News
:: :: SCRIPPS INSTITUTION OF OCEANOGRAPHY, UC SAN DIEGO :: :::