Atlas Maps 1
Cartographie
Atlas of World History
The Historical Atlas of Europe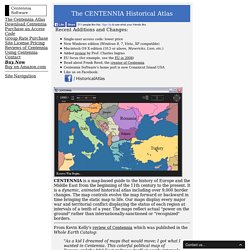 Recent Additions and Changes:Single-user access code: lower priceNew Windows edition (Windows 8, 7, Vista, XP compatible)Macintosh OSX edition (Leopard, Snow Leopard compatible)Added review by Prof. Charles IngraoEU focus (for example, see the EU in 2008)Color schemesRead about the creator of CentenniaCentennia Software's home port is now Conanicut Island USA CENTENNIA is a map-based guide to the history of Europe and the Middle East from the beginning of the 11th century to the present.
HistoricalAtlas.com: the Centennia Historical Atlas -- Europe and the Middle East 1000AD to the Present, software for Windows and Mac OSX
Classical Atlas Project
The Barrington Atlas, created by the Classical Atlas Project (now, the Ancient World Mapping Center), is a reference work of permanent value. It has an exceptionally broad appeal to everyone worldwide with an interest in ancient Greeks and Romans, the lands they penetrated, and the peoples and cultures they encountered in Europe, North Africa and Western Asia. Scholars and libraries should all find it essential, although it is not just for them.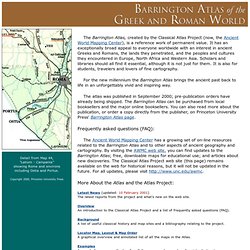 United Nations Cartographic Section Web Site
Atelier de Cartographie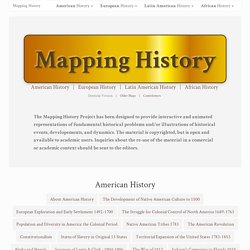 The Mapping History Project has been designed to provide interactive and animated representations of fundamental historical problems and/or illustrations of historical events, developments, and dynamics. The material is copyrighted, but is open and available to academic users. Inquiries about the re-use of the material in a commercial or academic context should be sent to the editors.
Mapping History
Historical Atlas of the 20th Century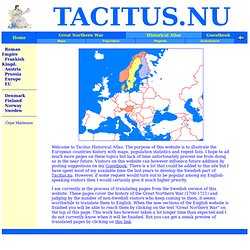 Historical Atlas
Welcome to Tacitus Historical Atlas. The purpose of this website is to illustrate the European countries history with maps, population statistics and regent lists. I hope to ad much more pages on these topics but lack of time unfortunately prevent me from doing so in the near future. Visitors on this website can however influence future addition by posting suggestions on my Guestbook.
Maps and Graphics at UNEP/GRID-Arendal
This service is an on-going project to collect and catalogue all graphic products that have been prepared for publications and web-sites from the last 15 years in a wide range of themes related to environment and sustainable development. There are currently 2152 graphics available in the database, with the last update December 6, 2011. Search and explore vast amounts of global and regional data through an interactive interface.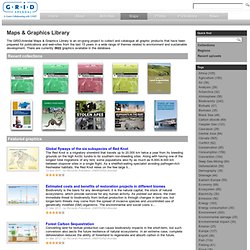 Explorez nos cartes
The section of the Sourcebook is devoted to copy-permitted maps and images. These images can be used in teaching, and in web page creation. The source of images is indicated for each image. © This text is copyright.
Maps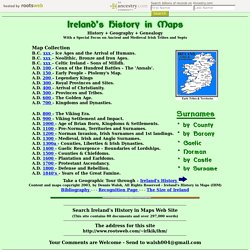 Ireland's History in Maps - Irish History, Geography and Genealogy
Historical Reference: ( At this site ) Kingdoms, Clans and Surnames Old Irish Kingdoms and Clans - Historical reference to supplement the Maps. The Tuath and Barony of Ireland - the baronies of Ireland and the clans associated with them.
Athena Review Image Archive: Old World Maps and Site Plans
Klicken Sie in die Weltkarte Interaktive Karten-Suche zum Hineinzoomen NEU im WELT-ATLAS - UNESCO WELTERBE TÜRKEI, interaktive Karte von einem faszinierendem Land mit spektakulären Sehenswürdigkeiten und liebenswerten Menschen.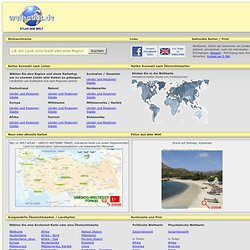 Welt-Atlas.de - Weltatlas mit Karten aus aller Welt. Weltkarte, Kontinente, Urlaubsregionen, Landkarten aus Europa, Amerika, Asien, Afrika und Australien
Europa in Karten - ein Link-Atlas
Europe Historical Maps
Historical Maps of Europe Le Alpi [The Alps] (1,917K) From Atlante Mondiale Hoepli di Geografia Moderna Fisica e Politica.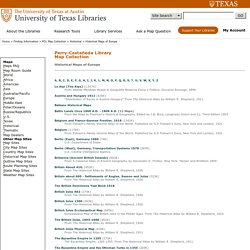 Atlas historique et généalogique
WHKMLA : World History at KMLA
The World Factbook -- References :: Regional Maps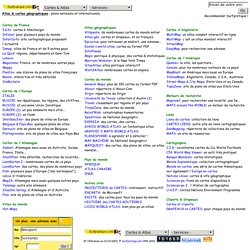 Cartes & Atlas géographiques
Cartes de France I.G.N.: cartes à télécharger Infobel: pour plusieurs pays du monde InterCarto: site cartographique proposant l'actualité Ismap: villes de France et de 9 autres pays Le Quid: régions, départements et Dom-Tom Lokace: Maporama: France...et de nombreux autres pays Mappy PlanFax: une dizaine de plans de villes françaises Rando: interactive et très détaillée ViaMichelin Cartes de l'Europe ITALIE: RUSSIE: les républiques, les régions, des chiffres... RUSSIE: et ancienne Union Soviétique EUROPE-(1): un peu sommaire mais utile... EUROPE-(2): en flash ShellGeoStar: des plans de villes en Europe Belgique & Pays-Bas: quelques plans de villes Derouck: site de plans de villes en Belgique Plattegronden: site de plans de villes aux Pays-Bas Cartes de l'Allemagne Asknet: Allemagne mais aussi en Autriche, Suisse, France, Italie... StadtPlan: très détaillée, recherches de localités...
Le site l'Histoire à la carte vous propose la plus vaste collection de cartes historiques animées accessibles sur Internet. Toutes les cartes sont accompagnées d'un commentaire sonore explicatif. Aujourd'hui plus de 200 cartes animées sont disponibles réparties en 14 dossiers : La Grèce antique 16 cartes animées
un atlas historique multimédia constitué de cartes animées pour mieux comprendre l'Histoire
Historische Karte - Deutsches Reich 1789
Collins INDiCATE Demo
Histoire-passion > Cartes
kartenportal.ch - Rechercheportal für Karten - Schweiz
ATLAS HISTORIQUE - Cartographie & histoire
Animated Atlas of American History
kostenlose stumme Karten, kostenlose unausgefüllt Landkarten, kostenlose hochauflösende Umrisskarten
karten-weltgeschichte
Mapas Histórico-Políticos de la Edad Moderna
GARDINER'S ATLAS of ENGLISH HISTORY
California Maps - HSU Library
See also Maps and Atlases--Reference Resources--Gazetteers--United States and California Environment Information Sources--Water Feature Place Names for water features. California County High Points (Carey) Lists the highest point in each California county. Includes name, elevation, climbing class, UTM coordinates, and topographic quadrangle.
IEG-MAPS
Archiv - Landkarten
IEG-MAPS
Medieval Britain - General Maps
Maps - UVa Library
Plusieurs sites sont consacrés aux noms latins désignant des villes et des peuples. On en signalera quelques-uns : Les cartes disponibles sur le Web ne remplacent évidemment pas les atlas imprimés. On en trouve toutefois un certain nombre. Ainsi : Sur le Web, il existe plusieurs sites consacrés aux noms latins désignant des villes et des peuples.
Géographie
Mapa Mundi de Beatus de Liébana
Un article de Wikipédia, l'encyclopédie libre. Pour les articles homonymes, voir Mundi. La Mapa Mundi (Mappemonde) de Beatus de Liébana est l'une des principales œuvres cartographiques du Haut Moyen Âge. Elle fut élaborée vers 780 par le moine du même nom, se basant sur les descriptions d'Isidore de Séville, de Ptolémée et des Saintes Écritures. Le manuscrit original a été perdu, cependant il existe des copies relativement fidèles qui nous sont parvenues. L'original figurait dans le prologue du deuxième livre des Commentaires de l'Apocalypse de Beatus de Liébana.
IFC. Atlas Histórico. Índice.
Historical Maps | Slovakia
Geography and Map Reading Room
OpenStreetMap
Cartes anciennes, Atlas historique : collections en ligne LEXILOGOS
REPERTOIRE : Histoire - Cartes, atlas...
Maps
Les cartes geopolitiques. Atlas géopolitique en ligne Cartes du monde contemporain-Maps of the world. Geopolitcs maps
The European Library
Creative Mapping
Historical Atlas of China
Welcome to PGSA
Plattform Stat@las
Don de deux globes du XVIIIe siècle à la Bibliothèque nationale
Talessman's Atlas of World History (Homepage)
Historical Atlas of the 20th Century -- Links to other history maps
WHKMLA : Historical Atlas of Poland
Maps - National Geographic
Oddens' Bookmarks, The fascinating world of maps and mapping !
Map History / History of Cartography - WWW-Virtual Library
The Collection
Le Ciel et la Terre : l'Atlas catalan
Ancient Maps
Science: Social Sciences: Geography
Ancient World Mapping Center
Geography World
Map of Russia
New Jersey Historical Maps
Heratlas - Héraldique française - French Heraldry
Consultation des cartes de Cassini
Formatic 2000 / Cartes historiques
carte geographique ancienne France / Europe / Monde - l'histoire par les cartes geographiques anciennes - carte geographique ancienne et vieil atlas temoins detailles de l'histoire et de la geographie vers 1860
Guide voyage sur l'Afrique du Sud. Cartes
Historic Atlas: CARTE/DE LA NOUVELLE ANGLETERRE,/NOUVELLE YORCK ET PENSILVANIE/Pour servir a l'Histoire Generale des Voyages. - Historic Map Works
Antiquité — Université de Mulhouse Colmar Alsace
Histoire des pays du Monde Arabe en cartes - Atlas historique en ligne
Atlas géographique dressé pour l'Histoire universelle de l'église catholique, de l'abbé Rohrbacher
Histoire et géographie de l'Europe
Atlas - Histoire Ancienne
Histoire des pays du Monde en cartes - Atlas historique en ligne
Romania's ethnographical history
Historical Maps of Islam
The Red Kaganate - Khazar Maps
Magyar Elektronikus Könyvtár
Atlas de Historia de España
Historical Atlas by A.Lesage 1808: Overall View
British Maps Home Page
ATLAS HISTORIQUE
Historic Cities: Maps & Documents
atlas histoire geographie [Alain HOUOT]
WHKMLA : Historical Atlas, ToC
L'Atlas historique de l'Occident
Some Maps of the Roman Empire