Recueillir des statistiques et démographie
- Population Reference Bureau
PRB, en collaboration avec le FNUAP, a élaboré une carte interactive spécialisée et la publication sur les jeunes en Afrique sub-saharienne.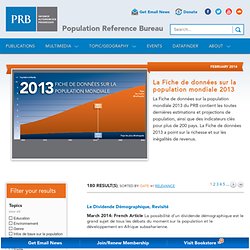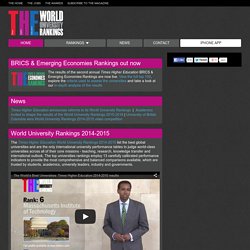 The Times Higher Education 100 Under 50 is a ranking of the top 100 universities under 50 years old. It provides a glimpse into the future, showcasing not those institutions with centuries of history, but the rising stars which show great potential. The table employs the same 13 separate indicators as the World University Rankings, but the methodology has been carefully re-calibrated to reflect the special characteristics of younger universities, giving less weight to subjective indicators of academic reputation.
UNESCO
Population-démographie : le site de la démographie, de la géographie et de l'histoire des populations - Home Page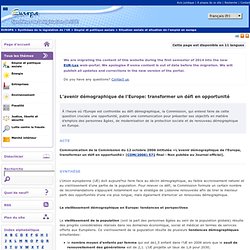 Communication de la Commission du 12 octobre 2006 intitulée «L'avenir démographique de l'Europe, transformer un défi en opportunité» [ COM(2006) 571 final - Non publiée au Journal officiel].
L'avenir démographique de l'Europe: transformer un défi en opportunité
Population - La situation démographique en 2009 - Pyramide des âges par statut matrimonial
Population Density Maps
Population density is a basic measure in almost every field - from economy to ecology, biology, urban planning, sociology and, of course, demography!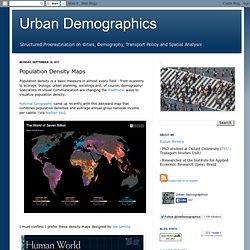 Fathom Information Design /Promo image This population density map is making the rounds on the blogs today, to near-universal acclaim.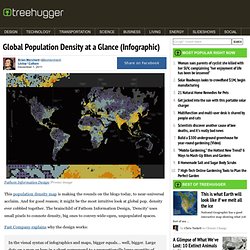 UNHCR seeks to contribute to informed decision-making and public debate by providing accurate, relevant and up-to-date statistics.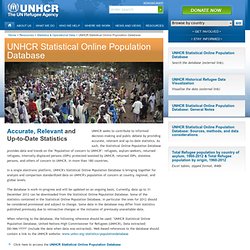 UNHCR Statistical Online Population Database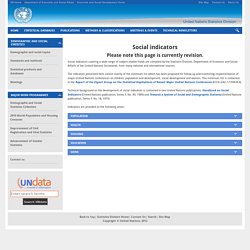 Social indicators covering a wide range of subject-matter fields are compiled by the Statistics Division, Department of Economic and Social Affairs of the United Nations Secretariat, from many national and international sources. The indicators presented here consist mainly of the minimum list which has been proposed for follow-up and monitoring implementation of major United Nations conferences on children, population and development, social development and women. This minimum list is contained in the Report of the Expert Group on the Statistical Implications of Recent Major United Nations Conferences (E/CN.3/AC.1/1996/R.4).
ONU statistiques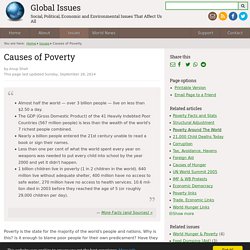 Author and Page information by Anup Shah This Page Last Updated Sunday, April 08, 2012
À la suite du renouvellement des sites Web, à l'échelle fédérale, ce site Web sera modifié dans le but d'améliorer l'expérience des utilisateurs en rendant l'information plus accessible, plus pertinente tout en améliorant les capacités de recherche.
GéoGratis