Education & Web Resources
eLearning 2011 by Remei Camps on Prezi. Flujo de información en un Entorno Personal de Aprendizaje [PLE] Qué es un MOOC.wmv. Interactive Health Tutorials. TED: Ideas worth spreading. Dictionary for German, French, Spanish, Portuguese, English. Dictionary for German, French, Spanish, Portuguese, English. Virtual Body. Tools. Flash Meeting. ARTnatomy | ARTnatomía. Zotero | Home. Science. 2012 | 335 Pages | ISBN: 0930872886 | EPUB | 1 MB This is the most comprehensive gathering of Inayat Khans teachings on the mind and its potential, and contains material which has not been published e...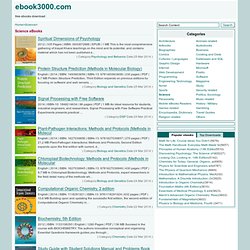 English | 2014 | ISBN: 1493903659 | ISBN-13: 9781493903658 | 230 pages | PDF | 6,7 MB Protein Structure Prediction, Third Edition expands on previous editions by focusing on software and web servers. ... 2014 | ISBN-10: 1848214634 | 96 pages | PDF | 1 MB An ideal resource for students, industrial engineers, and researchers, Signal Processing with Free Software Practical Experiments presents practical ... ( Category:DSP Date:25 Mar 2014 ) English | 2014 | ISBN: 1627039856 | ISBN-13: 9781627039857 | 270 pages | PDF | 21,2 MB Plant-Pathogen Interactions: Methods and Protocols, Second Edition expands upon the first edition with current, d... 3d brain (use link to open as new window) Simple Mapper We developed Simple Mapper to power this web site on the brain.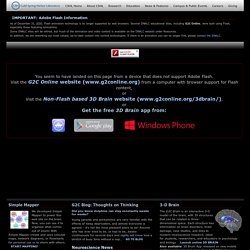 Now, you can use it to organize what comes out of yours! With Simple Mapper create and save concept maps, network diagrams, or flowcharts for personal use or to share with others. START MAPPING! Health/Medicine. SurveyMonkey: Free online survey software & questionnaire tool. E-learning. E-learning (or eLearning) is the use of electronic media and information and communication technologies (ICT) in education.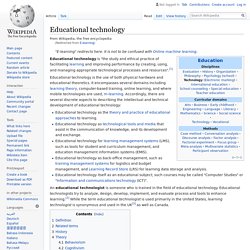 E-learning is broadly inclusive of all forms of educational technology in learning and teaching. E-learning is inclusive of, and is broadly synonymous with multimedia learning, technology-enhanced learning (TEL), computer-based instruction (CBI), computer-based training (CBT), computer-assisted instruction or computer-aided instruction (CAI), internet-based training (IBT), web-based training (WBT), online education, virtual education, virtual learning environments (VLE) (which are also called learning platforms), m-learning, and digital educational collaboration.
These alternative names emphasize a particular aspect, component or delivery method. Gapminder: Unveiling the beauty of statistics for a fact based world view.
---