Agile
Scrum Primer - Short Introduction to Scrum. Le Kanban pour vos projets. Dans la communauté des méthodes agiles a emergé début 2009 un mot que j'avais jusqu'a présent surtout entendu en cours d'organisation pendant mes études d'ingénieur : le mot KANBAN.
On m'avait alors expliqué que le kanban est un outil du Toyota Production System (aka TPS) ; par extension un outil du lean manufacturing ; qui permet de mettre en place une production en flux tiré. Le kanban, ou étiquette, est une fiche qui fait la navette entre l'amont et l'aval d'un poste de production pour indiquer si le poste de production situé en amont doit fabriquer une nouvelle série de pièces ou pas.
Le principe permet de limiter l'en-cours de stock et donc le gaspillage en cas de défaut détecté en aval de la chaine de fabrication. Méthodes agiles. L'événement a été hébergé par la société Criteo, entreprise Française de reciblage publicitaire personnalisé sur internet, qui a mis à disposition du meetup 5 salles pour animer les sessions de jeux.Ce billet est l'occasion de revenir sur cet événement et de remercier les animateurs :Alexis Nicolas (Kanbanzine) ;Sébastien Ménétrier (Kanbanzine) ;Renaud Chevalier (Getkanban) ;Emmanuel Sciara (Beer Game) ;Yannick Quenec'hdu (Lean Lego Game).Sans oublier Guillaume Turri qui a été à l'origine de l'organisation de ce Meetup chez Criteo et qui a été notre hôte durant toute la soirée.Si vous souhaitez rejoindre l'aventure du French Kanban User Group, inscrivez-vous ici. … Lire la suite de l'article sur Nous étions au Meetup #2 du FKUG « Faites vos jeux … en Kanban » Il était une fois un projet IT en Kanban (Episode 4 : Améliorer la qualité de vos Stories) Le MANIFESTE AGILE est l'opium du peuple… Depuis quelque temps, je constate une prolifération d'articles à charge sur l'Agilité.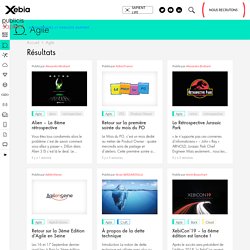 Kanban - première partie - JHLP. Je m'intéresse depuis peu aux Kanbans.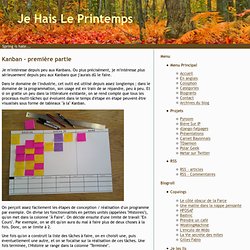 Ou plus précisément, je m'intéresse plus sérieusement depuis peu aux Kanbans que j'aurais dû le faire. Dans le domaine de l'industrie, cet outil est utilisé depuis assez longtemps ; dans le domaine de la programmation, son usage est en train de se répandre, peu à peu. Et si on gratte un peu dans la littérature existante, on se rend compte que tous les processus multi-tâches qui évoluent dans le temps d'étape en étape peuvent être visualisés sous forme de tableaux "à la" Kanban. Référentiel des pratiques Agiles. Kanbanboards. Priming Kanban. Kanban represents a unique way of catalyzing the application of Lean product development principles to software development, maintenance and operations.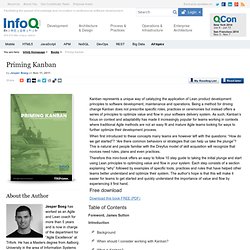 Being a method for driving change Kanban does not prescribe specific roles, practices or ceremonies but instead offers a series of principles to optimize value and flow in your software delivery system. As such, Kanban's focus on context and adaptability has made it increasingly popular for teams working in contexts where traditional Agile methods are not an easy fit and mature Agile teams looking for ways to further optimize their development process. When first introduced to these concepts many teams are however left with the questions: "How do we get started"? Anatomie d'une mission agile (Pablo Pernot) - Sud Web 2011, KanbanFlow - Free, fast & flexible Kanban tool. Scrum Master in Under 10 Minutes (HD) by @hamids. Just so we don't forget: Timeline of Scrum in 1 slide ! Mots clés Technorati : SCRUM in one slide July 2011 : The creators of Scrum released a new version this month.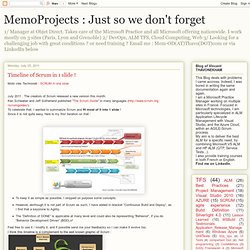 Ken Schwaber and Jeff Sutherland published "The Scrum Guide" in many languages ( To celebrate that, I wanted to summarize Scrum and fit most of it into 1 slide ! Dispositif de filtrage: Accès non autorisé. Www.valtech.fr/etc/medialib/pdf/itc/fr/livre_orange.Par.48685.File.dat/VALTECH-Livre-Blanc-Agile-v2-2011.pdf. Ruminations From a Tortured Mind. Sous ce titre qui peut paraitre provocateur se trouve un constat plutôt amère, d'autant plus amère que tout cela était prévisible depuis bien des années.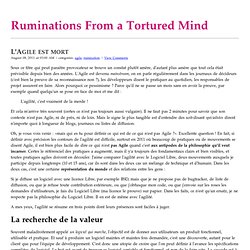 L'Agile est devenu mainstream, on en parle régulièrement dans les journaux de décideurs (c'est bien la preuve de sa reconnaissance non ?) , les développeurs disent le pratiquer au quotidien, les responsables de projet assurent en faire. Integrating Agile into a Waterfall World. Every project manager can successfully integrate agile in a waterfall environment to improve project predictability, cost effectiveness and ultimately success.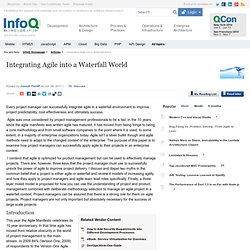 Agile was once considered by project management professionals to be a fad. In the 10 years since the agile manifesto was written agile has matured; it has moved from being fringe to being a core methodology and from small software companies to the point where it is used, to some extent, in a majority of enterprise organizations today.
---