Agile
Scrum Primer - Short Introduction to Scrum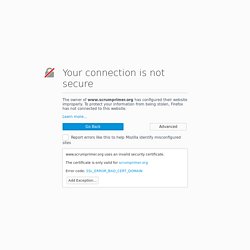 Scrum Primer was originally created by Pete Deemer and Gabrielle Benefield when they were both working in Yahoo! on their agile transition. When Craig Larman and Bas Vodde were working on their first Scaling Scrum book, they wanted to use a good introduction of Scrum as a reference but didn't want to write a new one.
Le Kanban pour vos projets
Dans la communauté des méthodes agiles a emergé début 2009 un mot que j'avais jusqu'a présent surtout entendu en cours d'organisation pendant mes études d'ingénieur : le mot KANBAN. On m'avait alors expliqué que le kanban est un outil du Toyota Production System (aka TPS) ; par extension un outil du lean manufacturing ; qui permet de mettre en place une production en flux tiré. Le kanban , ou étiquette, est une fiche qui fait la navette entre l'amont et l'aval d'un poste de production pour indiquer si le poste de production situé en amont doit fabriquer une nouvelle série de pièces ou pas. Le principe permet de limiter l'en-cours de stock et donc le gaspillage en cas de défaut détecté en aval de la chaine de fabrication.
La revue de presse hebdomadaire des écosystèmes Java/JEE proposée par Xebia. Lire la suite de cet article » Imaginons, vous devez recruter un Scrum Master. Vous êtes devant une feuille blanche, la fiche de poste. Il va falloir définir quelles sont les responsabilités et les qualités requises pour faire le job… Je vais tâcher de vous expliquer que pour trouver un bon Scrum Master, il faudra plutôt chercher Alfred que Batman.
Méthodes agiles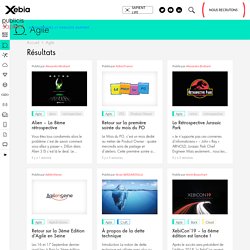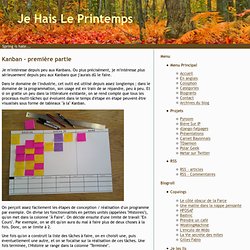 Kanban - première partie - JHLP
Je m'intéresse depuis peu aux Kanbans. Ou plus précisément, je m'intéresse plus sérieusement depuis peu aux Kanbans que j'aurais dû le faire. Dans le domaine de l'industrie, cet outil est utilisé depuis assez longtemps ; dans le domaine de la programmation, son usage est en train de se répandre, peu à peu. Et si on gratte un peu dans la littérature existante, on se rend compte que tous les processus multi-tâches qui évoluent dans le temps d'étape en étape peuvent être visualisés sous forme de tableaux "à la" Kanban.
Référentiel des pratiques Agiles
Kanbanboards
Priming Kanban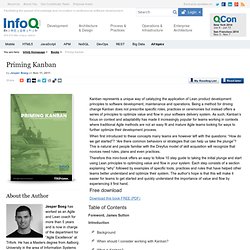 Posted by Jesper Boeg on Nov 11, 2011 Sections Operations & Infrastructure , Process & Practices
Anatomie d'une mission agile (Pablo Pernot) - Sud Web 2011,
PIA :: Le Blog » Prototypage Agile @ ATT 2011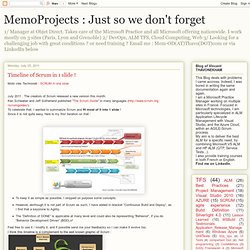 Mots clés Technorati : SCRUM in one slide July 2011 : The creators of Scrum released a new version this month. Ken Schwaber and Jeff Sutherland published " The Scrum Guide " in many languages ( http://www.scrum.org/scrumguides/ ). To celebrate that, I wanted to summarize Scrum and fit most of it into 1 slide !
Just so we don't forget: Timeline of Scrum in 1 slide !
Dispositif de filtrage: Accès non autorisé
www.valtech.fr/etc/medialib/pdf/itc/fr/livre_orange.Par.48685.File.dat/VALTECH-Livre-Blanc-Agile-v2-2011.pdf
Sous ce titre qui peut paraitre provocateur se trouve un constat plutôt amère, d'autant plus amère que tout cela était prévisible depuis bien des années. L'Agile est devenu mainstream , on en parle régulièrement dans les journaux de décideurs (c'est bien la preuve de sa reconnaissance non ?), les développeurs disent le pratiquer au quotidien, les responsables de projet assurent en faire.
Ruminations From a Tortured Mind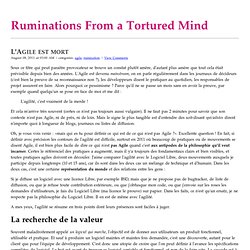 Posted by Joseph Flahiff on Jun 06, 2011 Sections Process & Practices
Integrating Agile into a Waterfall World