Crafts
Summer bracelets DIY. When M. came home from her camp with school, she showed me this yellow bracelet she made with 'scoubidoo' strings.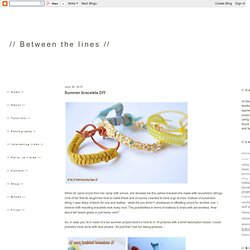 One of her friends taught her how to make these and of course I wanted to have a go at it too. Instead of scoubidou string I used strips of fabric for one and leather - what did you think?! - shoelaces in offsetting colors for another one. Paper Flowers - Anyone Can Do That | FindInspirations.com. Japanese Kusudama, this tutorial is featured on Craftuts Anyone can do that, I assure you.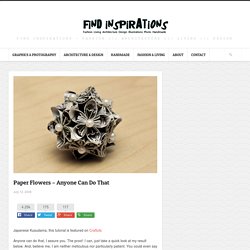 The proof: I can, just take a quick look at my result below. And, believe me, I am neither meticulous nor particularly patient. You could even say I'm the opposite. Below you can see my very first attempt to create paper flowers. DIY : LE BRACELET BRÉSILIEN REVISITÉ. Wednes-diy - Free People Blog. A couple of weeks ago, inspired by a tutorial on honestly…wtf, one of my coworkers was inspired to bring back her love for making friendship bracelets, and created this masterpiece :) personally, i've only ever been able to do the straight line across or the V pattern, so i had to know how to do this. for this tutorial we'll learn how to make a smaller scale version of the bracelet, and once you get the basic steps down you can start experimenting with more string and lots of colors!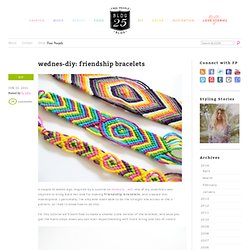 What you need: embroidery thread, scissors and tape. click read more to see the full tutorial! Start by selecting four colors of string and cut two long pieces of each one – remember, you always need more string than you think you will ;) knot them together and tape down. separate the strings so you have one of each color on each side, and make sure they're in the same order on each side. BeyondBracelets. Upload BeyondBracelets.net Subscription preferences Loading...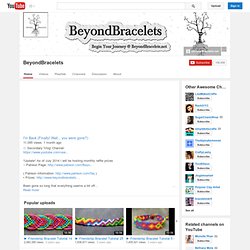 Working... Howtomakejewelry. Upload how-to-make-jewelry.com Subscription preferences Loading...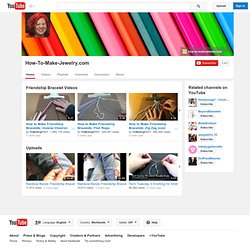 Working... Hollistergirl1O1. Review of the Best Embroidery Floss Friendship Bracelets. If you are someone who loves to make jewelry, you have probably heard that nothing is easier to teach your daughter than friendship bracelets.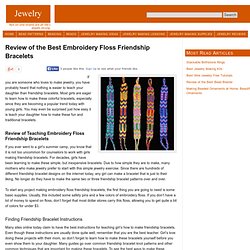 Most girls are eager to learn how to make these colorful bracelets, especially since they are becoming a popular trend today with young girls. You may even be surprised just how easy it is teach your daughter how to make these fun and traditional bracelets. If you ever went to a girl's summer camp, you know that it is not too uncommon for counselors to work with girls making friendship bracelets. For decades, girls have been learning to make these simple, but inexpensive bracelets.
Advanced Zig Zag Friendship Bracelet. Love this website?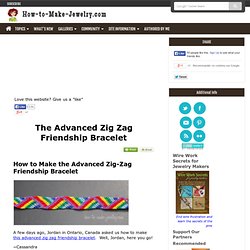 Give us a "like" How to Make the Advanced Zig-Zag Friendship Bracelet A few days ago, Jordan in Ontario, Canada asked us how to make this advanced zig zag friendship bracelet. Criss Cross Friendship Bracelet, Friendship Bracelet Pattern, Video. Learn how to make this intermediate friendship bracelet Love this website?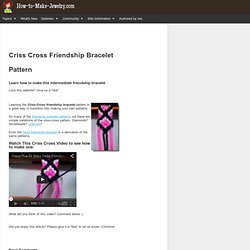 Give us a "like" Learning the Criss-Cross friendship bracelet pattern is a great way to transition into making your own patterns. So many of the friendship bracelet patterns out there are simple variations of the criss-cross pattern. Waves and Loops Friendship Bracelet Pattern. Advanced Friendship Bracelet Pattern Can you feel the waves undulating in your mind as you look at this Waves and Loops friendship bracelet?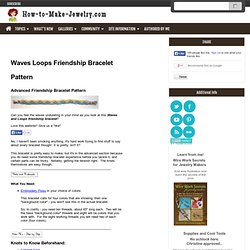 Love this website? Give us a "like" No, I haven't been smoking anything. It's hard work trying to find stuff to say about every bracelet though! Friendship Bracelets. Macraméd friendship bracelets were all the rage when I was growing up in the eighties.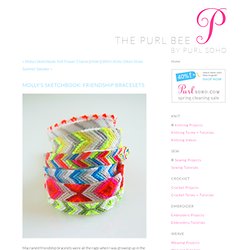 All the girls at my school would obsessively make them for one another in a dizzying variety of colors, widths, and patterns. It's amazing, thinking back, that such young girls could make such beautifully intricate accessories. I, of course, tried my hand at making them as well. I would ride my bike down to the five-and-dime store and pick out the most sophisticated color combinations of embroidery floss I could find, but when it came to the actual macramé I never got beyond plain stripes.
How To Mix Chalkboard Paint in Any Color. We love using chalkboards as backdrops for displays and parties (like this one here!). So we were super excited to learn that you can create your own custom colors-and it's really easy! We first learned how from Martha Stewart whose tutorial you can read here.
---