Crafts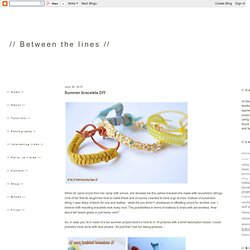 When M. came home from her camp with school, she showed me this yellow bracelet she made with 'scoubidoo' strings.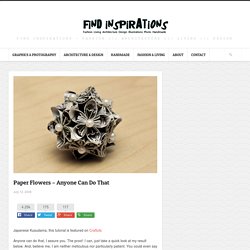 Japanese Kusudama, this tutorial is featured on Craftuts Anyone can do that, I assure you. The proof: I can, just take a quick look at my result below. And, believe me, I am neither meticulous nor particularly patient. You could even say I'm the opposite. Below you can see my very first attempt to create paper flowers.
DIY : LE BRACELET BRÉSILIEN REVISITÉ
a couple of weeks ago, inspired by a tutorial on honestly…wtf, one of my coworkers was inspired to bring back her love for making friendship bracelets, and created this masterpiece :) personally, i've only ever been able to do the straight line across or the V pattern, so i had to know how to do this. for this tutorial we'll learn how to make a smaller scale version of the bracelet, and once you get the basic steps down you can start experimenting with more string and lots of colors!
wednes-diy - Free People Blog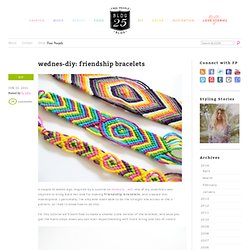 BeyondBracelets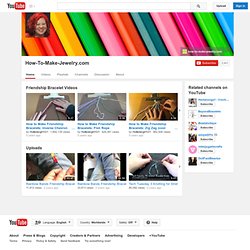 Welcome to YouTube!
howtomakejewelry
Hollistergirl1O1
If you are someone who loves to make jewelry, you have probably heard that nothing is easier to teach your daughter than friendship bracelets.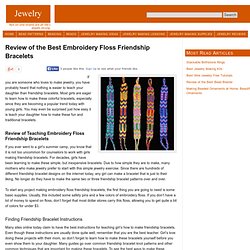 Review of the Best Embroidery Floss Friendship Bracelets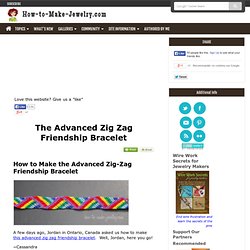 Advanced Zig Zag Friendship Bracelet
Love this website?
Criss Cross Friendship Bracelet, Friendship Bracelet Pattern, Video
Learn how to make this intermediate friendship bracelet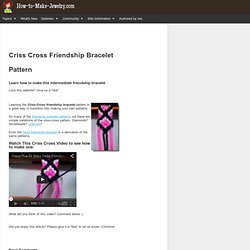 Advanced Friendship Bracelet Pattern Can you feel the waves undulating in your mind as you look at this Waves and Loops friendship bracelet?
Waves and Loops Friendship Bracelet Pattern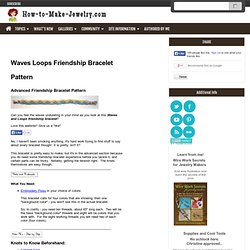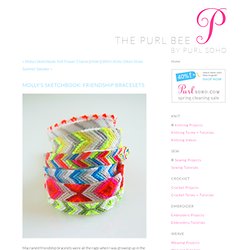 Macraméd friendship bracelets were all the rage when I was growing up in the eighties.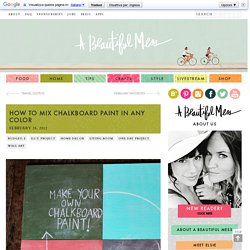 We love using chalkboards as backdrops for displays and parties (like this one here!). So we were super excited to learn that you can create your own custom colors-and it's really easy! We first learned how from Martha Stewart whose tutorial you can read here.