Social media
Droit d'auteur : obligations juridiques pour un blog | Blog Speecom - Culture E-commerce - Référencement, Recrutement, Web 2.0, Marketing, Marketing Mobile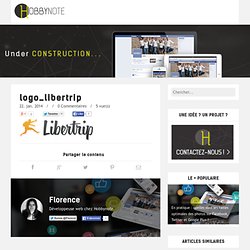 Agence web innovante spécialisée dans le marketing viral à travers les réseaux sociaux » Mode d'emploi : comment créer un onglet multi-langue sur Facebook ?
La Redoute & Deezer : lancement d'une playlist multi device La Redoute, en partenariat avec Deezer et Hobbynote, réalise une expérience digitale inédite en France : le lancement...
mTouch Quiz
Save 20% when you buy any two or more Premium Features by using the promo code COMBO at checkout! Limited time offer! mTouch Quiz is an easy to use, learning oriented, versatile, touch friendly, mobile minded Quiz plugin for WordPress. Answer the two questions below and then select the giant "Get Results" button. <div id="mtq_javawarning-1" class="mtq_javawarning"> Please wait while the activity loads.</br> If this activity does not load, try refreshing your browser.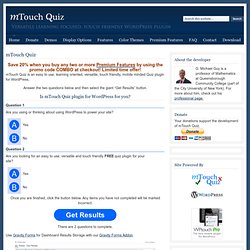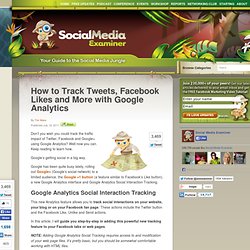 Don't you wish you could track the traffic impact of Twitter, Facebook and Google+ using Google Analytics? Well now you can. Keep reading to learn how. Google's getting social in a big way.
While the rest of us were copy-and-pasting mumbo-jumbo from URL shorteners into our Twitter accounts, sites like The New York Times were smugly tweeting their links using shortened URLs like "nyti.ms." Frankly, this made us a little jealous. But now, Bitly makes it easy for the average Joe Blogger to create a custom short URL for free. You don't even need to own a site that gets about 17 million unique visitors per month. A custom shortened link is great for building a personal or business brand, as readers know exactly where it will lead when they see it shared on social networks.
HOW TO: Create Your Own Customized Short URL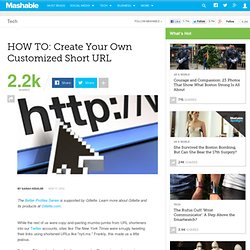 Bit.ly Pro Is Now Free! Get Your Custom Short Domain Today
Sign In to bitly | bitly | shorten, share and track your links
Prérequis Tout d'abord avant d'aborder ce tutoriel, vous devez disposer de solide connaissance en PHP et en JavaScript puisque ces APIs se laissent difficilement appréhender. Ce tutoriel est jeune et peut donc contenir des imperfections, merci de faire part de vos remarques dans les commentaires.
Intégrer Facebook Connect sur son site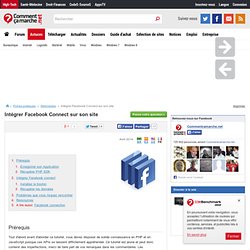 google+ wordpress plugin – googleCards-Wordpress | Google+ Developers
As promised in yesterdays post, I have turned my google+ profile scraper class into a wordpress plugin. the google+ cards widget The plugin adds a widget to your wordpress install that will display your 'googleCard' in your blog's sidebar. Download Github Installation