Creative Commons
Wikipedia:Creative Commons. A sign in a pub in Granada notifies customers that the music they are listening to is freely distributable under a Creative Commons license.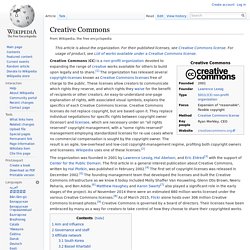 Creative Commons (CC) is a non-profit organization headquartered in Mountain View, California, United States, devoted to expanding the range of creative works available for others to build upon legally and to share.[1] The organization has released several copyright-licenses known as Creative Commons licenses free of charge to the public.
These licenses allow creators to communicate which rights they reserve, and which rights they waive for the benefit of recipients or other creators. Creative Commons. Licenses. Our public copyright licenses incorporate a unique and innovative "three-layer" design.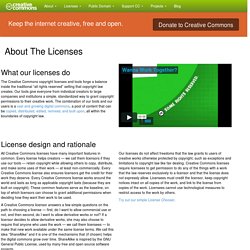 Each license begins as a traditional legal tool, in the kind of language and text formats that most lawyers know and love. We call this the Legal Code layer of each license. But since most creators, educators, and scientists are not in fact lawyers, we also make the licenses available in a format that normal people can read — the Commons Deed (also known as the "human readable" version of the license).
The Commons Deed is a handy reference for licensors and licensees, summarizing and expressing some of the most important terms and conditions. Think of the Commons Deed as a user-friendly interface to the Legal Code beneath, although the Deed itself is not a license, and its contents are not part of the Legal Code itself.
---